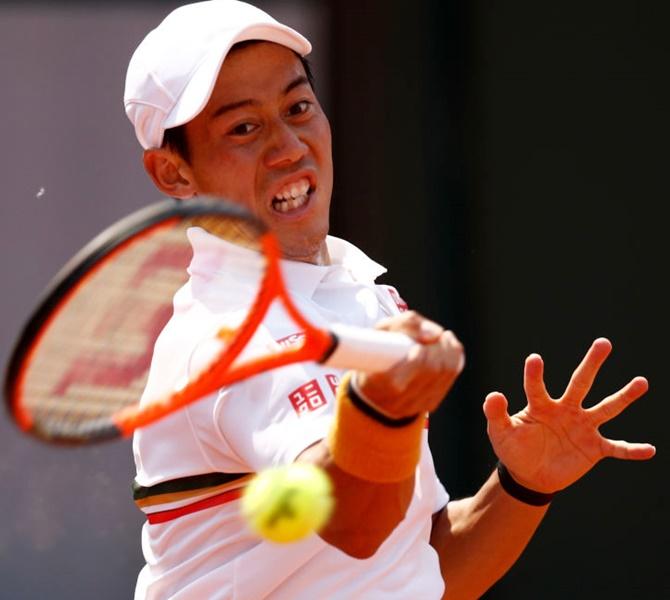 Argentina's Juan Martin del Potro has withdrawn from the season-ending ATP Finals and will be replaced by Japan's Kei Nishikori, organisers of the London event said on Saturday.
World No 4 Del Potro is still sidelined with a right knee injury sustained in Shanghai last month.
Nishikori will join Novak Djokovic, Rafael Nadal, Roger Federer, Alexander Zverev, Kevin Anderson, Marin Cilic and Dominic Thiem at the elite eight-player event.
"It's frustrating for me not to be able to compete in London," Del Potro, who last played in the event in 2013 since when he has been plagued by injuries, said in an ATP statement.
"It's a very special tournament and I've tried everything possible to get my knee better. The rehabilitation is making good progress, but I need more time.
"Of course, it's disappointing for me right now, but I had a very good season overall."
Nishikori will be making his fourth appearance at London's O2 Arena where he reached the semi-finals in 2014 and 2016.
"First of all I want to wish @delpotrojuan a speedy recovery," the 28-year-old said on Twitter.
"He had an amazing year. Second I am very excited to join the London field.
"I started my year with challengers and missed the Aussie Open and Indian Wells. Very proud of the way the year turned out."
Karolina Pliskova pulls out of Fed Cup final
Czech tennis star Karolina Pliskova has pulled out of her team's Fed Cup final clash against the United States after failing to recover fully from a leg injury.
The World No 8 suffered the injury at the recent-concluded WTA Finals in Singapore that had also affected her movement in the tournament.
Taking to Twitter, Pliskova revealed, "I was looking forward to the final very much, but after the examination, my start is not possible."
She further wrote, "Our team is strong enough!"
The Czech team comprising of Pliskova along with her compatriots Petra Kvitova, Katerina Siniakova and Barbora Strycova had progressed to the finals of the Fed Cup after defeating Germany 4-1 in the semi-finals in April.
Marking it the 13th clash between the two nations, the Czech team is slated to face the USA at the Fed Cup Final in Prague later on Sunday.