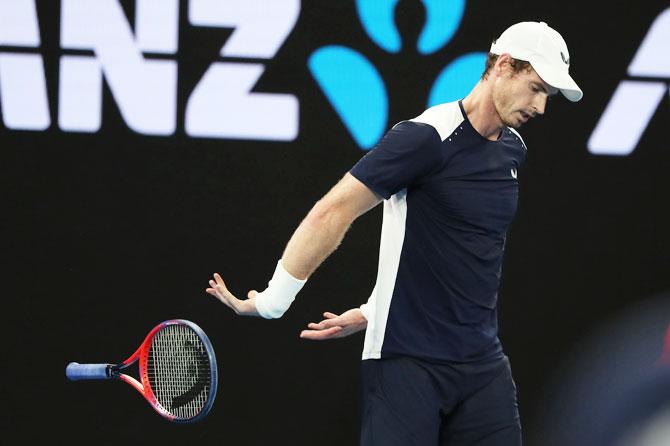 Andy Murray has pulled out of next month's Marseille Open as he "may have to undergo surgery again", the tournament organisers said on Friday.
Three-times Grand Slam winner Murray has struggled to regain form since undergoing hip surgery last January and was knocked out in the first round of the Australian Open on Monday having said the tournament could be his last as a professional.
Murray, who is also scheduled to participate in Montpellier and Dubai next month, said after his Melbourne defeat that he would decide whether to have surgery within a week or push on through the pain to farewell fans at Wimbledon.
"With the firm intention of coming back this year, the former number one in the world had put the Marseille tournament on his calendar," the organisers said in a statement.
"But due to ongoing pain in the hip, Andy Murray may have to undergo surgery again and therefore playing the upcoming tournaments including Marseille was no longer an option."
Murray said pulling out was a difficult decision as he had fond memories of the tournament.
"It's tough but I don't have a choice, I was very keen on returning to Marseille where I won the tournament in 2008. This title, one of the first of my career, remains a great memory," Murray added in the statement.
"I feel for him. It makes me sad to see such a great player, that is also a person that I like a lot, have to go through such tough times," tournament director Jean-Francois Caujolle said.
"I wish for him to be able to overcome this episode in order to come back to the courts and end his career on his own terms. He deserves it."
Murray will be replaced in the main draw of the February 18-24 tournament by 2013 runner-up Tomas Berdych.
Tomic denies Hewitt allegations, calls him 'liar'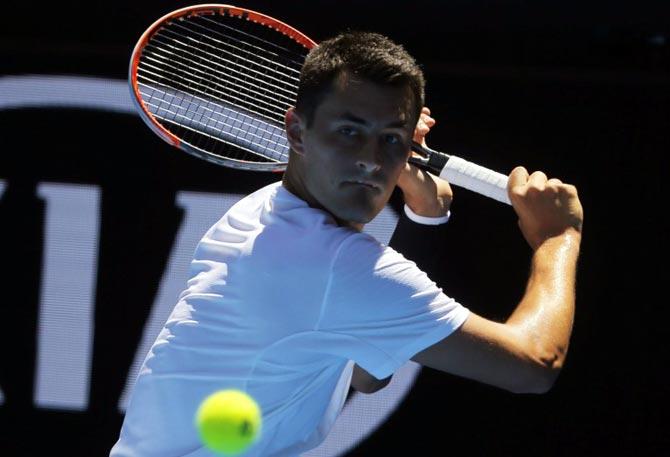 Australian tennis player Bernard Tomic has denied compatriot Lleyton Hewitt's allegations that he had made threats against the former world number one and his family, local media reported on Friday.
Davis Cup captain Hewitt told reporters at Melbourne Park late on Thursday that he had banned Tomic from playing in the Australian team after receiving physical and verbal threats, including "blackmail", from the 26-year-old.
World number 88 Tomic returned serve on Friday, describing Hewitt as a "liar".
"I have never threatened his family," Tomic told News Corp Australia.
"Nice, Lleyton. To think how low of a person you actually (are) and (it's) why the Australian public never liked you.
"I got nothing to do with your family and I don't care what's wrong with you, you liar."
Tomic triggered the war of words after being dumped from the Australian Open first round.
At his post-match media conference, he called for twice Grand Slam champion Hewitt to be replaced as Davis Cup captain and accused him of favouritism in the awarding of wildcards to the Australian men's players in the draw.
Kyrgios is better on court than behind mike, says Federer
Roger Federer's third round masterclass against American Taylor Fritz at the Australian Open on Friday drew gushing praise from bad boy of tennis Nick Kyrgios during a guest commentary gig for the host broadcaster.
Federer, however, was less impressed with Kyrgios's work behind the microphone for the Nine Network.
Asked to comment on the Australian's assessments, which included "Federer's timing is scary good .... Oh, my goodness, butter, so smooth. He's zoning at the moment" among other pearls, the double defending champion suggested that the 23-year-old, as an analyst, made a great tennis player.
"Yeah, we need him to play first before commentating for the whatever 10-plus years," Federer said with a smile after beating Fritz in straight sets at Rod Laver Arena.
Former quarter-finalist Kyrgios was knocked out of the first round at Melbourne Park and signed off with a typically sour media conference, snapping at reporters and making sarcastic remarks.
Once touted as a future Grand Slam champion, Kyrgios's ranking has slumped to 52 amid struggles with injuries and is projected to fall further after the tournament.
"He's always good for a headline," said Federer.
"Look, I like Nick. I like the way he plays and all that. Yeah, I was happy to hear that he was in the commentary booth.
"He's got a bit of time, sticks around, shows he's passionate about the game. That's what we need to see.
"But we wish he was on the court rather than a commentary booth. But I hope he did a good job."
Federer will play Greek young gun Stefanos Tsitsipas for a place in the quarter-finals.