A global trade union for construction workers that has criticized labour conditions in Qatar will inspect soccer stadiums being built for the 2022 World Cup in the Gulf Arab state.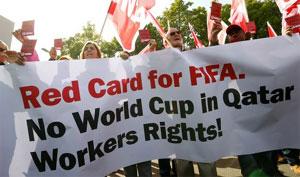 The Geneva-based Building and Wood Workers' International (BWI), whose general secretary in 2015 said Qatar's migrant workers faced conditions akin to "modern-day slavery", will inspect safety on World Cup sites and labour accommodations starting next year, according to a statement by Qatar's 2022 World Cup organizing body.
It was not immediately clear how often the inspections would take place or if the findings would be made public.
"While we have made a number of improvements in the last two years, from health and safety to accommodation standards, we recognise there is still work to be done," said Hassan al-Thawadi, Qatar's 2022 World Cup committee chief.
Around 10,000 construction workers from Nepal, India and Bangladesh are building eight stadiums in Qatar, which is home to more than 2 million migrant workers. Human rights groups say labor abuse is common, including dangerous working conditions and squalid living quarters.
The United Nations has urged Qatar to address workers' rights before World Cup construction peaks in 2017. Qatar says it is working to reduce abuses but argues that they occur on construction sites all over the world.
The BWI will get access to worksites and conduct labour inspections, "which are important preventive mechanisms against work-place accidents," said Ambet Yuson, the union's general secretary.
Last month, a Nepali worker, Anil Kumar Pasman, died after being hit by a water truck at the site of Al Wakrah World Cup Stadium.
Organizers said Pasman was the first worker to die in a work-related accident and that his death had led to an extensive review of health and safety procedures.
A work-sponsorship system widely enforced in the Gulf and known in Qatar as "kafala" governs migrant workers. It requires the workers to get their employer's consent to change jobs or leave the country.
Unions and labour protests are banned and authorities penalise dissent with jail terms or immediate deportation.
From December, foreign workers, who outnumber the local workforce by nearly 20 to one, will be able to appeal to the government if they are not allowed to leave the country.
The BWI will train contractors working on World Cup projects being built by multinational companies headquartered in Austria, Belgium, Italy, India, and Cyprus, the statement said.
Image: Members of the Swiss UNIA workers union display red cards and shout slogans during a protest in front of the headquarters of soccer's international governing body FIFA
Photograph: Arnd Wiegmann/Reuters