Delhi's Richa Mishra and Nisha Millet of Karnataka easily won the women's 50-metre butterfly and 400 metres freestyle respectively as four new meet records were set on the opening day of the 58th Senior National Aquatic Championships in Delhi on Tuesday.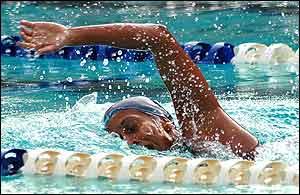 Richa, who was down with typhoid and could hardly train for 15 days, clocked 30.63 seconds to clinch the gold medal while Nisha, who was way ahead of her competitors, timed 4:31.87 seconds, bettering the previous record of 4:38.04 seconds, set by Shikha Tandon in 1998.
Richa, who represented Police, was followed by Karnataka's Ambika Iyenger, who timed 31.00 seconds, and V Shivranjani (31.19 seconds), at the Dr Shyama Prasad Mookerji Swimming Pool Complex.
Chaaru Mishra, who was almost 20 seconds behind Nisha, claimed the silver in the 400 metres, clocking 4:50.08 seconds. The dimunitive Aarti Ghorpade clocked 4:51.08 seconds to claim third place.
In the 100 metre breaststroke, Saba Sait of Tamil Nadu won the gold, finishing ahead of Mrudula D (1:19.86 seconds) and Ambica Iyenger (1:20.35 seconds) of Karnataka in that order.
In the men's section, Karnataka's Rehan Poncha clocked 4:10.95 seconds to win the gold medal in the men's 400 metres freestyle. Amar Muralidharan of Police clocked 4:12.22 seconds while his fellow-policeman Mandar Divse was third.
Poncha and Muralidharan were well ahead of the previous meet record 4:13.31 seconds, set by Kailash Nath of Police in 1998.
In the 100 metres backstroke, T K Senthil Kumar of Police bettered his own meet record, set in 1997, and claimed the top spot. He covered the distance in 1:01.14 secs. Arjun Muralidharan followed in 1:01.55 seconds, ahead of Karnataka's Sandeep N A (1:03.39 seconds).
Railways also opened their account through K Rajiv, who claimed the 50 metre butterfly, timing 26.29 seconds, which was .08 seconds less than his previous mark, set in last year's heats.
Rahul Batra of Karnataka and Parikshit Shetty of Maharastra finished second and third, clocking 26.58 seconds and 26.79 seconds respectively.
Defending champions Karnataka dominated the day's proceedings, winning eight medals while last year's runners-up Police bagged six medals.
Maharashtra could win only two medals from the finals in the six categories today.
In women's diving, Rashmi Das of Police topped with 363.40 points; Mamoni Das of Railways was second with 349.55 points while Yogita Walunj of Maharashtra was third with 335.05 points.
In waterpolo, the Bengal men beat Maharashtra 4-3.
In other matches, Kerala scored a thumping 11-4 victory over Punjab, Delhi outplayed Karnataka 11-3 and Police blanked Manipur 13-0
In the women's section, Maharashtra won 8-1 against Manipur while Karnataka defeated hosts Delhi 7-2.
Photograph: Ranjan Basu/Saab Press