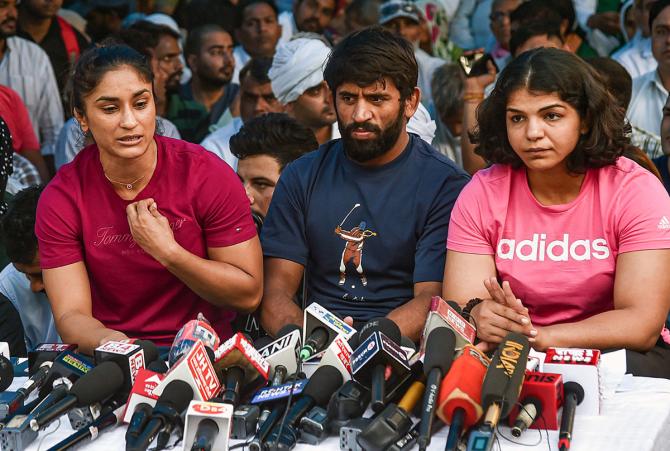 Claiming that the Supreme Court's decision to close proceedings on the plea of sexual harassment allegations against Wrestling Federation of India chief Brij Bhushan Sharan Singh is not a setback, the wrestlers on Thursday said they will continue their protest.
The wrestlers have been sitting on protest since April 23, demanding the arrest of WFI president Brij Bhushan alleging that he has sexually harassed seven female grapplers, including one minor.

However, the top court on Thursday closed the proceedings on a plea by three women wrestlers, who have levelled sexual harassment allegations against Brij Bhushan, noting that FIRs have been registered and the seven complainants have been provided adequate security.

"We respect the Supreme Court order, protest will continue," Rio Olympics bronze medallist Sakshi Malik said.

"Supreme Court order is not a setback, it did what it could in this matter," she added.

The wrestlers further said that they will decide the future course of action after consulting their seniors.

"We have all options open, will decide after consulting seniors," Vinesh Phogat said.

A bench headed by Chief Justice D Y Chandrachud refused to entertain an oral plea by the counsel representing the wrestlers that the ongoing probe be monitored by a retired or a serving high court judge.

"You came here with specific prayers for registration of FIR and security for the complainants. Now both of your prayers have been addressed.

"If you have any further grievances, you can very well approach the high court or the jurisdictional magistrate," the bench said, adding that it is closing the proceedings for now.

Police block entry of wrestlers at protest site

Delhi Police on Thursday blocked entry of wrestlers at the venue where their fellow grapplers have been protesting against WFI chief Brij Bhushan Sharan Singh.

Even as Sakshi Malik, Vinesh Phogat and Bajrang Punia held a press conference at the protest site at Jantar Mantar in New Delhi, the police refused entry of the wrestlers to the venue.

Vinesh's cousin Geeta Phogat, a former World Championships medallist and 2010 Commonwealth Games gold winner, tweeted that she and her husband have been detained by the police.

A senior police official said that two to three people, including Geeta Phogat, were detained near Jahangirpuri. The process of releasing them is underway, he said.

In a video footage she put up earlier in the day, Geeta was seen being surrounded by police personnel as she pleaded to allow her to meet her cousins.

There was heavy police deployment at the roads leading to the protest site, which could be in anticipation that supporters may try to reach the spot after Bajrang's call on Wednesday night to the farmers and general public to reach Jantar Mantar in support of them.

Around 11 pm on Wednesday, a scuffle broke out with Delhi police personnel when the wrestlers were trying to get extra mattresses and wooden benches to the protest site for their night stay since rain had left old mattresses wet and soggy.

The on-duty police personnel began enquiring about the sleeping materials as rules do not permit bringing in such things at the protest site.