Fabien Foret sealed Mahi Racing's second consecutive win at the FIM World Supersport Championship by clinching the second race of the season at Aragon in Spain on Sunday.
Mahi Racing had expected a one-two finish at the race but its second rider Kenan Sofuoglu, who won the season-opener, was forced to retire on the second lap due to a technical snag in his Kawasaki ZX-6R after starting from pole.
With this win Foret has jumped to top of the riders standing with 38 points. He had finished fourth at Phillip Island, Australia in February.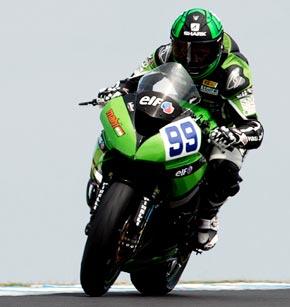 Foret, who started the race in third position, took the chequered flag at 37'10.286, 6.595 sec ahead of Michael Van der Mark of Pata Honda World Supersport team.
The 40-year-old gave a tough fight to Sam Lowes of Yakhnich Motorspor until at the 17th lap when Lowes had to retire from the race with a major technical snag in his bike.
Foret had struggled to get off to a decent start and slipped eight positions to 11th by the end of the first half. However, the experienced Frenchman clawed his way back and took the lead in the eighth lap.
From there on it was always a fight to finish between Foret and Lowes, who is expected to be the biggest challenger of the Indian team's riders this season. Foret led Lowes till the 12th lap but the Brit took advantage of a small mistake by the Frenchman to claim the lead.
With Foret chasing vigorously, Lowes had to push harder and in that attempt was forced to pull out on the final lap due to a technical snag that slowed him down on the first two corners of the final lap and the Frenchman overtook him to take the chequered flag with ease.
Photograph: Mirco Lazzari gp/Getty Images