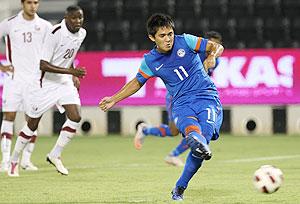 Sunil Chhetri was named India's Player of the Year by AIFF president Praful Patel at the Annual General Meeting in Delhi on Friday.
India's captain, who won the award in 2007 and 2011, emerged winner after voting by I-League coaches at AIFF's headquarters in Delhi.
"It feels great and I am very thankful to all the coaches for voting for me. But, then, I don't take it too seriously. It feels good for a while and then you ought to brush it off and move on," Chhetri said.
"Sometimes awards can make you complacent and if you become so, then it doesn't take much time for your form to dip. All these years I have learnt to deal with adulations and criticism in a normal way. Honestly, I'm still learning," he added.
Chhetri, who is currently India's highest-ever goal-scorer in international football, with 43 goals, will be presented a prize of Rs 200,000 and a trophy.
He is only the second player after IM Vijayan to win the award thrice.
"I have been very fortunate to have amazing lads as my teammates -- my mates from Churchill Brothers and, presently, from Bengaluru FC. I also want to take this opportunity to thank all the players that I have played with for my national team, as none of those 43 goals would have been possible without their support."
"I also need to thank the coaching staff of both the clubs that I have played this year and, obviously, from the national team," said Chhetri.
Asked about his most pleasant moment of 2013, he replied: "Winning the I-League crown with Churchill Brothers and joining an amazing club like Bengaluru FC. Scoring the 43rd goal for my country -- that too in front of my mom who watched the match from the stands at the Kanchenjunga stadium in Siliguri was indeed special too!"
To his critics, Chhetri said: "People are free to speak whatever they want – lavish praise or criticise. But all of that wouldn't change the fact that I'll keep working hard and keep pushing myself to get better with every day. I love my football and am very passionate about it.
"Injuries have hit me hard almost every season and I pray to the Almighty to keep me fit. This is the only season where I haven't yet succumbed to injuries."
The All India Football Federation also instituted three new awards along with re-instituting the AIFF Women's Player of the Year.
Oinam Bembem Devi was adjudged the 2013 AIFF women's Player of the Year. She was the only recipient of the award, the sole instance when it was announced in 2001.
The 33-year old Bembem Devi will be presented a prize of Rs 100,000 besides a trophy.
The AIFF also declared Jeje Lalpekhlua as the 2013 Emerging Player of the Year.
The 22-year striker from Mizoram has already donned the national jersey 43 times and scored 14 goals.
He will be presented a prize of Rs 75,000 and a trophy.
"My heartiest congratulations to Sunil, Bembem Devi and Jeje. All of them are worthy recipients of the award," Patel said.
The last two awards instituted on the day were the those for Best Grassroots Development Programme, which was bagged by Mizoram FA, while the award for long-time contribution to Indian football went to Tata Football Academy.
"This is a token of appreciation to the good work they have been doing. We expect others to follow the path," Patel said.
The prize distribution will be at the awards nite, organised by FICCI, in February.
Image: Sunil Chhetri