'In the end when I finished the last point, I took out everything that was in me'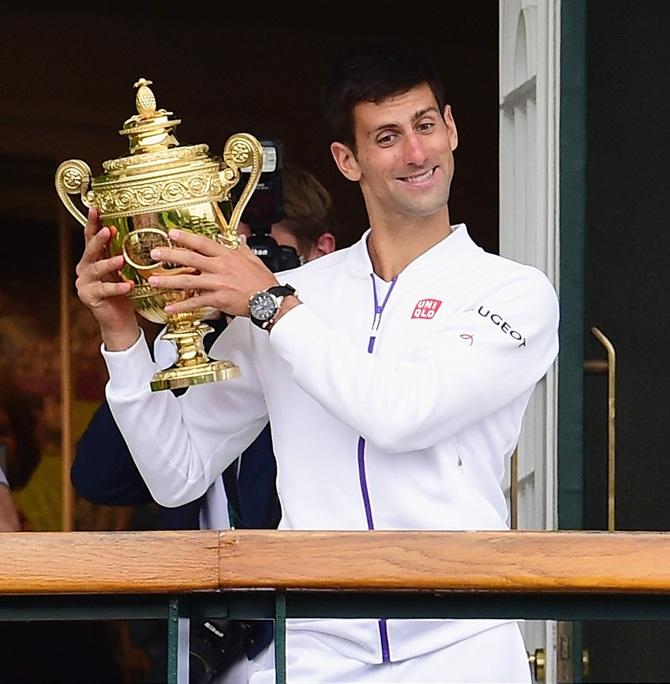 Serbia's Novak Djokovic celebrates with the Wimbledon trophy on the clubhouse balcony. Photograph: Shaun Botterill/Getty Images
Novak Djokovic again revealed the true depth of his steely core to grind Wimbledon idol Roger Federer's hopes of a record eighth title into Centre Court's baseline dust on Sunday.
Djokovic gets the better of Federer again, wins third Wimbledon title
PHOTOS: Celebrities glam up Wimbledon finals
With a sell-out crowd urging Federer to scale the same dizzy heights he reached in eclipsing Britain's Andy Murray in Friday's semi-final, Djokovic shrugged off losing a stomach-churning second-set tiebreak to prevail 7-6(1), 6-7(10), 6-4, 6-3.
After swiping away a forehand winner to end a two hour 56 minute contest that crackled into life midway through but then fizzled out, top seed Djokovic roared to the grey London sky before kneeling down and nibbling some of the cherished turf.
"In the end when I finished the last point, I took out everything that was in me," Djokovic, who has rebounded magnificently from losing the French Open final to Stanislas Wawrinka and missing out on a full set of majors, said.
"It's a great achievement. Even though it's the third title here, it feels like the first.
"Obviously, I was disappointed and heartbroken (to lose the French), but if there is one thing that I learned in the sport it's to recover fast and to leave things behind and move on."
For the second year running in the All England Club's showpiece final Federer played majestically but could not break down the defences of the game's ultimate warrior.
Twelve months ago he pushed the Serb to five sets. This time the Swiss maestro's challenge fizzled out in anti-climactic fashion and Djokovic dominated the third and fourth sets of his 17th grand slam final with clinical precision.
Three titles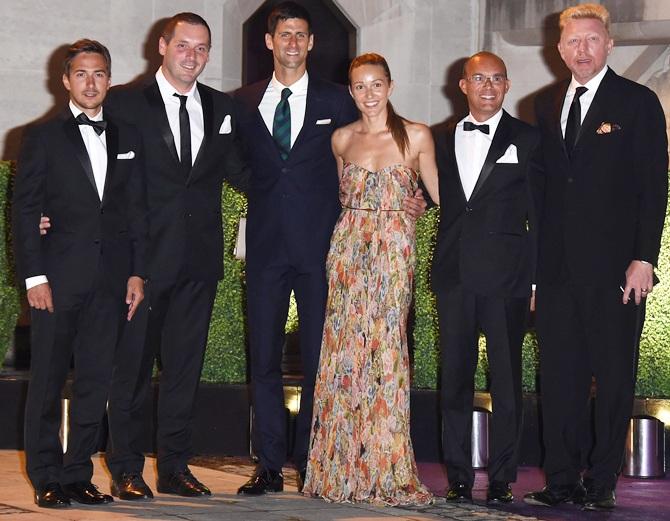 Novak Djokovic, centre, Jelena Ristic, Boris Becker, right, and guests attend the Wimbledon Champions Dinner. Photograph: Stuart C. Wilson/Getty Images
World No 1 Djokovic now has three Wimbledon titles, the same as his coach Boris Becker, and moves above the likes of Andre Agassi, Jimmy Connors, Ivan Lendl and Ken Rosewall in the all-time list of Grand Slam collectors.
At 28, he already has nine majors to his name and, despite the life-changing journey into married life and fatherhood, his hunger for battle remains as voracious as ever.
Nearly six years older, Federer had hoped to become the oldest man to win the Wimbledon title in the professional era.
But, after saving seven set points and coming through a pulsating second-set tiebreak that will go down as one of the tournament's classics, his well of inspiration ran dry.
He will come again, that much is guaranteed, but his chances of winning a record-extending 18th grand slam title are receding.
"You know, I still think I had a great tournament," Federer told reporters. "You can have good tournaments without winning, as well. I still won six matches, lost one. The ratio still remains very good.
"But of course you sort of walk away empty handed. For me a finalist trophy is not the same. Everybody knows that."
First move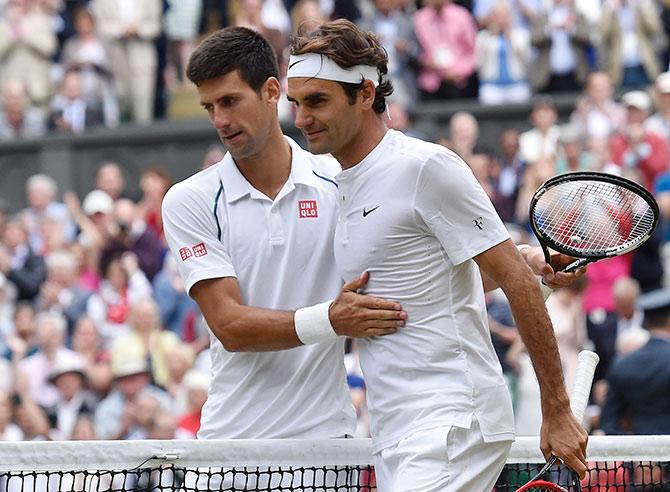 Serbia's Novak Djokovic embraces Roger Federer after winning their men's singles final at the Wimbledon Tennis. Photograph: Toby Melville/Reuters
Second seed Federer made the first move on Sunday, breaking for a 4-2 lead, only for Djokovic to hit back immediately.
Djokovic escaped at 5-6 when Federer held two set points and then ran away with the tiebreak, winning it 7-1 as Federer's timing, so sweet against third seed Murray, went off a fraction.
Sympathetic "aahhs" greeted Federer's mistakes and he looked in trouble at 4-5 in the second set when Djokovic earned a set point only to waft a loose forehand over the baseline.
The real drama was to come.
The final's second tiebreak was in Djokovic's pocket at 6-3 but Federer summoned some magic, winning a hypnotic 26-stroke rally on the way back to 6-6.
With the crowd on the edge of their seats Federer saved three more set points, one when Djokovic slipped over, and then failed to take one of his own before reeling off three points in a row to win it 12-10.
"It was frustrating obviously not to be able to close it out," said Djokovic, who took his anger out by smashing his racket into his shoes.
"I knew that I could not let this happen against Roger in the finals of Wimbledon because it might be my last chance."
Instead of fretting over missed opportunities, Djokovic simply got back to business and earned a break point at 1-1 by dsplaying his freakish court-covering ability before delivering the coup de grace with a deft drop shot.
Federer then blazed a forehand long and the momentum switched back to Djokovic.
A weather interruption dampened Federer's fire still further and once they returned to the court Djokovic eased through the third set before breaking twice in the fourth.