A summary of sports stories from across the globe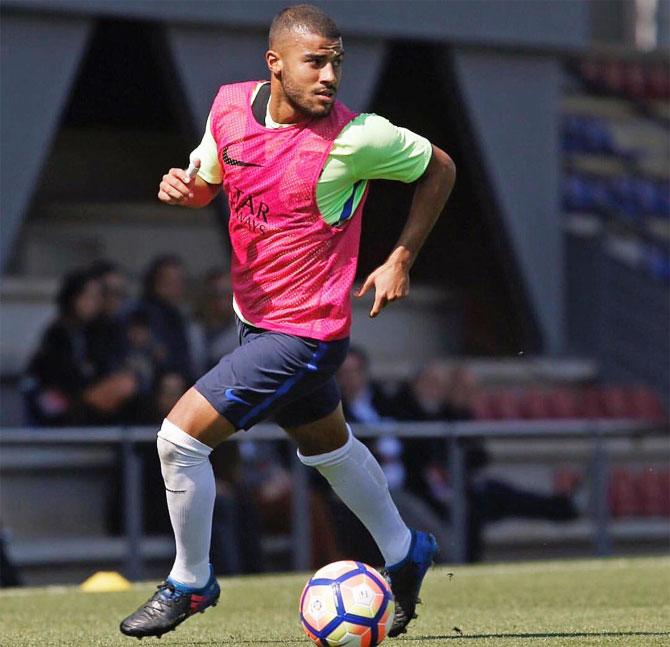 IMAGE: Barca's Rafinha Alcantara is set to miss the Champions League match vs Juventus and the Clasico vs Real Madrid. Photograph: Twitter
Barcelona midfielder Rafinha Alcantara will miss between three and four weeks with a knee injury, according to reports in Spain, a crucial period that includes the Champions League quarter-finals and the Clasico.
He was substituted after 16 minutes against Granada during the Catalans' 4-1 win on Sunday night in Andalusia, with tests revealing he has a small meniscus injury in his right knee.
This means the Brazilian is set to miss both legs of the Champions League quarter-final against Juventus as well as the Clasico at the Santiago Bernabeu against Real Madrid.
Barcelona released a statement saying they will examine him over the next 48 hours to see how the injury develops before deciding which steps to take to help his recovery.
Rafinha has suffered five injuries this season, with bruised ribs, an Achilles tendon problem, a fractured nose and a thigh problem the other setbacks, although he has still played 28 games and netted seven goals.
Injured Konta withdraws from Charleston tournament
IMAGE: Great Britain's Johanna Konta is laid low with a shoulder injury. Photograph: Ryan Pierse/Getty Images
British number one Johanna Konta has withdrawn from this week's Volvo Car Open in Charleston, South Carolina, citing a right shoulder injury.
Konta, winner of the weekend's Miami Open, would have been the number two seed in the WTA event.
"I was battling a slight shoulder injury and sickness during Miami which has taken hold," Konta said in a statement.
Konta, the world number seven, won the biggest title of her career when she beat Caroline Wozniacki 6-4, 6-3 in the Miami final on Saturday.
American Madison Keys is the Charleston event's top seed.
Former Guatemalan FA president Jimenez banned for life
Former Guatemalan football chief Brayan Jimenez has been banned from the sport for life for offences which included "bribery and corruption", FIFA's ethics committee said on Monday.
Jimenez, also a former member of a FIFA committee for fair play and social responsibility, was among several dozen officials who were indicted in the United States in 2015, sparking the biggest corruption scandal in the history of the global soccer body.
He pleaded guilty to racketeering and corruption charges before a U.S. judge in July and is due to be sentenced on April 28.
Jimenez had been found to have violated six articles of FIFA's own code of ethics.
The FIFA ethics committee said that Jimenez "asked for and received bribes" from sports marketing companies in relation to the award of television and sponsorship rights for World Cup qualifiers in Central America, and for Guatemala's participation in international friendlies.