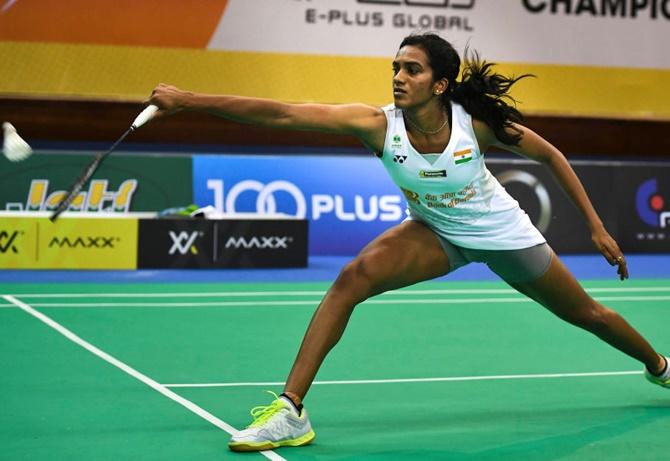 Top shuttlers P V Sindhu and HS Prannoy progressed to the women's and men's singles pre-quarterfinals with straight game wins on a mixed day for India at the US$350,000 BWF World Tour Super 500 tournament in Bangkok on Wednesday.
Olympic silver medallist Sindhu brushed aside Bulgaria's Linda Zetchiri 21-8, 21-15 in the opening round to set up a clash with Hong Kong's Yip Pui Yin.
Playing only his second tournament after recovering from an inflammation in his ankle, Prannoy defeated Spain's Pablo Abian, who had clinched the White Nights title last Sunday, 21-16, 21-19 in a men's singles match at Nimibutr Stadium.
The fourth seeded Indian will face experienced Sony Dwi Kuncoro of Indonesia on Thursday.
Returning to action after recovering from a stress fracture on his shin, 2014 Commonwealth Games champion Parupalli Kashyap saw off Canada's Jason Anthony Ho-Shue 21-15, 21-17 to set up a pre-quarterfinal match against Japan's Kanta Tsuneyama.
Meanwhile, men's doubles pair of Manu Attri and B Sumeeth Reddy prevailed over Chinese Taipei's Chen Hung Ling and Wang Chi-Lin 21-18, 15-21, 21-17 to reach the prequarterfinals.
However, it was curtains for Swiss Open champion Sameer Verma and young Vaishnavi Reddy Jakka in the opening round.
Sameer lost 18-21, 16-21 to Thailand's Tanongsak Saensomboonsuk, while Vaishnavi was shown the door by eighth seed Sayaka Sato of Japan after notching up a 21-13, 21-17 win over the Indian.
Also bowing out of the tournament was rising men's doubles pair of Arjun MR and Ramchandran Shlok after losing 18-21, 21-13, 16-21 to Wahyu Nayaka Arya Pangkaryanira and Ade Yusuf Santoso of Indonesia.
Another men's pair of Mandiraju Anilkumar Raju and Venkat Gaurav Prasad also put up a fight before going down 21-14, 12-21, 14-21 to Chung Yonny and Tam Chun Hei of Hong Kong.
Among others, women's doubles pairing of Meghana Jakkampudi and Poorvisha S Ram, mixed duo of Saurabh Sharma and Anoushka Parikh, and Tarun Kona and Saurabh Sharma crashed out of the tournament.
Hima Das storms into 400m final at U-20 Worlds
Indian sprinter Hima Das stormed into the women's 400m final as the fastest runner in the semi-finals heats on day two of the IAAF World Under-20 Athletics Championships in Tampere on Wednesday.
The 18-year-old Das clocked 52.10 seconds to win the semi-finals heat number one and led the overall time charts. She had also led the time charts in the first round heats on Thursday with a timing of 52.25.
Another Indian in the fray, Jisna Mathew, however, failed to make the finals after finishing fifth in semifinals heat number 2 with a time of 53.86 and 13th overall.
Andrea Miklos of Romania was the second in overall time charts in 52.58.
The first two finishers in each of the four heats and the next two fastest qualify for the final which will be run on Friday.
Das is a favourite to win gold as she is the U-20 season leader in this quartermile event. If the Assam girl happens to win gold, she will become the first Indian athlete to do so in a track event in an U-20 World Championships.
Das clocked an Indian U-20 record of 51.32 seconds to finish sixth in the Commonwealth Games 400m final in Gold Coast in April. Since then, she has gone onto improving her timings. She lowered the Indian U-20 record in 400m to 51.13 seconds while winning gold in the recent National Inter State Championships in Guwahati.
In men's 400m, Gaurav failed to progress further as he finished fifth in his heat and 42nd overall with a time of 48.61. There was also disappointment in the men's long jump final where M Shreeshankar finished sixth with the best jump of 7.75m.
However, shot putter Ashish Jakhar made the final round after finishing eighth overall in the qualification round with a throw of 70.52m while compatriot Damneet Singh (67.48) crashed out after finishing 15th.
Entire men's hockey team included in TOPS
In a departure from the norm, the Mission Olympic Cell on Wednesday included the entire Indian hockey team in the TOP scheme, rewarding the players for their silver medal-winning performance at the Champions Trophy.
Athletes from different sports have been included in Target Olympic Podium Scheme (TOPS) individually but it is first instance that an entire team has been made beneficiary of the financial assistance scheme.
Each of the 18 members of the hockey team will now get a monthly allowance of Rs 50,000.
The men's hockey team, under new coach Harendra Singh, ended runners-up at the Breda event after losing the final to Australia in a thrilling penalty shootout.
According to Sports Authority of India (SAI) the women's hockey team's inclusion in the TOPS would depend on the review of its performance in the upcoming World Cup and the Asian Games.
Among the other notable decisions taken, double Olympic medallist Sushil Kumar has been sanctioned Rs 6.62 lakh for hiring two sparring partners and a physiotherapist for his ongoing training stint in Georgia.
Another Rs 3.22 lakh has been sanctioned for Bajrang Punia and Sumit for their training and tournament participation in Turkey.
Boxer Sarajubala Devi got an extension under after qualifying for the Asian Games.
Among the other sports, gymnastics received a total grant of Rs 21.76 lakh. It includes Rs. 7.76 lakh for the month-long training program of Pranati Nayak in Uzbekistan. Another Rs 14 lakh (approximate) was sanctioned for the 32-day program including a training camp in Belgium for Ashish Kumar and Aruna Budda Reddy.
Davis Cupper Ramkumar Ramanathan will get Rs 12.57 lakh for his training (under coach Angel Gimenez Alonso), competition and equipment expenses leading up to the Asian Games.
A total of Rs 11.48 lakh has been budgeted for the purchase of archery equipment for three compound archers Trisha Deb, Rajat Chauhan and Jyothi Surekha Vennam and one recurve archer Promila Daimary.
Further, Rs 4.04 lakh has been sanctioned for the engagement of Italian coach Sergio Pagni to train India's compound archers for a period of 10 days at the SAI Sonepat centre ahead of the Asian Games.
The four compound archers who will be trained are Abhishek Verma, Rajat Chauhan, Trisha Deb and Jyothi Surekha Vennam.
Judokas Avtar Singh and Vijay Kumar Yadav will get Rs 3.55 lakh for their training, competition (to be accompanied by coach Yashpal Solanki) and equipment expenses ahead of the Asian Games. The committee also decided to exclude Tulika Mann from the TOPS scheme due to her recent below-par performances.
However there was bad news for Wushu as Uchit Sharma, Arupama Devi and Budha Chandra have been excluded from the TOPS due to below par performance and non-inclusion in the Asian Games squad.