A summary of sports events and sports persons, who made news on Sunday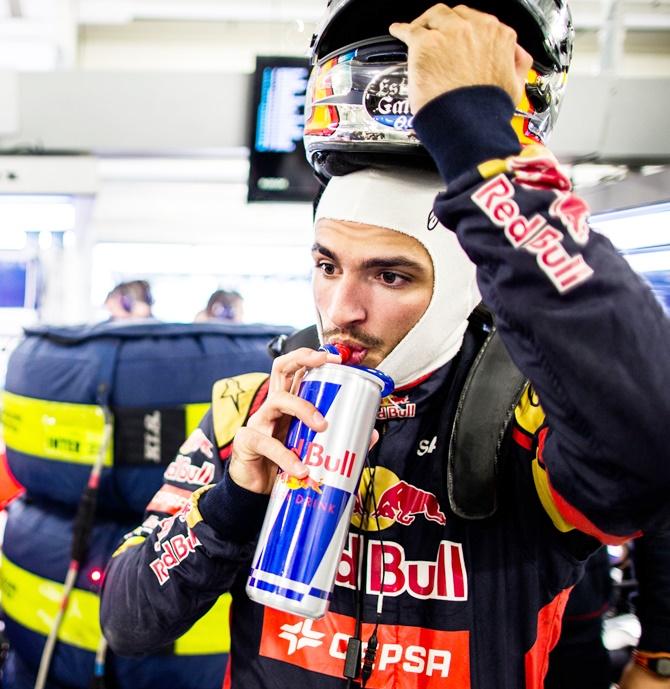 IMAGE: Toro Rosso's Carlos Sainz. Photograph: Peter Fox/Getty Images
Toro Rosso's Carlos Sainz was given a three-place grid penalty for the Russian Grand Prix after Formula One stewards ruled that he was mostly to blame for a collision that brought out the safety car in Sunday's Bahrain race.
The Spaniard left the pit-lane and collided with Lance Stroll's Williams just as the 18-year-old Canadian rookie was turning into the first corner on lap 13.
"I got hit from the side," exclaimed a startled Stroll over the team radio.
The incident put both drivers out of the floodlit race at the Sakhir Circuit.
Stewards said in a statement after reviewing video evidence that Stroll had taken the normal racing line while Sainz "made a very optimistic attempt to pass".
The Russian Grand Prix in Sochi on April 30 is the fourth round of the season. Toro Rosso are currently sixth in the standings, with Williams fifth.
Fan in coma after violence at Argentine soccer match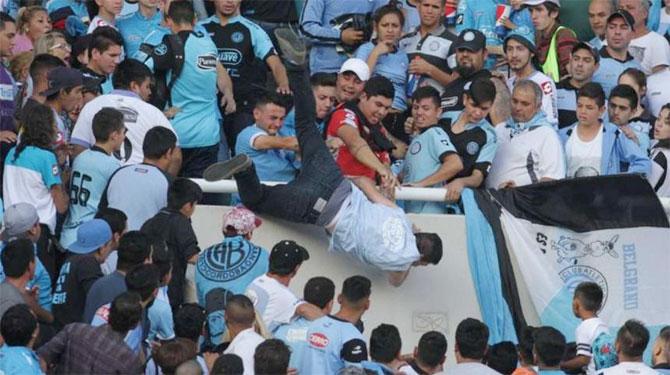 IMAGE: A Belgrano fan sustained head injuries after being thrown from the stands on the suspicion of being a Talleres supporter during a Argentina Primera Division derby match in Cordoba, Argentina on Sunday. Photograph: Twitter
An Argentine soccer fan was in a coma and two men arrested for attempted murder after a scuffle among supporters in the derby between Belgrano and Talleres in Cordoba, local media reported on Sunday.
The fan, identified by Belgrano as Emanuel Balbo, was beaten by fellow supporters in the crowd of 57,000 and forced down the terraces where he tried to avoid more violence by vaulting a barrier, his father told Cordoba's Cadena 3 radio station.
Video footage showed Balbo falling over one tier of the stand and then lying prostrate on a concrete staircase below.
Local media reported he was in a serious condition.
Another fan named Diego Frydman was also hurt, home club Belgrano said.
"Here at Belgrano we are praying that Emanuel Balbo and Diego Frydman recover," the club said in a statement.
Saturday's violence is the latest in a long string of incidents at Argentine grounds.
In recent years away fans have been banned from some matches and games postponed but the measures have failed to curb the violence.
The game finished 1-1 to leave Belgrano second bottom of the 30-team Primera Division.
Coric wins first ATP title after saving match points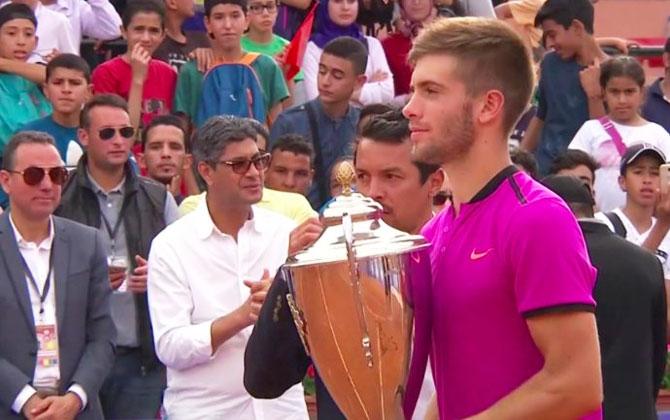 IMAGE: Croatia's Borna Coric poses with the trophy after winning his first ATP title in Marrakech, Morocco, on Sunday. Photograph: Borna Coric/Twitter
Croatian Borna Coric claimed his first ATP title when he battled back to beat experienced German Philipp Kohlschreiber in the final of the Grand Prix Hassan II in Marrakech on Sunday.
The 20-year-old, playing in only his second Tour final, won 5-7, 7-6(3), 7-5 and saved four match points before sealing victory.
Third seed Kohlschreiber looked on course for victory when he led by a set and 3-0 but Coric recovered to level the final on a tiebreak. Coric then clawed back a 2-4 deficit in the decider before claiming victory in two hours 38 minutes.
It was a huge week for Coric who has suffered a marked loss of form and has slumped to 79 in the rankings having been tipped to challenge for major honours.
Jet-lagged Johnson limps to Houston clay court victory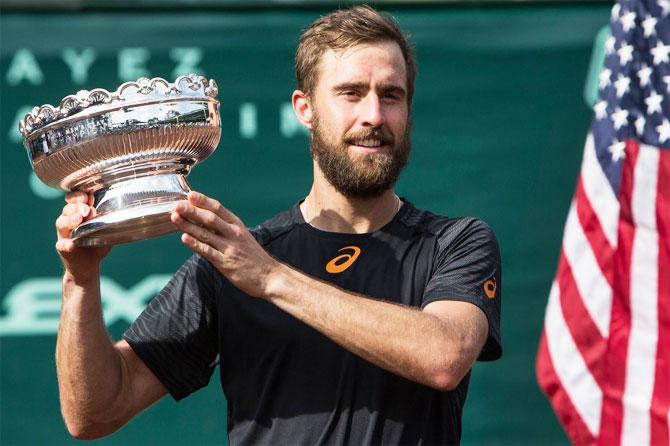 IMAGE: America's Steve Johnson won the US Men's Clay Court Championship in Houston on Sunday, only his second ATP title. Photograph: Steve Johnson/Twitter
American Steve Johnson literally limped to a 6-4, 4-6, 7-5(5) victory over Brazilian Thomaz Bellucci in the final of the US Men's Clay Court Championship in Houston on Sunday.
Johnson, suffering a cramp in his left leg, could hardly move at times late in the third set, hobbling on some points and not even chasing down balls on others.
But the World No. 29 prevailed in the final set tiebreak, clinching the win with a forehand groundstroke down the line for his second ATP victory.
Johnson said he was simply worn down after flying back from a Davis Cup tie in Australia earlier in the week.
"My body has just physically run out of gas after this week," he said on the ATP website.
"Coming in from Australia kind of put me behind the eight ball and then the nerves of trying to close out the final, a lot of factors go into cramping. I was very fortunate to get out of that."
2018 Games torch relay to begin in November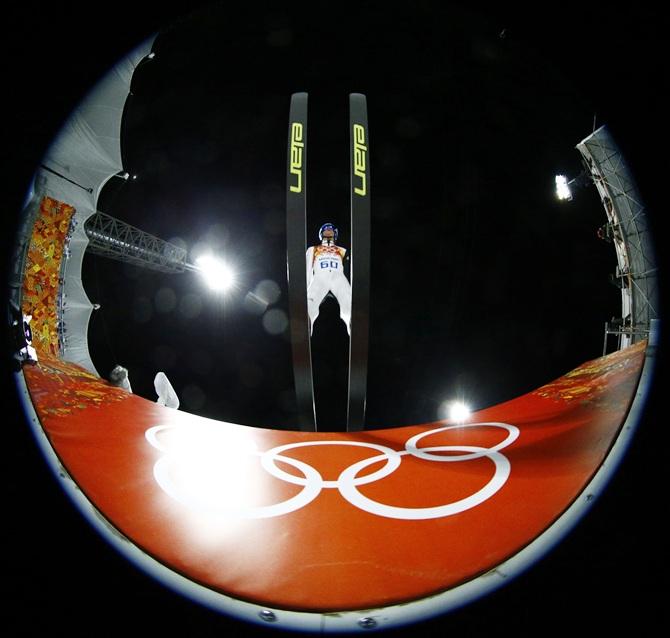 IMAGE: Image used for representational purposes. Photograph: Kai Pfaffenbach/Reuters
The torch relay for next year's Winter Olympics will begin in South Korea in November and travel 2,018 kilometres around the country before arriving in Pyeongchang to mark the start of the February 9-25 Games, organisers said on Monday.
The flame will be lit in Olympia, Greece on October 24 before coming to Korea for the domestic relay.
It would then be taken through 17 cities and provinces by 7,500 torchbearers, beginning on November 1 -- the 100-day countdown to the Games.
The 2018 Games kick off an Olympic cycle in Northeast Asia, with Tokyo hosting the 2020 Summer Games and Beijing staging the Winter Olympics two years later.