A summary of sports events and persons who made news on Thursday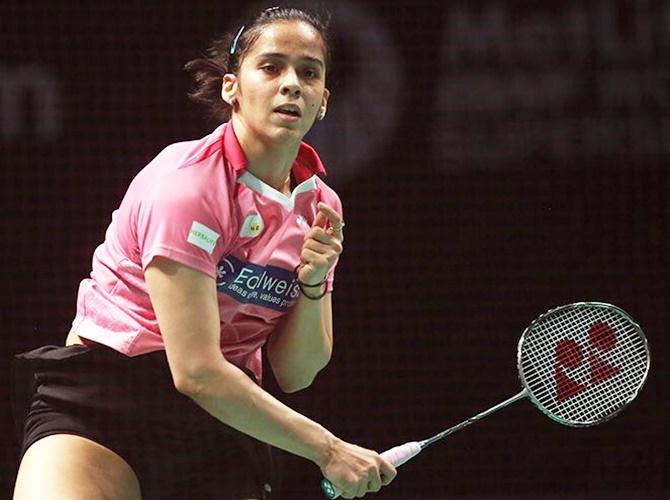 Following their poor run of form at the badminton World Championship, Saina Nehwal dropped out of the top 10 while Kidambi Srikanth slipped two places to eighth in the latest BWF singles rankings released on Thursday.
Saina lost a place to be ranked 11th now.
P V Sindhu, who clinched her second successive silver medal at the World Championship, remained static at the third spot. H S Prannoy, who also lost in the second round at Nanjing, remained steady at the 11th place.
A quarter-final finish at the World championship saw B Sai Praneeth improved two places to the 24th place, while Sameer Verma dropped two places to world no 21st.
Mixed doubles pair of Ashwini Ponnappa and Satwiksairaj Rankireddy made a massive jump of 12 places to be at the career-best ranking of 28th position. Satwik and Chirag Shetty also improved a couple of places to world no 23 in the latest men's doubles ranking.
Jayaram, Rituparna and Mithun enter quarterfinals of Vietnam Open
Indian shuttlers Ajay Jayaram, Rituparna Das and Mithun Manjunath were through to the quarter-finals of the US$75,000 Vietnam Open Tour Super 100 tournament in Ho Chi Minh City on Thursday.
Jayaram, who touched a career-high rank of 13, toppled top seeded Brazilian Ygor Coelho 22-20 21-14 in 34 minutes and will next face Canada's Xiaodong Sheng.
The 30-year-old had reached the finals at the White Nights last month and ended a runner-up at the Korea Open Super Series in 2015.
Former national champion Rituparna beat Chinese Taipei's sixth seed Sung Shuo Yun 21-8 21-14 to set up a meeting with Thailand's Phittayaporn Chaiwan next.
Young Manjunath, who had reached the semifinals at the Russian Open last month, staved off a stiff challenge from Thailand's Adulrach Namkul 18-21, 21-13, 21-19 in a 56-minute clash.
He will face China's Zhou Zeqi next.
However, it was curtains for Kartik Jindal after he lost 10-21, 22-24 to Canada's Xiaodong Sheng.
Up against Coelho, who had defeated HS Prannoy in the World Championship last week, Jayaram opened up a 6-1 lead before managing a 11-8 advantage at the interval.
After the breather, Coelho turned the tables, leading 12-11 but Jayaram again grabbed the advantage to lead 16-13. The Brazilian caught up at 20-20 before the Indian reeled off the required two points to pocket the first game.
In the second game, Jayaram came out firing on all cylinders, leading 5-1. He soon jumped to a 13-5 lead and even though Coelho reduced the deficit to 13-14, Jayaram held his fort to eventually shut the door on his rival.
Abhijeet loses but Indian youngsters impress in Abu Dhabi Masters
India's Abhijeet Gupta suffered a shock defeat but young D Gukesh held highly-regarded Grandmaster Valdimir Akopian of Armenia to a creditable draw in the second round of Abu Dhabi Masters chess tournament in Abu Dhabi on Thursday.
Highest-rated Indian Grandmaster, Abhijeet went for the French defense and made a costly middle game error to eventually go down to Gumay Mammadzada of Azerbaijan.
However, it turned out to be a good day for young Indian players as Raunak Sadhwani also put up an excellent contest to draw with Egyptian Grandmaster Ahmed Adly, while Arjun Kalyan, who is fresh from his maiden GM norm, split the point with Andrei Istratescu of Romania.
FIDE master V S Rathanvel also continued with his dream start to hold higher-ranked Nodirbek Abdusattarov of Uzbekistan.
Rathanvel had caused the biggest upset of the opening round, defeating top seed Le Quang Liem of Vietnam in this super-open where 88 Indians are participating out of a total 158 participants.
With seven rounds still to go in one of the strongest open of Asia, Vishnu Prasanna, Aravindh Chathambaram, S L Narayanan, Nihal Sarin remain in the leading group with a perfect score. As many as 20 players share the lead.
The third round will see some fine clashes lined up as Narayanan will meet highly-rated Wang Hao of China, Chathambaram will fancy his chances against Vladimir Fedoseev of Russia while Vishnu Prasanna has set up a contest with FIDE Presidential candidate Nigel Short of England, a former world championship contender.
Important and Indian results round 2 (Indians unless stated): Ivan Cheparinov (Geo, 2) beat Abhijit Kunte (1); Swapnil S. Dhopade (1) lost to Wang Hao (Chn, 2); Vladimir Fedoseev (Rus, 2) beat N R Vignesh (1); P Iniyan (1) lost to Dubov Daniil (Rus, 2); Harsha Bharathakoti (1.5) drew with Gabriel Sargissian (Arm, 1.5); R R Laxman (1.5) drew with Anton Korobov (Ukr, 1.5); Nigel Short (Eng, 2) beat S Nitin (1); D Gukesh (1.5) drew with Vladimir Akopian (Arm, 1.5); Parham Maghsoodloo (Iri, 2) beat Sundararajan Kidambi (1); Adly Ahmed (Egy, 1.5) drew with Raunak Sadhwani (1.5); Raja Rithvik (1.5) drew with Lupulescu Constantin (Rou, 1.5); Gunay Mammadzada (Aze, 2) beat Abhijeet Gupta (1); Dimakiling Oliver (Phi, 1) lost to Aravindh Chithambaram (2); S L Narayanan.(2) beat N Krishna Teja (1); Arjun Kalyan (1.5) drew with Andrei Istratescu (Rou, 1.5); Soumya Swaminathan (1.5) drew with Alexandr Fier (Bra, 1.5); Chinmay Kulkarni (1) lost to Nihal Sarin (2); Nodirbek Abdusattorov (UZb, 1.5) drew with V S Rathanvel (1.5); V S Raahul (1.5) drew with M R Lalith Babu (1.5); V Vishnu Prasanna. (2) beat Jeet Jain (1); Rakshitta Ravi (1) lost to Erigaisi Arjun (2).
Indian junior hockey teams qualify for Youth Olympic Games
The Indian junior men's and women's teams have qualified for the Hockey 5's competition at the Buenos Aires Youth Olympic Games to be held from October 6 to 18, International Hockey Federation (FIH) announced on Thursday.
In the men's category, India will face stiff competition from defending champion Australia and silver medallists Canada along with hosts Argentina, Austria, Bangladesh, Poland, Mexico, Malaysia, Kenya, Zambia and Vanuatu.
The women's team will also have their task cut-out as 2014 gold medallists China, hosts Argentina, Austria, Poland, Uruguay, Mexico, Australia, Namibia, South Africa, Zimbabwe and Vanuatu will be the other 11 teams giving them competition.
The hockey tournament at the Games will follow the Hockey 5s format where a total of 12 teams in both men's and women's category will compete between October 7 to 14 at Youth Olympic Park.
This is the first time, both the junior teams will participate in the Youth Olympic Games after having missed the first two editions in 2010 and 2014.
Hima Das signs up with sports management firm
World champion sprinter Hima Das has inked a multi-crore two-year deal with sports management firm Infinity Optimal Solutions (IOS), the company said on Thursday.
Hima, who scripted history by winning a gold medal in the women's 400-metre event at the IAAF World U-20 Championships recently, joins the likes of boxing stars MC Mary Kom and Vijender Singh, rising paddler Manika Batra and world champion weightlifter Mirabai Chanu in signing up with IOS.
The company did not specify the exact monetary details of the deal.
Hima had clocked 51.46 seconds in the finals to become the first Indian athlete to win a world championship gold across all age groups.
Hima, daughter of a rice-farmer, started her career in 2012 and performed well at district level competitions. In early 2016, she won the 100m race at the state championship and later made the finals of Junior Athletics Championship in Coimbatore without any training.
After some time she shifted to the sports academy in Guwahati to train under coach Nipon Das.
"I am fortunate to be on board with one of India's top sports management group. I was looking for a professional sports management group to manage my commercial interests, as I only want to focus on my training and championships," Hima said in a release.
Welcoming Hima to IOS, the company's MD and CEO Neerav Tomar said, 的 am delighted about our latest signing. Hima has tremendous potential and we, as her team behind her, would work towards building her image and looking after her commercial interests."