A summary of sports events and persons who made news on Tuesday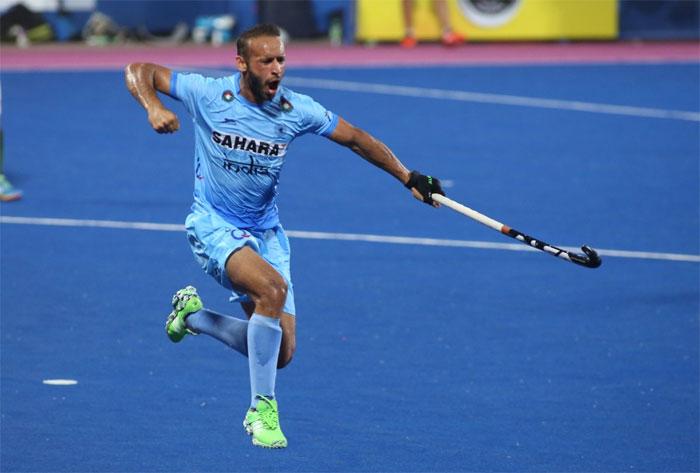 Indian striker Ramandeep Singh has been ruled out of the ongoing FIH Champions Trophy due to a knee injury.
The MRI reports on Monday came as a big blow to the team ahead of its crucial tie against defending champions Australia on Wednesday.
"Ramandeep complained about a pinch in his right knee at half-time during our match against Pakistan. But when we rested him for Argentina match and took him for an MRI, it was revealed that he has sustained a full thickness condral fracture-injury in the center of his right knee," explained chief coach Harendra Singh.
With one key player out, India will face Australia, Belgium and the Netherlands in must-win matches to earn a place in the final.
Ramandeep has set the momentum right for India in their opening match against Pakistan after he scored the team's first goal. He had even assisted Lalit Upadhyay in the 60th minute of the match as India marched to a 4-0 victory.
"We will certainly miss him, we missed him against Argentina too. He is an experienced player and the way he creates space and takes shots on goal has worked for the team. Playing high speed hockey with 17 players can get a bit tiring for the players. But that should not be a deterrent in our pursuit to earn a place in the final," Harendra added.
Saina sails into second round of Malaysian Open
India's Olympic medallist shuttler Saina Nehwal sailed into the second round of the $ 700,000 Malaysian Open with a convincing 21-12 21-16 win over Yip Pui Yin of Hong Kong in Kuala Lumpur.
The London Games bronze medallist needed 42 minutes to clear the first hurdle at the Axiata Arena.
Saina, who had won gold at the Gold Coast Commonwealth Games, has been in good form of late.
However, the Indian has been drawn in a tough group and is meeting second seed Akane Yamaguchi of Japan in the second round.
Saina gave ample glimpse of her fitness and form en route to victory.
Saina, who was runners-up at Indonesia Masters earlier this year, will also look to continue her good run in the next round.
In the men's singles, Sameer Verma lost to Indonesia's Tommy Sugiarto 13-21, 5-21 to crash out of the competition.
The mixed doubles pairing of Rohan Kapoor and Kuhoo Garg too suffered a first round loss, 9-21, 10-21, against eighth seeds He Jiting and Du Yue of China.
Sandeep Tomar secures Asian Games spot, Aware gives trials a miss
Wrestler Sandeep Tomar staved off stiff competition from the talented Utkarsh Kale to qualify for the Asian Games and World Championship in the 57kg category, even as Rahul Aware opted out of the trials, citing a knee injury.
In the most exciting bout of the day, Sandeep, the 2016 Asian Championship winner, trailed Utkarsh 2-4 after the first round and drifted further with Utkarsh creating another two-point move in the beginning of second round.
However, Sandeep, like many times in the past, made a strong comeback and rolled his opponent twice to level the score at 6-6 towards the end. Since Sandeep had scored the last points, he was declared the winner.
With Sandeep's selection, India's men's wrestling squad for the Asian Games is now complete as re-trials were required in the 57kg category after Sandeep, Utkarsh and Ravi had earlier ended on equal points and Commonwealth Games gold medallist Aware sought more time for preparation.
"Although I was trailing, I knew I could beat him. I had confidence in my ability," Sandeep said, adding, "I could not play my best since I had fever few days back and also back pain."
"You may have seen my bouts. I grapple better than this," the 27-year-old from Rohtak, said.
His personal coach Kuldeep Singh, who is also the national Greco-Roman coach, also said that his ward could not play to his potential.
Utkarsh had outsmarted Ravi Kumar 10-0 in his first bout and looked set for an upset but Sandeep had more tricks up his sleeve to down his opponent.
Meanwhile, Aware's absence from the 57kg trails was being talked about in the arena.
The Wrestling Federation of India (WFI) officials said he had submitted a medical certificate to opt out about a week ago, citing an injury.
However, it was also being rumoured that he could not maintain his weight and also encountered a shoulder problem during practice.
"Since he was a CWG gold medal winner, we had to give him time for preparation. Now that he has given a medical certificate, saying he is injured, we have to accept this also. It is his right," WFI president B B Sharan Singh said, ruling out any action against the Maharashtra wrestler.
Celebrated wrestler Sushil Kumar (74kg), Bajrang Punia (65kg), Mausam Khatri (97kg), Pawan Kumar (86kg) and Sumit (125kg) are the other members of the Indian men's squad. Both Sushil and Bajrang were exempted from trials by the WFI while the other three had booked their slots on June 9.
In the trials for the non-Olympic categories for the World Championship, to be held in Budapest from October 20 to 28, Pankaj Rana (70kg), Sachin Rathi (79kg) and Gold Coast CWG bronze medallist Sombir (92kg) booked their spots.
According to WFI secretary general V N Prasood, Praveen will fight it out with Bajrang for a place in the Worlds in the 65 kg category and trials in 74kg and 61kg will also be held after the Asian Games in Indonesia.
In the 79kg bouts, Rahul Rathi scored an upset win over 2013 Asian Champion Amit Dhankar, but it was Indian Navy's Sachin Rathi, who had the last laugh, beating Rahul 4-2 in the final.
Sombir had an easy run as he blanked Naresh Kumar 6-0 before getting the better of Deepak 3-1 in the final.
In the 70kg, a dominant Pankaj won both his bouts on technical superiority. He first overpowered Jasbeer 10-0 and then outclassed Manoj Kumar with the same margin in the decisive bout.
In the Greco-Roman trails, Gaurav (63kg), Vijay (55kg), Kuldeep Malik (72) and Manjeet (82kg) qualified for the World Championship.