A summary of sports events and sports persons, who made news on Wednesday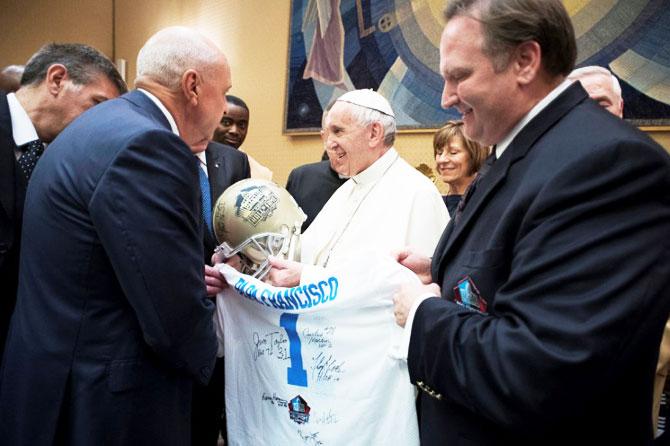 IMAGE: Pope Francis is presented with an American football helmet and a jersey during a meeting with members of American Pro Football Hall of Fame at the Vatican on Wednesday. Photograph: Osservatore Romano/Handout via Reuters
The "Hail Mary Pass" did not come up in the conversation, but Pope Francis clearly had a good catch on Wednesday when he received a helmet and jersey from members of the American Pro Football Hall of Fame.
"As many of you know, I am an avid follower of 'football', but where I come from, the game is played very differently!" Francis joked with the players and directors at a private audience.
The pope is an honorary member of the San Lorenzo soccer club, nicknamed the Saints of Boedo for the Buenos Aires barrio where they were founded by a group of young men that included a priest in 1908.
Those who met the pope included Dallas Cowboys owner Jerry Jones, who is due to be inducted into the Hall of Fame in August, and six previous Hall of Fame inductees including Ronnie Lott, Franco Harris and Curtis Martin.
Francis told them that sports figures should strive to be models for young people so that they use their God-given talents to better society.
The group gave the pope a signed helmet and a white jersey bearing the number 1 and the name "Papa Francesco".
In American football, a "Hail Mary Pass" is a long forward pass, made with only a small chance of success.
The term became famous in 1975 in a game between the Dallas Cowboys and the Minnesota Vikings. Cowboys quarterback Roger Staubach, a Roman Catholic, made an extraordinary game-winning pass and later explained: "I closed my eyes and said a Hail Mary."
Monisha Kaltenborn to leave Sauber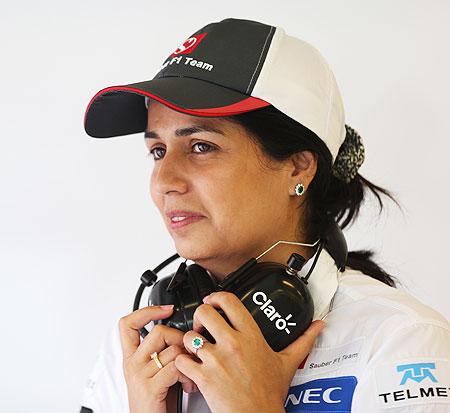 IMAGE: Monisha Kaltenborn. Photograph: Mark Thompson/Getty Images
Motor racing's Sauber have parted company with Monisha Kaltenborn, the first woman to run a Formula One team, according to multiple media reports on Wednesday.
The Swiss-based team, which had issued a sponsor announcement on Tuesday with quotes from Kaltenborn welcoming the Additive Industries as new partner, could not be contacted immediately for comment.
Many in the Formula One paddock were making their way to Baku for the weekend's Azerbaijan Grand Prix.
One source close to the team told Reuters the reports had substance, however.
The BBC, also citing sources close to the team, said Kaltenborn had been in disagreement with owners Longbow Finance.
Motorsport.com website said one of the issues was believed to be the treatment of the team's Swedish driver Marcus Ericsson and Germany's Pascal Wehrlein, with the owners wanting to give priority to the former.
Ericsson has yet to score a point in seven races this season while Wehrlein, a Mercedes-backed driver, finished eighth in Spain in May.
The website said the terms of Kaltenborn's departure were still being worked out.
Kaltenborn, an Indian-born Austrian citizen, took over from team founder Peter Sauber in 2012.
The sport's first woman team principal, and the second Indian-born after Force India's Vijay Mallya, Kaltenborn joined Sauber in 2000 to run the legal department and took over as chief executive in 2010.
The team fell on hard times in recent seasons, struggling to score points last year, but the financial problems eased when Longbow, a Swiss-based investment company, took over in July last year.
Three Russian runners get 4 year-ban after Beijing retests
Three Russian runners whose samples from the 2008 Beijing Olympics tested positive for a banned steroid have been handed four-year suspensions after retests, Russia's athletics federation said on Wednesday.
Long-distance runner Inga Abitova and 400-metre specialists Anastasia Kapachinskaya and Denis Alekseyev had already been disqualified by the International Olympic Committee last year after their samples from Beijing were found to contain banned substances, including the steroid turinabol.
Alekseyev won bronze in Beijing as part of the Russian men's 4x400-metre relay team, but the IOC ordered that he and his teammates be stripped of their medals.
His results between August 2008 and June 2013 are annulled, the Russian athletics federation said in a statement.
Kapachinskaya and her 4x400-metre relay teammates were also stripped of their silver medals from Beijing. Her results starting from August 2008 are annulled, the federation said.
The suspensions handed to Abitova and Alekseyev will end next year because they include two-year bans they had previously served for doping offences, the federation said.
The International Association of Athletics Federation (IAAF) provisionally suspended Russian track and field athletes from international competition in 2015 over a report by the World Anti-Doping Agency (WADA) alleging rampant state-sponsored doping in the sport.
Russia's track and field team, with the exception of one athlete based in the United States, was banned from the Rio Olympics last summer. The majority of Russian athletes are also set to miss the world championships in London in August.
In recent months the IAAF has cleared a total of 15 Russian athletes, including 2015 world champion hurdler Sergey Shubenkov, for having demonstrated that they are training in an environment that meets its anti-doping requirements.
Intel signs Olympics sponsorship deal
Intel Corp said on Wednesday that it would become a major sponsor of the International Olympic Committee, making the chipmaker the latest technology company to put marketing dollars behind the global sporting event.
The new deal, which goes until 2024, comes a week after longtime Olympics sponsor McDonald's Corp bowed out of its sponsorship deal early, citing a change in the company's priorities as it tries to hold down costs.
Intel joins about a dozen global Olympics sponsors such as Coca-Cola Co and Samsung about six months after Chinese e-commerce company Alibaba signed on until at least 2028. The IOC has been trying to make the Olympics more technologically savvy and appeal to younger people through its online content network, the Olympic Channel.
IOC President Thomas Bach, who signed the deal with Intel's Chief Executive Officer Brian Krzanich at a press conference in New York, said Intel's sponsorship will open up new experiences for athletes, fans and spectators including in virtual reality.