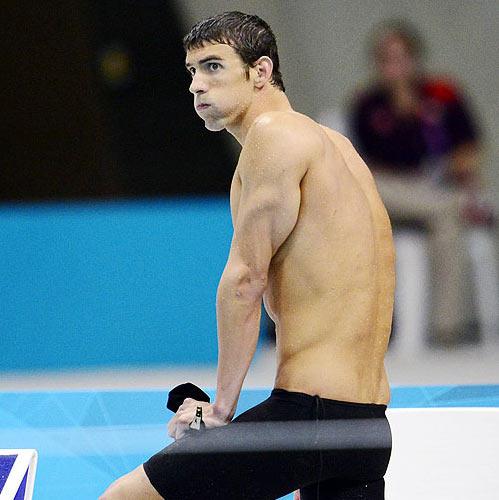 Michael Phelps of the United States. Photograph: Sean Kilpatrick / AP Photo / The Canadian Press/File photo
American swimmer Michael Phelps, the most decorated Olympian of all time, was suspended for six months by USA Swimming on Monday following his recent arrest on a drunken driving charge.
Phelps, who recently returned to top-level competition after a two-year retirement, will also not be allowed to represent the United States at the 2015 FINA World Swimming Championships in Russia next August, USA Swimming said in a statement.
The arrest last Tuesday marked the second time the 29-year-old Baltimore-area native had been arrested for drunken driving, the first being in 2004. In the first case, he pleaded guilty to a lesser charge of driving while impaired in exchange for 18 months' probation.
"Membership in USA Swimming, and particularly at the National Team level, includes a clear obligation to adhere to our Code of Conduct," USA Swimming Executive Director Chuck Wielgus said in a statement.
"Should an infraction occur, it is our responsibility to take appropriate action based on the individual case. Michael's conduct was serious and required significant consequences."
Phelps was arrested last week after speeding and then crossing the double-lane lines inside a Baltimore tunnel, police said, adding he was clocked by radar traveling 84 miles per hour (135 kph) in a 45-mph (72-kph) zone.
Documents indicate that Phelps registered .14 percent on a Breathalyzer test after being pulled over in his 2014 Land Rover. The legal limit for intoxication in Maryland is .08.
Phelps apologized for the incident and said on Sunday he was checking himself into rehab for six weeks in order to "better understand myself."
He can train with his member club during his suspension, but is ineligible to participate in USA Swimming-sanctioned competitions through March 6, 2015. Phelps, who has won 22 Olympic medals, 18 of them gold, will also forfeit a monthly stipend from USA Swimming during the six-month suspension.
"Michael accepts USA Swimming's sanctions," said a spokesman at Octagon, the group that represents Phelps. "He has apologized for his actions and, as he shared yesterday, is taking steps to address them."
Although he has not indicated a desire to compete at the 2016 Olympics, many view Phelps' recent return to the pool as a clear sign he wants to stage a comeback.
Dara Torres, a 12-time Olympic medalist, said she believed Phelps could still make the U.S. squad for Rio de Janeiro.
"I don't think the suspension is going to affect him physically, because they're not saying he can't train. He just can't compete," Torres, a former teammate of Phelps, told Reuters in a telephone interview.
"He can still stay in shape and he knows what to expect and how to compete. It's not like he's starting something new."
Wielgus said: "Michael has publicly acknowledged the impact of his decisions, his accountability especially due to his stature in the sport and the steps necessary for self-improvement. We endorse and are here to fully support his personal development actions."
Badminton to make Paralympics debut in Tokyo 2020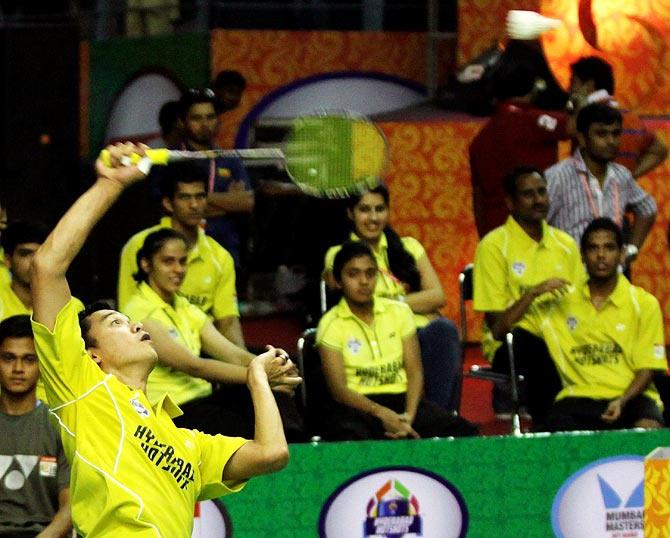 Badminton star Taufik Hidayat (This image is used for representational purposes). Photograph: Indian Badminton League
Badminton will make its Paralympics debut in Tokyo in 2020 after the International Paralympic Committee on Tuesday included it in the first batch of approved sports for the event.
Badminton, hugely popular in Asia, is already an Olympic sport.
"I would like to congratulate the 16 sports that we have already confirmed will be included in the Tokyo 2020 Paralympic Games, in particular badminton, who after missing out four years ago, submitted a very strong application," IPC President Philip Craven said after a governing board meeting in Berlin.
"The IPC looks forward to working with the Badminton World Federation (BWF) over the coming years to manage their smooth transition into the 2020 sports programme."
The IPC approved 16 sports, including athletics, archery, equestrian, powerlifting, rowing and wheelchair basketball among other, as part of the Tokyo Paralympics.
Eight other sports, including cycling, whose federation applied too late to be considered at the Berlin meeting, and football, will be reviewed early next year for inclusion. Both these sports are part of the 2016 Rio de Janeiro Paralympics sports programme.
"For the eight sports still in the running, we identified a number of issues with their submissions, or, in the case of UCI, it was submitted too late to be assessed at this meeting," Craven said.
"The IPC Governing Board will re-evaluate these applications when it meets in Abu Dhabi (in January) and will make its final decision on the number of sports, and which sports will be included in the Tokyo 2020 Paralympic sports programme."
Unknown Wang upsets Fognini at Shanghai Masters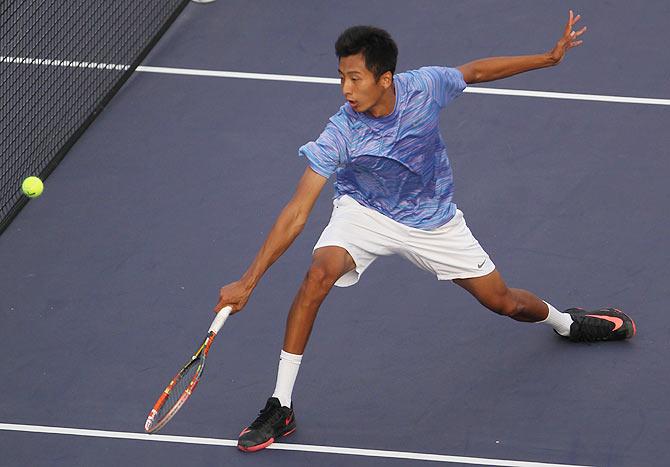 Chuhan Wang of China returns a shot during his match against Fabio Fognini of Italy during the Shanghai Rolex Masters at the Qi Zhong Tennis Center on Tuesday. Photograph: Zhong Zhi/Getty Images
World number 553 Wang Chuhan caused a seismic shock at the Shanghai Masters on Tuesday after the Chinese wildcard knocked out 15th seed Fabio Fognini in straight sets on his ATP World Tour debut.
Wang, who mainly plays in Challenger or Futures tournaments rather than the top tier, recorded a 7-6(5), 6-4 first round win over the Italian on the Grandstand court to huge cheers from the shocked home crowd.
The 22-year-old showed few nerves as he continued to pound aggressively for the lines against a flat Fognini, who offered little in the closing stages of the match and seemed happy to get off court as quickly as possible.
Wang secured victory over the World No 17 with a stunning backhand winner up the line before turning to his coaching team with a shocked expression and clenched fists.
Wang will face Tunisian qualifier Malek Jaziri in the second round after the world number 87 upset American Donald Young 7-5, 6-4.
The loss was a fifth straight for Italian Fognini, who has won three claycourt titles on the ATP Tour.
Murray not focusing on qualification for World Tour Finals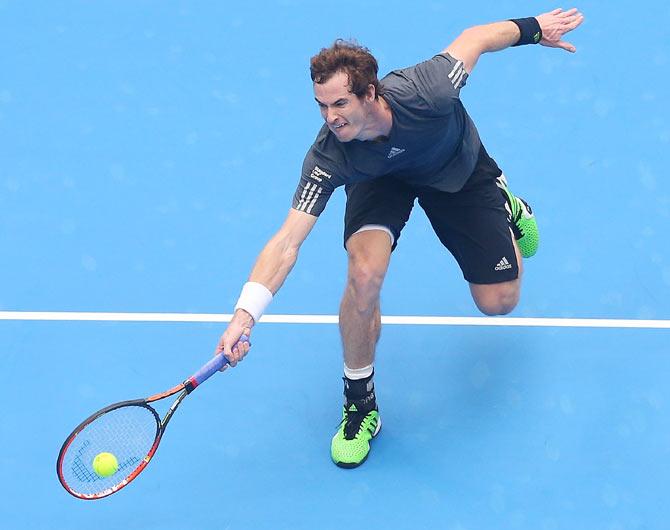 Andy Murray of Great Britain. Photograph: Chris Hyde/Getty Images
Andy Murray does not want to become too fixated with his chances of securing a place in next month's ATP World Tour Finals in London despite ending his 15-month title drought recently.
The Briton was in danger of missing out on playing in front of his home fans as he slipped out of the top 10 in the Race to London after failing to reach a final for more than a year following his triumph at Wimbledon in July 2013.
But after winning the Shenzhen Open and reaching the semi-finals of the China Open over the last few weeks, the 27-year-old Scot is once again in contention for London after climbing to ninth in the Race.
Only the top eight players in the Race will play in London but Murray said continuing his return to form remains a priority rather than securing a place at the season-ending event.
"My schedule was going to be dictated more how I felt and what I wanted from the end of the year rather than just trying to play to get into the Tour Finals, because I don't think that's necessarily the right way to go about it," Murray said as he prepared to face Georgia's Teymuraz Gabashvili at the Shanghai Masters on Tuesday.
"But the reason I came here to China was to try to get some momentum, try to win some more matches, get into the latter stages, play against the best players, and get used to playing at that level consistently again between now and the end of the year.
"But if I play well, I'll give myself a chance at getting to the O2 (the World Tour Finals venue). When I step on the court, that really shouldn't be something I'm thinking about."
Novak Djokovic, Roger Federer and Rafael Nadal have already secured their place in London.
With five spots still up for grabs, Australian Open champion Stanislas Wawrinka is well placed to join them.
Kei Nishikori and US Open winner Marin Cilic sit fifth and sixth respectively, though the Croatian suffered a setback when he lost in the first round in Shanghai.
Tomas Berdych and Milos Raonic, who is 175 points ahead of Murray in the standings, occupy the two final qualification places.
David Ferrer and Grigor Dimitrov, behind Murray in the standings, are also still in the running.
Victory at the Shanghai Masters is worth 1000 points towards the ATP's Race To London standings.
Pirlo recalled to Italy squad after Bonaventura pulls out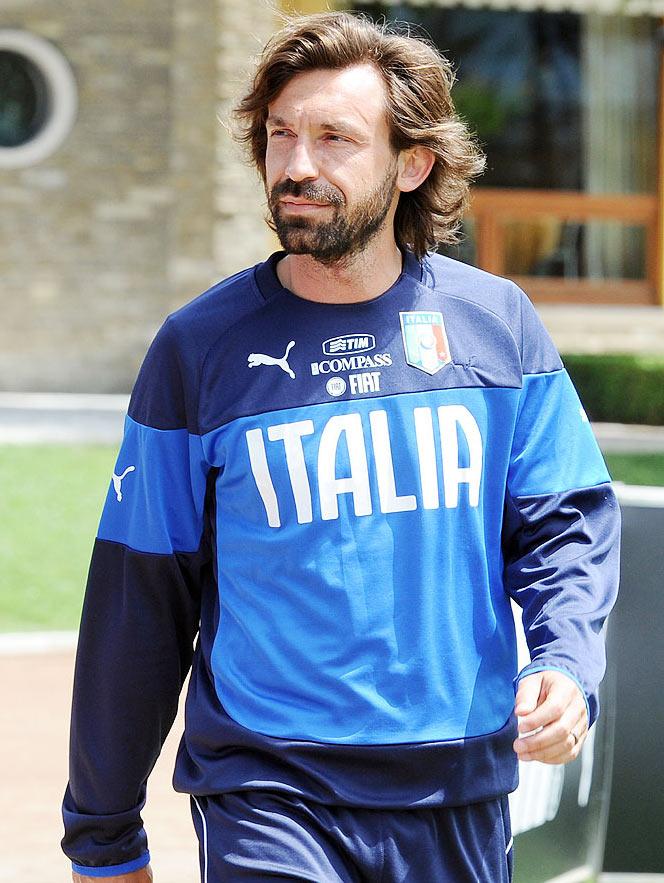 Andrea Pirlo of Italy. Photograph: Claudio Villa/Getty Images
Playmaker Andrea Pirlo was recalled by Italy at the age of 35 on Monday, less than four months after playing what was widely thought to be his final game for his country.
The 2006 World Cup winner, who missed the opening month of the Serie A season with a hip injury, was called up by coach Antonio Conte after forward Giacomo Bonaventura pulled out with a thigh injury, the Italian federation (FIGC) said.
Pirlo said last year that he would quit international football following the 2014 World Cup in Brazil, where Italy's campaign ended with a 1-0 defeat to Uruguay in their final group stage match.
Amid all the bitter recriminations which followed the match, including the resignation of both coach Cesare Prandelli and FIGC president Giancarlo Abete, it was almost completely forgotten that the game was Pirlo's last for Italy.
Following Italy's return home, however, he hinted that he would accept any future callup which became more likely when Conte, his coach for three successful seasons at Juventus, was appointed coach in July.
Italy are at home to Azerbaijan on Friday and visit Malta the following Monday, both Euro 2016 qualifiers.
Mario Balotelli is not in the squad, although Conte said that the maverick has not been excluded.Conte said that Balotelli, heavily criticised for his performance at the World Cup and left out of Conte's first two matches in charge last month, needed more time to adapt after his move from AC Milan to Liverpool.
"I make selections, not exclusions," Conte told reporters at Italy's training camp outside Florence.
"Balotelli has started on a new path and it's not easy, he will be given time to integrate himself into a new championship. "I certainly follow him just as I follow all the players who are abroad." Conte also lavished praise on Southampton striker Graziano Pelle who has been given his first call-up at the age of 29. "Pelle has deserved his chance from every point of view," said Conte.
"He has scored 50 goals in the last two seasons (with Feyenoord) and he is also showing this season that he is a leading figure in a league that is more difficult than the Dutch one. "He is an example that here we will do things on merit; we have our eyes open and a player who does well in the league will get a chance."
Australian Open prizemoney increased by 10 percent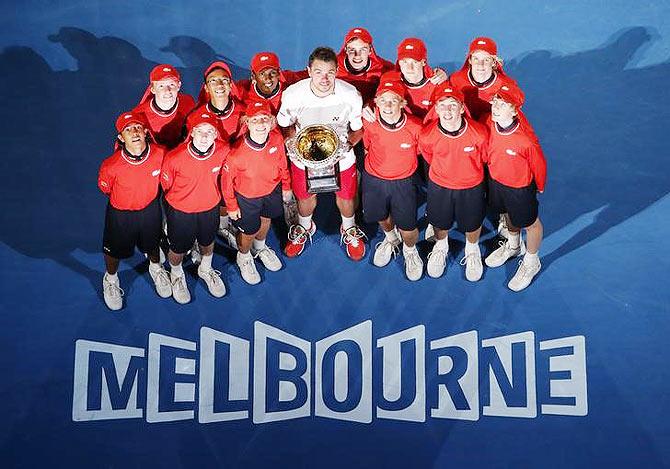 Australian Open 2014 champion Stanislas Wawrinka with the trophy. Photograph: David Gray/Reuters
The Australian Open will hike total prizemoney 10 percent in 2014 to A$36 million ($31.44 million), organisers said on Tuesday.
The Australian dollar has retreated by over six percent against the U.S dollar over the past month, but the 2015 prize pool is still competitive against last year's A$33 million, which was worth about $29 million when Stan Wawrinka and Li Na clinched the men's and women's singles titles.
Organisers also launched the newly renovated Margaret Court Arena, which will provide a third covered show court after Rod Laver Arena's centre court and the Hisense Arena.
Australian Court, who holds the women's record of 24 grand slam singles titles, had a hit with local men's talent Nick Kyrgios in the refurbished 7,500 seat stadium as part of the launch.
"I think it's absolutely beautiful," the 72-year-old told reporters. "Wouldn't have minded something to play on like this in my day."
Organisers have also snapped up former world number one and the 2009 champion Rafa Nadal as an ambassador.
The Spaniard will work with Tennis Australia to hold a charity event on Jan. 14 at Margaret Court Arena in the leadup to the tournament.
"I like to think I've always been friendly with the Australian Open, but I'm excited it is now official," Nadal said in a Tennis Australia media release.