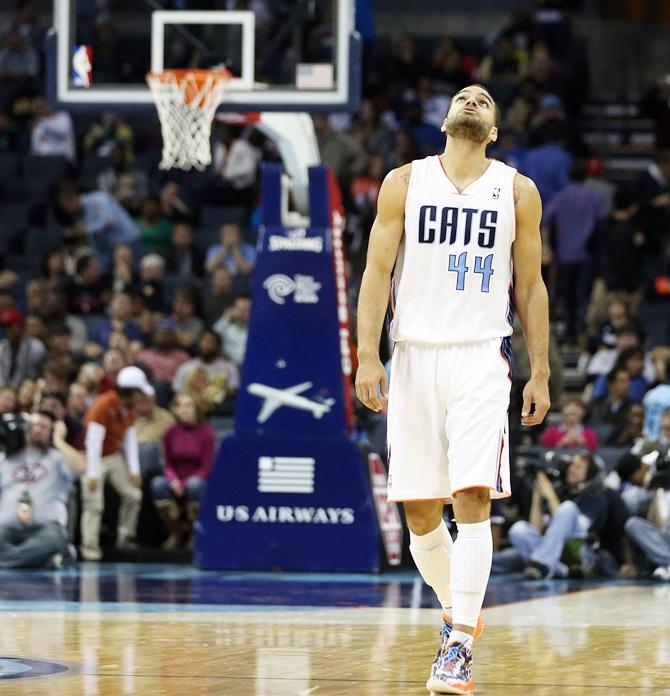 Jeffery Taylor of the Charlotte Bobcats reacts. Photograph: Streeter Lecka/Getty Images
Charlotte Hornets forward Jeffery Taylor was suspended 24 games without pay by the NBA on Wednesday after pleading guilty last month to misdemeanor domestic violence assault and malicious destruction of hotel property.
Taylor had been on paid leave since the start of the National Basketball Association season, missing 11 games, and he will have to sit out the next 13 games.
NBA Commissioner Adam Silver said the 25-year-old Taylor, in his third season in the league, will suffer a financial penalty equal to 24 games.
"This suspension is necessary to protect the interests of the NBA and the public's confidence in it," Silver said in a statement. "Mr Taylor's conduct violates applicable law and, in my opinion, does not conform to standards of morality and is prejudicial and detrimental to the NBA."
During an argument at an East Lansing, Michigan, hotel room in September, Taylor pushed a woman into the hallway, where she fell to the ground and slammed her head on a door, the player said.
The woman had marks on her upper arm and a bump on her head but declined medical treatment, police said, adding that there was also damage to a wall near the hotel room.
Taylor, who pleaded guilty last month, was sentenced to 18 months of probation. As part of his probation, he must complete 26 weeks in a domestic violence intervention program.
A second-round pick by Charlotte in the 2012 NBA Draft, Taylor has averaged 6.6 points a game during his two seasons with the Hornets.
Jason Collins, first openly gay NBA player, retires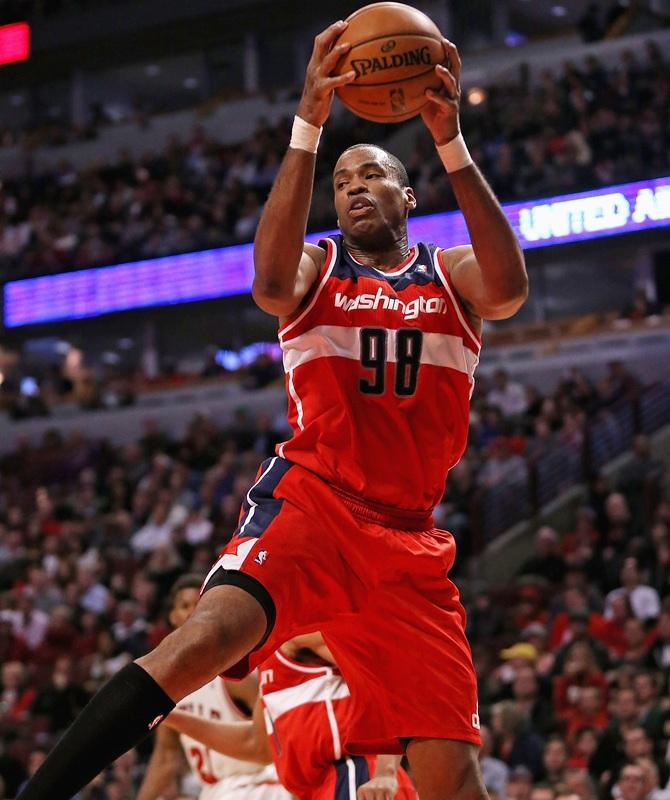 Jason Collins in action. Photograph: Jonathan Daniel/Getty Images
Jason Collins, the first openly gay player in the four major North American team sports, announced his retirement from the National Basketball Association on Wednesday.
Collins, 35, announced he was gay at the end of the 2012–13 season and did not play again until Feb. 23, 2014, when he signed with the Brooklyn Nets.
"In order to understand why I am so lucky to be sitting here today as a person who is finally comfortable in his own skin, you need to understand how basketball saved me," he said in a column on ThePlayersTribune.com.
"I needed to live the past few years as an openly gay basketball player in order to be at peace retiring today."
Collins will officially announce his retirement at the Barclays Center before the Nets host the Milwaukee Bucks on Wednesday.
Sturridge suffers new injury setback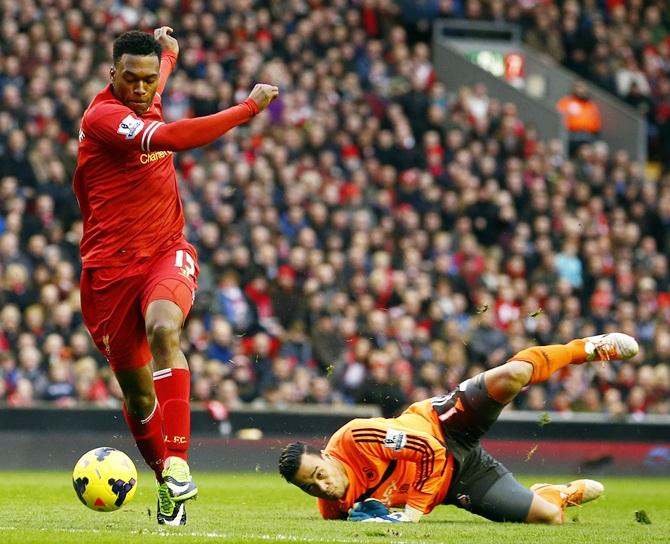 Liverpool's Daniel Sturridge. Photograph: Darren Staples/Reuters
Liverpool's Daniel Sturridge has suffered a new thigh injury during his efforts to recover from a calf strain, the Premier League club said on Wednesday.
The England striker, who scored 21 league goals for the Reds last season, has made just three league appearances in this campaign and had only returned to full training last week after a long injury layoff.
"The player will remain unavailable for selection but will be monitored and assessed during his recovery," Liverpool said on their statement.
The 25-year-old sustained a thigh strain whilst on England duty in September and picked up a calf injury during training with Liverpool in October.
The news is another setback for Brendan Rodgers's beleaguered team who are 11th in the league table with 14 points from 11 games.
Holders Nigeria out as final Nations Cup field settled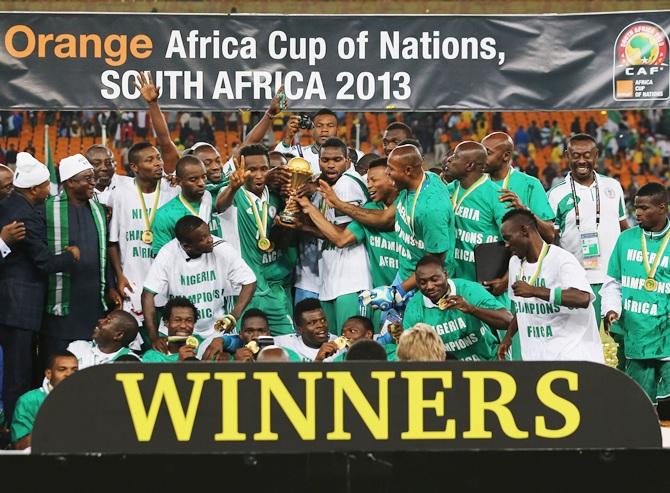 Joseph Yobo and team mates celebrate with the trophy after winning the 2013 Africa Cup of Nations. Photograph: Ian Walton/Getty Images
Nigeria had to beat Group A winners South Africa in their last qualifier at their new stadium in Uyo to stand a chance of defending their title at the January 17 to February 8 continental championship.
They were 2-0 down shortly after halftime, however, after quick goals either side of the interval from striker Tokelo Rantie. Nigeria pulled one back from Sone Aluko with 22 minutes remaining and the Hull City striker then equalised deep into stoppage time against opponents, who had been reduced to 10 men for the last 19 minutes.
Congo finished second behind South Africa after a 1-0 win in Sudan, where Francis Ndanga's second-half free kick ensured that veteran coach Claude Le Roy will go to a record-extending eighth tournament.
Guinea beat Uganda 2-0 in Casablanca to finish second in Group E behind Ghana, who topped the standings after a 3-1 home win over Togo. Guinea had to move their match to a neutral venue because of a ban on playing at home where the deadly Ebola virus has claimed more than 1,000 lives.
Mali ended Algeria's 100 percent record in Group B to book their place with Seydou Keita scoring a first-half penalty and Mustapha Yatabare adding a second after the break in a 2-0 win in Bamako. Ivory Coast needed only to draw with already-qualified Cameroon and squeezed through in a goalless clash against a side reduced to 10 men for the last half-hour after captain Stephane Mbia was sent off.
The top two teams in each of the seven groups qualified plus the best third-placed finisher, which was the Democratic Republic of Congo. Two goals from Yannick Bolasie in a 3-1 home win over Sierra Leone helped them to nine points from their six matches, but they had to wait several hours for their place to be confirmed.
Record winners Egypt could have snatched their spot had they won by two goals away in Tunisia, but they fell to a 2-1 defeat despite leading 1-0 at halftime. Algeria and the Cape Verde Islands qualified after just four group matches last month and were joined after the weekend's penultimate round by Burkina Faso, Cameroon, Gabon, Senegal, South Africa, Tunisia and Zambia.
New hosts Equatorial Guinea, disqualified in the preliminary knockout rounds for fielding an illegible player, have also been handed a place at the finals.