A summary of sports events and sports persons, who made news on Thursday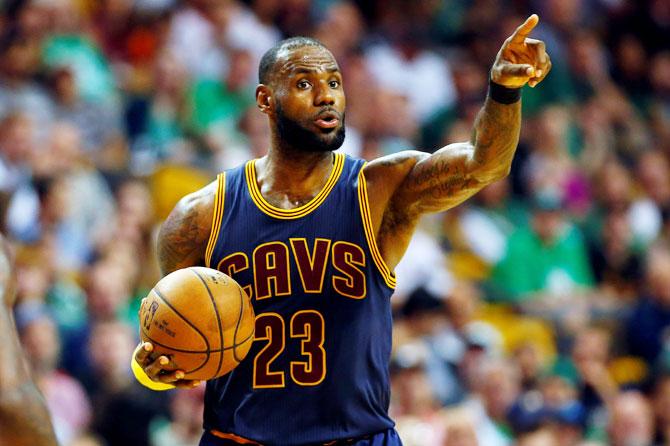 IMAGE: Cleveland Cavaliers forward LeBron James. Photograph: Winslow Townson-USA TODAY Sports/File Photo
Basketball superstar LeBron James's Los Angeles home was vandalized with a racial slur, police said on Wednesday, a day before the Cleveland Cavaliers player was set to take the court in the first game of the NBA finals.
The graffiti was spray-painted on the front gate of James's house. Investigators are looking for any possible suspect involved, Los Angeles police spokeswoman Norma Eisenman said.
Eisenman declined to specify the racial slur used. It was reported to police shortly after dawn on Wednesday and has since been painted over, she said.
"No matter how much money you have, no matter how famous you are, no matter how many people admire you, being black in America is tough," James, a three-time NBA champion, told reporters when asked about the incident at a news conference in Oakland, California, where he is preparing for the NBA Finals.
"And we've got a long way to go for us as a society and for us as African-Americans until we feel equal in America," he added.
James was not at his west Los Angeles residence at the time of the vandalism, Eisenman said by phone.
James, 32, is the National Basketball Association's most prolific playoff scorer and has been named the league's Most Valuable Player four times. The Cavaliers are scheduled to face off on Thursday against the Golden State Warriors in Oakland.
Mary Kay Wulf, who lives a couple houses away from James, told a group of reporters that she was appalled by the vandalism.
"I hope that they find the people who have done it and they label it for what it was -- a hate crime -- and punish them," Wulf said.
Police are investigating the graffiti as an act of vandalism and have not determined whether to treat it as a hate crime, another Los Angeles police spokeswoman, Irma Mota, said by phone.
Tiger's image takes hit but sponsors staying put - experts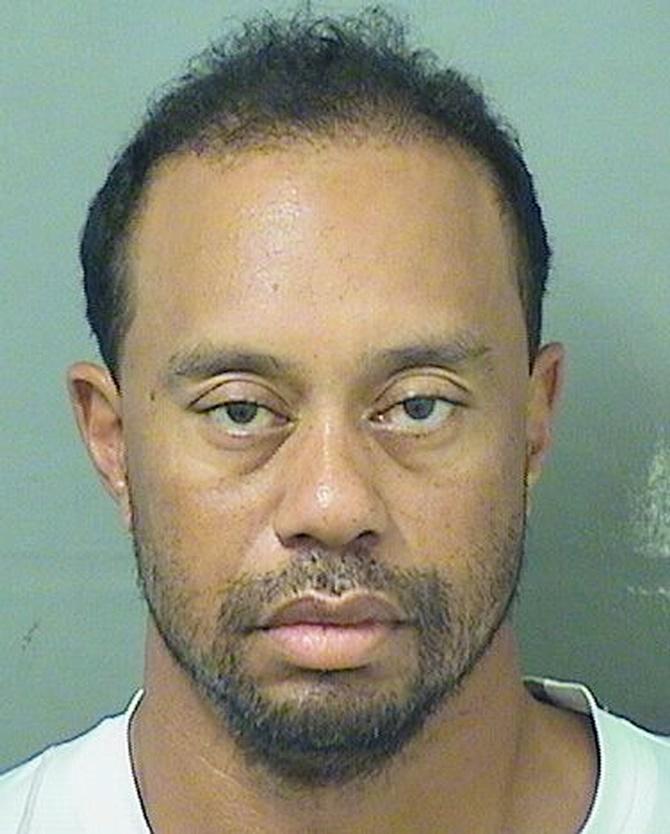 IMAGE: Tiger Woods appears in a booking photo released by Palm Beach County Sheriff's Office. Photograph: Palm Beach County Sheriff's Office/Handout via Reuters
The marketability of Tiger Woods will suffer following his arrest for driving under the influence, but the former world number one golfer's current sponsors will likely stay by his side, according to experts.
Woods, who had surgery in April to relieve back pain, blamed the incident on prescription drugs, but that was not enough to keep his droopy-eyed mug shot from being etched in the minds of many who were once captivated by his dominance on the course.
Still, despite his struggles on and off the course, Woods is the greatest golfer of his generation and sponsors like Nike, Bridgestone Golf, Monster Energy and TaylorMade are not likely to rush and cut ties with him, marketing experts told Reuters.
"They have to be very measured in terms of their response to their relation with him," said David Carter, professor of sports business at the University of Southern California's Marshal School of Business.
"He may not be delivering value but you could also be doing harm to your own brand if you cut and run on a guy with such global notoriety."
Woods is second on the all-time list with 14 major titles but a player whose famous fist pump and beaming smile were once a regular site on the PGA Tour has lost his form and barely played in recent years.
Most of his sponsors, when asked by Reuters if they would review their agreements with Woods in light of Monday's DUI arrest, either did not respond to requests for comment or said it was inappropriate to do so at this time.
Bridgestone Golf, however, said they "will continue to monitor this situation and gather information from the appropriate sources investigating the matter."