A summary of sports events and sports persons, who made news on Wednesday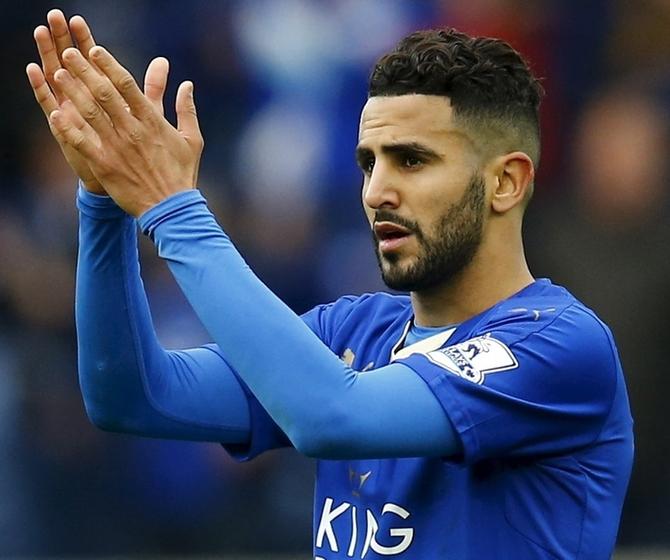 IMAGE: Leicester City's Riyad Mahrez applauds fans. Photograph: Darren Staples/Reuters.
Leicester City's Algeria forward Riyad Mahrez has announced he wants to leave the 2016 Premier League champions, according to a statement reported by British media on Tuesday.
The 26-year-old, who joined the Foxes from French club Le Havre in 2014, said he had agreed "to stay for another season" following "a good discussion with the chairman" last year.
However, he added that he was "fiercely ambitious" and had "informed the club I feel now is the time to move on."
Mahrez, the PFA player of the year in 2016, played 48 games and scored 10 goals for the Midlands club this season, helping them to reach the Champions League quarter-finals.
The Algerian, who cost Leicester only 400,000 pounds ($512,320.00), signed a four-year contract last year.
"Out of the huge admiration and respect I hold for Leicester I wanted to be totally honest and transparent. I have informed the club that I feel now is the time for me to move on," Mahrez wrote in his statement.
"I had a good discussion with the chairman last summer and we agreed at that time that I would stay for another year in order to help the club as best as I could following the transition of winning the title and in the Champions League.
"I've had the four best seasons of my career at Leicester and have loved every moment. I feel immense pride to have been a part of what we have achieved during my time at the club, culminating in becoming Premier League champions.
"The relationship I share with the club and our amazing fans are something I will treasure forever and I truly hope they will understand and respect my decision."
Liverpool agree terms to sign Chelsea's Solanke
Liverpool have agreed personal terms to sign Chelsea's England youth international striker Dominic Solanke, the Premier League club said on Tuesday.
The 19-year-old will complete the transfer on July 1, 2017, when his Chelsea contract expires, the club said in a statement on their website.
The fee will be set by a tribunal -- which British media estimated at two to three million pounds ($2.56 to 3.84 million) after Solanke failed to agree a new deal with Chelsea.
He made his Chelsea debut as a substitute in a Champions League game against NK Maribor in October 2014, his only first-team appearance, before joining Dutch side Vitesse Arnhem for the 2015-16 season, scoring seven goals in 25 league games.
Nicklaus says Woods 'needs our help'
Golfing great Jack Nicklaus says Tiger Woods "needs all of our help" after he was arrested on a charge of driving under the influence early on Monday.
A police report released on Tuesday said Woods was asleep at the wheel of a Mercedes-Benz stopped on a Florida road and did not know where he was. Woods, 41, has blamed the incident on medications.
Nicklaus said during a news conference on Tuesday ahead of his Memorial Tournament that he felt bad for the former world number one.
"Tiger's a friend, he's been great for the game of golf and I think he needs all of our help. We wish him well," said the 77-year-old.
Woods, who has 79 PGA Tour wins and 14 major titles, has competed in just 19 events on the Tour since the end of 2013 due to injuries. His goal of breaking the record of 18 major championships held by Nicklaus looks increasingly unlikely.
"Tiger, I always thought, was going to break my record. I don't know what's going to happen (now)," Nicklaus said.
"Does anybody want to see their record broken? Of course not. But do I want to see somebody not have the ability because of physical problems? I don't like that at all. I feel bad for him that it's happened."