A summary of sports events and sports persons, who made news on Tuesday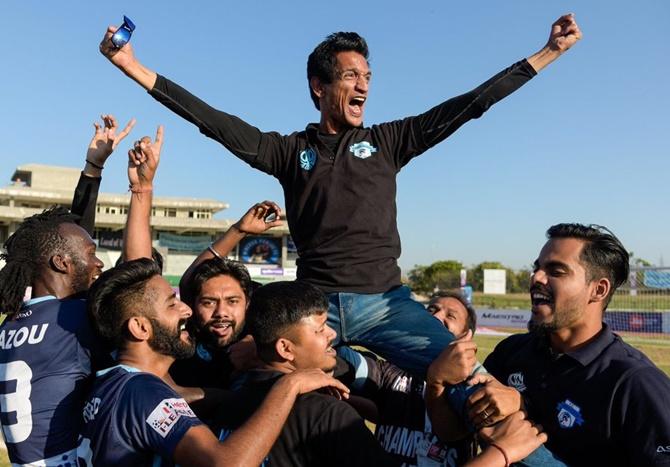 IMAGE: Ranjit Bajaj, owner of Minerva Punjab celebrates after winning the I-League. Photograph: Minerva Punjab/Twitter
The All India Football Federation (AIFF) said that it has not been informed by Minerva Punjab their intention to pull out of the upcoming Super Cup but warned that the newly-crowned I-League champions may have to face consequences if they decide to do so.
AIFF General Secretary Kushal Das insisted that the Punjab-based team has not mentioned anything about pulling out of the tournament but has only requested for more financial support.
But Das made it clear that if Minerva pull out of the Super Cup it will "bring the game and the AIFF into disrepute".
"I don't know what has been put out in the media but officially Minerva Punjab has sent a letter to the AIFF and in that he (owner Ranjit Bajaj) said his club wants to play in the Super Cup but they don't have the budget. In the letter, he has said nothing about pulling out of the tournament. He has only asked the AIFF for increased financial support to be able to take part in the Super Cup," Das said.
"We have forwarded the letter to the chairman of the League Committee and he (League Committee chairman) will write back to Minerva tomorrow that it is not possible to accept their demand.
"Last year, the AIFF gave each I-League club a travel subsidy of Rs 45 lakh to play in I-League as well as Federation Cup. This year, the subsidy was increased to Rs 70 lakh. So obviously, there is no question of giving any subsidy to play in the Super Cup as it has already been included in this Rs 70 lakh," he added.
The Super Cup, which will be held in Bhubaneswar, is a new version of the Federation Cup and all the I-League and Indian Super League clubs will take part in it.
All the top six finishers in the I-League and ISL directly qualify for main round (March 31 to April 20) while those sides which ended from 7th to 10th place (in both I-League and ISL) will play in a single leg qualifying round on March 15 and 16.
Asked what would be the consequences if Minerva still decides to pull out of the Super Cup, Das said, "As of now, they have not said they will pull out. But if they decide to pull out in a way it will constitute to bringing the game and the federation into disrepute."
"In the AIFF Constitution and in the Code of Conduct and Disciplinary rules, there are many many obligations which need to be fulfilled by the member units and by the clubs registered with these units. All these will have to be examined. The judicial bodies of the AIFF, that is the Disciplinary Committee and the Ethics Committee will look into these Code of Conduct and Disciplinary rules and take a decision."
Asked if pulling out of Super Cup may jeopardise Minerva's AFC Champions League play-offs round chances, Das simply said, 'May be'.
Minerva were set to face ISL debutants Jamshedpur FC in the knock-out Round of 16 of the Super Cup on April 2.
Run Adam Sports ropes in Anand as brand ambassador
Run Adam, an analytics-based sporting platform, has roped in five-time world chess champion Viswanathan Anand as part of its sports experts board and also as brand ambassador.
Anand has been signed up as as a part of the Run Adam Sports Experts Board and also as advisor, said a press note.
Ace cricketer Mahendra Singh Dhoni is already a part of the expert board and a mentor with Run Adam.
Anand expressed happiness at being signed up by Run Adam and said he hoped to mentor chess aspirants through the app.
"My association with Run Adam will be an important milestone in chess coaching approach. The app enables me to mentor chess aspirants who find coaching access difficult. The struggle of many budding hopefuls will be fulfilled by Run Adam through such an initiative," he said.
"Here I will be teaching Run Adam subscribers what I know about the game and will also share my personal experiences. I hope to be able to combine my passion for chess with the reach of Run Adam platform to help budding talent achieve international success," he further said.
Run Adam CEO and managing director K Yeragaselvan said it was a privilege to have Anand on board as mentor and hoped it would give chess players an opportunity to learn and grow their game and attitude.
Gurpreet Sandhu signs new 5-year contract with Bengaluru FC
Indian football team's number one goalkeeper Gurpreet Singh Sandhu has signed a new contract of five years with the Bengaluru FC after playing a key role in the side's campaign in the ongoing Indian Super League.
The Blues, who have made it to the March 17 ISL summit clash at their home ground in Bangalore, decided to retain the former Stabaek FC goalkeeper who has been impressive under the bar in this ISL.
"Yes, we have offered a five-year contract to Gurpreet and he has signed on the dotted lines. We are happy to have retained him as our goalkeeper. His contract will now run till May 2023," an official of the club told PTI on the condition of anonymity.
The official, however, refused to divulge any financial details regarding the contract.
The 26-year-old Punjab-born goalkeeper is already one of the highest paid players in the ISL.
Gurpreet returned to India last year after spending three years at Norwegian club Stabaek during 2014-17. He made just three first-team appearances for the club in Eliteserien, Norway's primary football competition.
In his short stint at Bengaluru FC so far, Gurpreet has made 18 appearances. One of the finest players in the tournament this year, Gurpreet leads the chart for 'Golden Glove' award with 111.86 minutes between the goals conceded.
Former Olympic doubles champion Flach dies, aged 54
Tennis was mourning the death of former Wimbledon and Olympic doubles champion Ken Flach on Tuesday after the governing body of men's tennis, ATP, confirmed that the American had died at the age of 54.
Flach won the 1987 and 1988 Wimbledon titles with long-time partner Robert Seguso and claimed a thrilling Olympic gold with Seguso in 1988 in Seoul against Spanish pairing Sergio Casal and Emilio Sanchez Vicario.
He also won two U.S. Open titles, with Seguso in 1985 and with Rick Leach in 1993.
Paul Annacone, the former coach to Pete Sampras and Roger Federer, was one of the first to react to the news.
"Sometimes we get sobering reminders of the fragility of life and what we have each day, today tennis lost a family member: more importantly children lost a father a wife lost a husband, siblings lost brother, thank you for your friendship memories will last 4ever #RIPKenFlach," the American said on Twitter.
Brad Gilbert, the former world number four and Davis Cup team mate of Flach, said: "So gutted hearing the passing last night of Ken Flach.
"Way to young Ken was 54 absolutely stunned."
Flach, who married his wife Christina in 2010, was ranked number one in doubles in 1985 and claimed 34 doubles titles, mainly with Seguso.