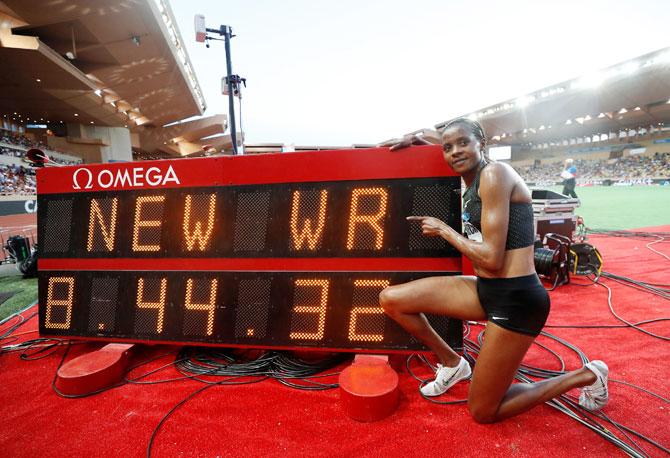 Kenya's Beatrice Chepkoech smashed the world record in the women's 3,000 metres steeplechase with a time of eight minutes 44.32 seconds at the Monaco Diamond League meeting on Friday.
Chepkoech, 27, broke the previous record mark of 8 minutes 52.78 set by Bahrain's Ruth Jebet in 2016 and, after breaking clear 2,000 metres into the race, she finished 16 seconds clear of her nearest rival.
"I am so grateful," Chepkoech told reporters.
"I said from the beginning, from the first lap, and I was watching the time, and I knew I was going to break the world record."
Her previous best was 8:59.36 in Paris last month and she finished fourth in the 2016 Rio Olympics and 2017 London world championships.
American world silver medallist Courtney Frerichs took second in a North American record of 9:00.85.
"That race was incredible," Frerichs said.
"Eight seconds under the world record. It's such a huge step for the event."
India bag silver, bronze in Archery World Cup
Indian archers ended their campaign with a silver and bronze medal, both coming from compound section, at stage four of the Archery World Cup in Berlin on Saturday.
Indian women's compound team once again failed to cross the final hurdle, this time by a heartbreaking one point, to settle for a silver medal earlier in the day.
Eyeing a maiden gold at the World Cup circuit, Jyothi Surekha Vennam, Muskan Kirar and Trisha Deb had a promising 59-57 lead but only to slip in the third end as the French trio snatched the lead before clinching it 229-228.
Jyothi later added a bronze in the compound mixed pair event with Abhishek Verma defeating the Turkish duo of Yesim Bostan and Demir Elmaagacli 156-153.
Jyothi and Verma thus won a medal in the mixed team event at each of the four World Cup stages in Shanghai, Antalya, Salt Lake and Berlin World Cups.
In the compound team final, five consecutive perfect 10s by Sophie Dodemont, Amelie Sancenot and Sandra Herve helped them level the scores 116-all in the second end.
Pressure got the better of the Indian team as they started off the third end with a poor six and then an eight, while the French trio maintained the momentum to make it 174-169.
Indians tried their best in the fourth end and shot a solid 59/60 but the five-point deficit was hard to overcome as the French trio emerged winners by one point.
Fifth-ranked India had ousted top-ranked Turkey 231-228, in the semifinals to make a second final this season, after the second stage in May.
At the Antalya leg of the World Cup, India team comprising Jyothi, Muskan and Divya Dhayal had lost to Chinese Taipei by three points.
In the compound mixed pair event, Turkey's Yesim Bostan and Demir Elmaagacli took a slender one-point lead after first end, but the Indian duo bounced back strongly with two perfect ends of 40/40 including five Xs (closest to the centre) and a 10 to open up a decisive four-point advantage.
Three silver and a bronze for India at Junior Asian Championship
Vishal Kaliraman frittered away a stupendous start in his gold medal bout while Sachin Giri and Naveen were outwitted by their opponents, settling for silver medals at the Junior Asian Wrestling Championships, in New Delhi on Saturday.
On the opening day of the Freestyle bouts, four of the five Indians reached the medal round with Karan winning the bronze in the 65kg category. Hussain Nasir, the fifth Indian in action today, could not reach the medal round.
After Naveen (57kg) and Vishal (70kg) lost their gold medal bouts, the hosts hoped Sachin would end the wait for gold but he lost the final in just one minute and 12 seconds.
Sajjad Saberali Gholami of Iran outclassed him with a leg-lace move and rolled him four times in a row to end the bout in a jiffy, much to the disappointment of partisan Indian fans.
Before that, Naveen could not breach the solid defence of Uzbekistan's Gulomjon Abdullaev, who used his goof height to consistently push the Indian out of the mat. The Uzbek opened up a huge 7-0 lead by the end of first period.
Naveen, who trains at Chhatrasal stadium, got on board when he managed to pushed Gulomjon once.
"I got puzzled when I lost so many points in the first period. It just blocked my mind. I could not think anything for a comeback," said the 20-year-old, who had beaten Asian Games-bound Sandeep Tomar during the Nationals.
Naveen, who hails from Sisai village in Hisar, now wants to focus on junior world championship.
"I want to win a a gold at Worlds. I will work hard," he said.
Vishal fought an exciting battle against Iran's Amirhossein Morteza Gholiu Kavousi and straight away opened up a 4-0 lead with a front salto but gradually lost the grip over the contest.
The Iranian with his good height and strong legs kept pushing Vishal to not only erase the deficit but take a 7-5 lead. Vishal levelled the bout with a takedown move but was thrown out in the fag end by the Iranian.
He had beaten China's Jun Zhao by technical superiority in the quarterfinal before winning a close semifinal against Japan's Kojiro Shiga 6-4.
Naveen had beaten Mongolia's Tumentsogt Bold (12-4), Iran's Reza Mohsen Alijanzadehjouybari (6-5) and Turkmeinstan's Rozgeldi Seyidov (9-2) en route the gold medal match.
Sachin beat Korea's Dongmin Shin 6-1 in the semifinals and Uzbekistan;s Mukhammadrasul Rakhimov 10-5 in his tournament-opener.
After losing his quarterfinal 1-10 to Iran's Sajad Gholamhossein, Hussain Nasir had got a chance to reach the medal round in the 97kg but he lost his repechage bout 6-11 to Japan's Keivan Yoshida.
Egypt players dominate in world junior squash
Egypt players dominated proceedings in the ongoing WSF-World Junior Squash Championship in Chennai, filling all but one of the semifinals berths on offer.
While the men's semi-finals will be an all-Egyptian affair, Lucy Turmel of England is the only non-Egyptian in the semis of the women's section.
As the action moved to the Express Avenue mall in the city, the top-seeds in both events advanced without much trouble.
The men's top seed Marwan Tarek, the defending champion, marched ahead with a clinical 11-8, 11-1, 11-5 win over compatriot Mostafa Montaser (5/8 seed) in 31 minutes.
The top-seed and favourite in the women's draw, Rowan El Araby overcame the early challenge from fellow Egyptian Hana Moataz (5/8 seed) to win 12-10, 11-6, 11-3.
Meanwhile, the impressive run of Singapore's Indian-origin player Sneha Sivakumar ended with a straight games loss to Lucy Termel.
Sneha Sivakumar, who had pulled off two wins over seeded opponents in previous rounds, went down 5-11, 8-11, 8-11.
The men's quarter-final between Mostafa El Serty (3/4 seed) of Egypt and Malaysia's Darren Rahul Pragasam was a long-drawn affair.
The energy-sapping encounter saw El Serty bounce back after being down by two games to one to oust his rival 4-11, 13-11, 6-11, 12-10, 11-6 in 57 minutes.
Later, second-seed Mostafa Asal held off Mexico's Leonel Cardenas 12-10, 11-7, 11-9 to reach the semis.
Similar was the fight between two other Egyptians Jana Shiha and her lower seed compatriot Farida Mohamed. Five games of ebb and flow saw Jana managing to clinch the match.
Results: Quarter-finals: Men: Marwan Tarek (1) bt Mostafa Montaser 11-8, 11-1, 11-5; Omar El Torkey (Egy, 3/4) bt Nick Wall (Eng 5/8) 11-6, 11-3, 11-7; Mostafa El Serty (3/4) bt Darren Rahul Pragasam (Mal) 4-11, 13-11, 6-11, 12-10, 11-6; Mostafa Asal (2) Leonel Cardenas (Mex, 5/8) 12-10, 11-7, 11-9.
Women: Rowan El Araby (1) bt Hana Moataz (Egy, 5/8) 12-10, 11-6, 11-3; Jana Shiha (Egy, 5/8) bt Farida Mohamed (Egy, 13/16) 7-11, 11-6, 11-5, 7-11, 15-13; Lucy Turmel (Eng 3/4) bt Sneha Sivakumar (Singapore) 11-5, 11-8, 11-8; Hania El Hammamy (Egy, 2) bt Marina Stefanoni (US, 5/8) 11-2, 11-4, 11-7.
Pole vaulter Rakesh sets new youth national record
Rakesh Gond set a youth national record in the pole vault competition to grab the spotlight on the opening day of the 15th National Youth Athletics Championships in Vadodara on Saturday.
Gond cleared a height of 4.90m to erase the national mark of 4.75m set by Kanhaiya Singh in 2017.
The Uttar Pradesh pole vaulter was far ahead of the rest of the field in the competition, finishing half a meter clear of Shekhar Kumar Pandey who claimed the silver with a best effort of 4.40m. Ganesh Priyan of Tamil Nadu took the bronze with an effort of 4.20m.
Meet records were set in both the men and women's 2000m steeplechase competitions. Md. Noor Hassan of Uttar Pradesh clocked 5:54.37 to smash the old meet record of 6.00.28 set by Raj Kumar at the 2016 edition. Also finishing below the old meet record was Atul Gavit of Gujarat who clocked 5:58.13 to win the silver.
The women's 2000m steeplechase saw a similarly fast race. The competition was won by Uttar Pradesh's Kajal Sharma who clocked 7:11.99 to eclipse the old meet record of 7:21.23 set by Priyanka in 2016. The silver medal went to Vaishnavi Sawant of Maharashtra who also ran faster than the old meet record with a time of 7:17.61 seconds.
Another meet record was set in the javelin throw competition. Uttar Pradesh's Rohit Yadav threw the javelin to 77.41m to erase his own mark and personal best of 76.11 set in Hyderabad last year.
In other events, Sunil Singh of Madhya Pradesh claimed the gold medal in the men's 3000m race with a time of 8.33.57 seconds to beat Ravi Dahiya of Haryana who crossed the finish line in 8:34.43 seconds.
In the women's 3000m race, Ankita Dhyani of Uttarakhand took the gold in 10:14.37 seconds, beating Pragati Mulane of Maharashtra (10:19.80 seconds) and Muskan Chotiara of Gujarat (10.25.15 seconds) who took silver and bronze respectively.
Aniket Kala of Uttarakhand won the men's discus throw competition with a throw of 56.26m. He beat Ikram Ali Khan on Madhya Pradesh who recorded a best throw of 54.63m and Punjab's Dhanvir Singh who had a best effort of 53.11m on the day.
Jeevan, Divij ousted from Newport ATP event
India's challenge ended in the doubles event of ATP Hall of Fame Open following defeats of Divij Sharan and Jeevan Nedunchezhiyan with their respective partners in the semi-finals in Newport, USA.
Second seeded Divij and Jackson Withrow lost 3-6, 4-6 to Jonathan Erlich and Artem Sitak in their semifinal while Jeevan and Austin Krajicek lost a tight match to Marcelo Arevalo and Miguel Angel Reyes-Varela.
India's challenge is still alive in the singles with Ramkumar Ramanathan to fight it out with America's Tim Smyczek for a place in his first ever ATP singles final.
Somdev Devvarman was the last Indian to make it to the singles final on the ATP World Tour event. He ended a runner-up to Kevin Anderson in 2011 in Johannesburg. In 2009, he lost the Chennai Open title clash to Marin Cilic.
Lakshya moves into final of Asian Juniors Championship
Rising Indian shuttler Lakshya Sen stormed into the finals after disposing off fourth-seed Indonesian Ikhsan Leonardo Imanuel Rumbay in the semifinals of the Asia Junior Championships at Jakarta today.
Sixth-seeded Lakshya, who stunned second seed Li Shifeng in quarterfinals yesterday, saw off Rumbay 21-7, 21-14 on the fourth day of the individual events.
In the title showdown on Sunday, Lakshya will meet top-seeded Indonesian Kunlavut Vitidsaran who defeated third-seeded Chinese Yupeng Bai 21-14, 21-12 in another match.
"It feels good to be in the final. I am happy with the way I am playing now and hope to maintain the tempo in tomorrow's final," said Lakshya after the semi-final match.
The tempo was on his side and, for a change, the crowd too cheered for him as Lakshya reeled off points in quick succession in the first game.
He was quick on his feet and smashed anything tossed up to him by the local boy. Lakshya ran up a solid lead and was almost half way down when Rumbay picked up a few points to launch himself.
Though the entire match took 40 minutes, his first game was over in less than 16 minutes.
In the second game, however, Rumbay did well to resurrect himself but the Indian was always ahead by at least three points.
The fourth seeded Indonesia played well in the second but could never come close to challenge the authority of Lakshya. On a couple of occasions, Rumbay surprised the Indian with some good net-play and cross-court smashes. But Lakshya was quick enough to return the compliment.
Talking about the finals, Lakshya said: "I have never faced him before. But I will definitely try and give my best shot against the top-seed," said Lakshya, who had won a bronze in 2016 Asian Juniors.
Indian shuttlers who have won a medal at Asia Championship include Gautam Thakkar (Gold) in 1965, Pranav Chopra/Prajkta Sawant (Bronze) in 2009, Sameer Verma (Silver) and P.V. Sindhu (Bronze) in 2011 and P.V. Sindhu (Gold) and Sameer Verma (Bronze) in 2012.
Former Atletico manager Cesar appointed Jamshedpur coach
Former Atletico Madrid manager Cesar Ferrando Jimenez was today appointed as the head coach of Indian Super League side Jamshedpur Football Club.
The announcement came four months after Jamshedpur FC parted ways with Steve Coppell who has joined Kolkata franchise ATK.
Under Cesar, La Liga giants Atletico Madrid had an 11th place finish and reached the semifinals of the Copa Del Rey in the 2003-04 season.
The 58-year-old has also managed Spanish club Elche, Albacete and the reserve side of Valencia.
Cesar also possesses experience in coaching an Asian team with his stint in Malaysia where he managed Johur Darul Takzim FC in 2013-14.
During his playing career, Cesar was a midfielder and represented top Spanish clubs such as Valencia, Salamanca, Sabadell, Alzira (La Liga & Segunda Division Clubs).
Indian wrestler Devi to compete in Mae Young Classic tourney
Braun Strowman, a World Wrestling Entertainment (WWE) superstar, has announced that Indian wrestler Kavita Devi will compete in the Mae Young Classic Tournament to be held in the US next month.
Devi is the lone Indian woman among the 32 female competitors, who will take part in the tournament to be held on August 8 and 9 in Florida.
The US-based company last year had announced the Mae Young Classic Tournament, which is named after WWE Hall of Famer and one of the greatest WWE Superstars, Mae Young.
Featuring 32 female competitors from across the globe, it will be a single-elimination tournament.
Strowman, who was in Mumbai yesterday, said this is an all-woman tournament and Devi's participation in it will help in getting more audience.
She had participated in the tournament last year too.
Indian U-17 women's team lose to Brazil in BRICS football event
The Indian U-17 women's team produced a listless performance to suffer a humiliating 0-5 defeat to Brazil in the BRICS football tournament in Johannesburg, South Africa today.
Although the Indian eves started the match on an attacking note, it was Brazil who dished out a splendid performance in the second half, scoring four goals in the latter half of the match to completely outplay India.
India had a good chances to go ahead in the 8th minute when Soumya Guguloth burst onto goal and had only the opposition custodian to beat but she slotted wide of the goal.
Indian custodian Archana kept the Indian eves in the game for much of the first half but the Indian citadel conceded in the 40th minute as Brazil took the lead. The half-time scoreline read 1-0 in Brazil's favour.
Changing over, the Brazilians dominated possession and created chances infront of the goal. In the 65th minute, Brazil doubled their lead and scored two back-to-back goals in the 80th and 81st minute to make the scoreline read 4-0.
Brazil added more gloss to the scoreline in the dying embers of the match as they scored again in the 83rdminute. The full-time scoreline read 5-0 in Brazil's favour.
The Indian women's team will face China next on July 22 in their last match of the BRICS U-17 Football Tournament.