A summary of sports events and sports persons, who made news on Friday.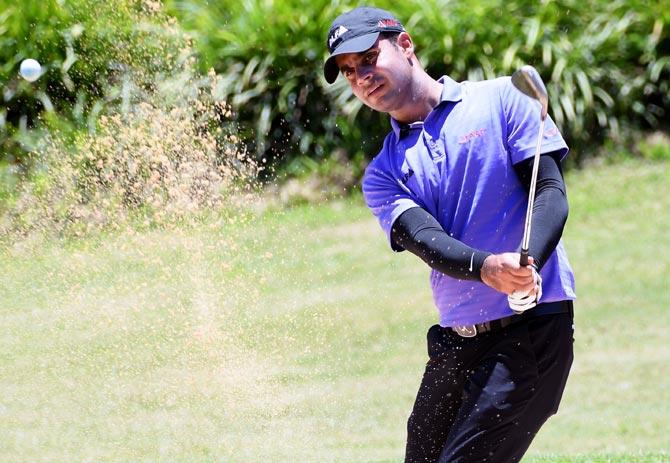 IMAGE: India golfer Shubhankar Sharma in action. Photograph: Ross Kinnaird/Getty Images
Shubhankar Sharma assured himself of weekend action as he added a round of two-under 70 to his first round 71 and made the cut in the Abu Dhabi HSBC Championship presented by EGA.

Sharma, who won the Joburg Open last month for his maiden victory outside India as a professional, had four birdies against two bogeys in the second round.

In the first round, Sharma shot one-under 71 and at three-under 141, the Indian is tied-44th.

Sharma, teeing off from the first, ran into early trouble with bogeys on second and third, but a birdie on fifth settled him. On the back nine, he found his composure and birdied 10th and 11th and added another on 18th, just like the first day.

Meanwhile, a chip-in birdie on his final hole handed Thomas Pieters a one-shot lead heading into the weekend. The big-hitting Belgian carded seven birdies at Abu Dhabi Golf Club as he surged to 12 under par, one ahead of Spain's Jorge Campillo.

Rory McIlroy was part of a four-way tie on nine under in his first event since October, with world number one Dustin Johnson a shot further back.

Ryder Cup star Pieters, who finished second in this event in 2016 and fourth a year earlier, made three birdies in an outward 33 after starting on the back nine.

Pieters birdied the first, then holed from 20 feet at the second, with two putts from just off the green at the par-five eighth providing another gain. The 25 year old found sand with both his tee shot and approach at the ninth, but chipped in from the bunker for an unlikely closing birdie.

Campillo, chasing a maiden European Tour title in his 194th event and having finished as a runner-up three times, was pleased to take advantage of perfect scoring conditions.

Three of Pieters' EurAsia Cup team-mates from last week's European victory over Asia were tied for third, with France's Alex Levy, England's Ross Fisher and defending champion Tommy Fleetwood all on ten under par.
IMAGE: Athletes leave the Doping Control station after the Women's 4 x 6 km Relay during day 14 of the Sochi 2014 Winter Olympics at Laura Cross-country Ski & Biathlon Center in Sochi on February 21, 2014 (Image used for representational purposes). Photograph: Adam Pretty/Getty Images
Over 14,000 doping tests have been conducted ahead of next month's Pyeongchang Winter Olympics in an effort to protect clean athletes and safeguard the Games, the International Olympic Committee (IOC) said on Thursday.
The Pre-Games Anti-Doping Taskforce along with National Anti-Doping Organisations (NADOs) and International Olympic Winter Sports Federations (IFs) tested over 6,000 athletes from 61 countries.
The IOC said there was a 70 percent increase in the number of tests conducted between April and December 2017 as compared to the same period in 2016.
"Protecting clean athletes by fighting doping is a top priority for the IOC... we are committed to working with our partners to ensure that Pyeongchang 2018 provides a level playing field for all clean athletes," IOC medical and scientific director Richard Budgett said.
The taskforce, which was set up to monitor and optimise the testing, has placed extra scrutiny on Russian athletes.
Twice the number of Russian athletes were tested in November and December, as compared to those from any other country.
The IOC last month banned Russia from the Pyeongchang Games as a result of its "unprecedented systematic manipulation" of the anti-doping system, though individual athletes will be able to compete effectively as neutrals if they can prove their anti-doping credentials.
Widespread doping by Russian athletes at the 2014 Sochi Winter Games was exposed by an independent report for the World Anti-Doping Agency.
Apart from increased testing, the IOC is also aiming to improve testing methods by focussing on factors such as high-risk disciplines and nationalities, suspicious changes in performance and adverse testing history.
Back with old sponsor, Patrick seeks car for Daytona and Indy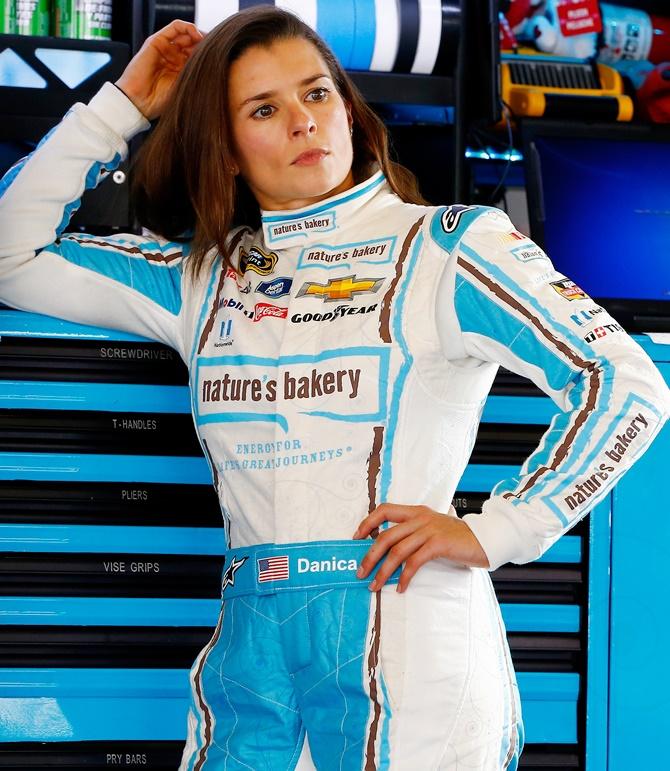 IMAGE: Danica Patrick stands in the garage area. Photograph: Jonathan Ferrey/Getty Images
Danica Patrick has found a sponsor for the final two races of her career at this year's Daytona 500 and Indianapolis 500. All she needs now is some wheels.
Patrick, the first and only woman to win an IndyCar race, has reunited with GoDaddy, the internet domain name company that previously sponsored her until 2015.
"We're getting the band back together," GoDaddy chief marketing officer Barb Rechterman said in a statement.
Patrick welcomed the news.
"This is definitely the way I want to finish my racing career - at these two iconic races, backed by my iconic, long-time sponsor," said the 35-year-old Patrick who won the 2008 Indy Japan 300.
She also came third in the 2009 Indianapolis 500 in the open wheel series before transitioning full-time to stock car racing on the NASCAR circuit, where she notched seven top-10 finishes.
Patrick has been without a drive since parting ways with Stewart-Haas Racing late last year.
"Sponsorship plays a vital role in our sport, and I have been very fortunate over the course of my career, but this year threw us for a curve," Patrick said in September.
Her new arrangement should help her quest to find a car to drive at Daytona on Feb. 18 and Indianapolis on May 27.
WADA welcomes rejection of legal challenge to whereabouts rule
The World Anti-Doping Agency (WADA) has welcomed the rejection of a legal challenge to the whereabouts rule which it says is a key element in the fight against doping.
French unions representing rugby, football, basketball and handball players had filed a complaint against the rule at the European Court of Human Rights (ECHR), saying it violated the right to respect for private and family life.
The complaint was rejected on Thursday, the ECHR said in a statement.
It said that the judges accepted the rule had an impact on the athletes' private lives but "took the view that the public interest grounds which made it necessary were of particular importance and justified the restrictions" on their freedom.
The rule requires targeted athletes to file information on where they will be for at least one hour of every day to allow drug testers to locate them for random out-of-competition tests.
WADA director Olivier Niggli said in a statement that out-of-competition tests were "one of the most powerful means of deterrence and detection of doping."
"Accurate whereabouts information is crucial to the success of anti-doping programs," he said.
"The only way to perform out-of-competition testing is by knowing where athletes are, and the way to make it most effective is to be able to test athletes at times when cheats are most likely to use prohibited substances or methods."
He said that the inconvenience caused to athletes was "entirely proportionate to the wider benefits for global sport."
WADA added that athletes were allowed to make two mistakes with their whereabouts information before they were considered to have committed a violation and only a relatively small number were subject to the rule.
Doungel hat-trick helps NorthEast beat Chennaiyin 3-1
Seiminlen Doungel scored the first ever hat-trick for NorthEast United as the hosts outplayed Chennaiyin FC 3-1 in an entertaining Indian Super League match in Guwahati on Friday.
Doungel scored in the 42nd, 46th and 68th minutes to hand NorthEast United their biggest win in this edition of the ISL. The 24-year-old player from Manipur also became the first Indian player to score a hat-trick this edition.
Anirudh Thapa pulled one back for the Chennaiyin in the 79th minute but buy then the match at the Indira Gandhi Athletic Stadium had tilted heavily in favour of the Northeastern side.
Despite Friday's win, their second victory at home and third overall so far, NorthEast United remained at ninth spot in the 10-team league table with 10 points from 10 matches.
Chennaiyin also remained at second spot with 20 points from 11 matches.
NorthEast United had lost 0-3 against Chennaiyin FC in Chennai earlier in their first-leg clash but Doungel turned the tables on their rivals with a hat-trick, the first ever for NorthEast since inception in 2014.
Vinesh beats Ritu in UP Dangal's 4-3 win over Veer Marathas
UP Dangal's icon player Vinesh Phogat and Bajrang Punia posted commanding wins to help UP Dangal beat Veer Marathas 4-3 in the Pro Wrestling League at the Siri Fort Indoor Stadium in New Delhi.
After Vinesh put her team 3-1 up in the tie, Bajrang, the Commonwealth champion, beat compatriot Amit Dhankar 7-2 in the 65 kg category to help UP continue their unbeaten run in the tournament.
Marathas' defeat all but doused their hopes of making it to the knock-out stages.