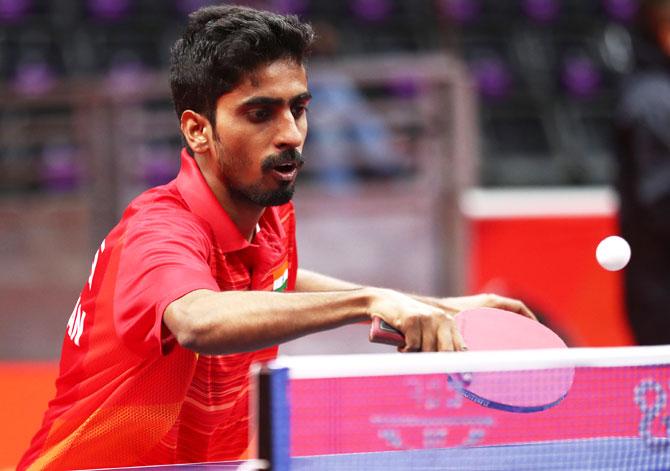 India's top table tennis player Sathiyan Gnanasekaran, who won three medals at his Commonwealth Games debut last month, has signed with German Bundesliga's top division club ASV Grunwettersbach Tischtennis.
Sathiyan won a team gold, a silver in men's doubles alongside Sharath Kamal, and a bronze in mixed doubles with Manika Batra at the Gold Coast Games.
He was also a part of the Indian men's team that finished 13th, its best ever performance, in the World Team Championships in Sweden last week.
"I am really happy on becoming the second Indian to sign up with a club after Sharath Kamal in the most prestigious league in the world. I am looking forward to playing against world class players and I think it will be a great experience," Sathiyan said.
The World No 46 will start playing in the Bundesliga from September after the Asian Games in Jakarta.
"I am looking forward to playing with players like Timo Ball, (Simon) Gauzy and Hugo (Calderano)," added Sathiyan, who has previously played in leagues in Poland and Sweden.
Tokyo Games golf venue admits first female members after criticism
The club scheduled to stage the golf tournament during the 2020 Tokyo Games has granted three women full memberships after being warned that it could be stripped as an Olympic host if it does not change its discriminatory policy.
The exclusive Kasumigaseki Country Club scrapped its male-only membership in March 2017 after the International Olympic Committee (IOC) stated it would find another venue if the policy remained in place.
The club said on Friday that it had granted three women equal membership rights as their male counterparts for the first time in four decades.
"This May is the first time we have accepted full membership after changing our rules," club general manager Hiroshi Imaizumi said.
Until the rule change, Kasumigaseki allowed women to play at the course but they were not allowed to become full members or play on certain Sundays, unlike male members.
The Saitama venue is scheduled to host both men's and women's tournaments in July and August 2020.
Several notable golf clubs have changed their policies to allow female members in recent years.
'Super group' fizzle as Woods, Fowler and Mickelson struggle
The so-called 'super group' at the Players Championship turned into a super flop as Tiger Woods, Phil Mickelson and Rickie Fowler fizzled in the first round on Thursday.
Woods was best of the bunch with an even-par 72 but that was hardly what the PGA Tour had in mind when it grouped the best two players of their generation with the popular Fowler at TPC Sawgrass.
What started as a massive early afternoon gallery thinned out to only a few hundred spectators by the 15th hole, though considerably more waited at the island-green par-three 17th for some end-of-day fireworks.
They instead saw damp squibs, as Mickelson and Fowler both found water at the 17th for matching double-bogeys.
Woods, meanwhile, safely negotiated the penultimate hole with a par, only to yank an iron tee shot into the water at the par-four 18th, his safety-first strategy backfiring.
He did well to salvage bogey, ending the day six strokes behind the six tied for the lead, who include world number one Dustin Johnson and Swede Alex Noren.
Woods at least gave fans one moment of excitement when he rolled in a 20-foot putt for eagle from the fringe at the par-five ninth.
"Boy, it was nice to turn the round completely around there," he said, before assessing the gallery.
"They were into it early. Towards the back nine it started getting a little sparse. I think they might have tipped back a couple and got a little sleepy."
The quality of the golf did little to keep fans awake.
Fowler shot 74, while Mickelson signed for a 79 after dropping seven shots in four holes from the 14th.
Victims of disgraced USA Gymnastics doctor ask Texas to take action
Victims of a former USA Gymnastics doctor sentenced to life in prison for molesting nearly 200 female athletes urged Texas on Thursday to step up its investigation of suspected sexual abuse that took place at a team training centre in the state.
They also accused Martha Karolyi, under whose coaching U.S. gymnasts have consistently won medals since the 1990s, of criminal activity for not reporting team doctor Larry Nassar's alleged child abuse at the gymnastics ranch run with her husband Bela Karolyi in Huntsville, Texas.
"She did worse than nothing. She stayed silent," John Manly, an attorney for several gymnasts abused by Nassar, said at a news conference in Austin.
The athletes want a Texas investigation started in January to move more quickly, and they want Martha Karolyi indicted for failure to report child endangerment. The Karolyi gymnastics ranch is inactive.
Neither Martha nor Bela Karolyi were immediately available for comment.