Summary of sports events and persons who made news on Monday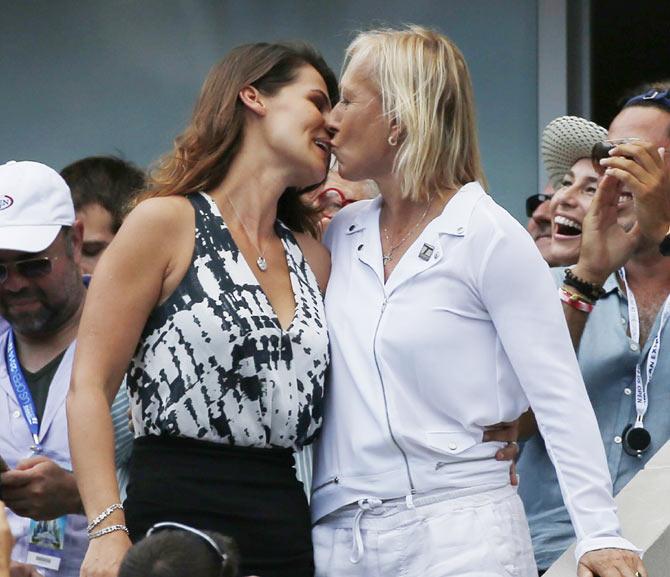 Tennis legend Martina Navratilova apologised for describing transgender athletes wishing to compete in women's sports as 'cheats'.
In a newspaper column, the 18-time Grand Slam title winner had stated that allowing trans athletes to compete with women who were assigned female at birth is 'cheating and unfair'.
"I know that my use of the word 'cheat' caused particular offence among the transgender community. I'm sorry for that because I certainly was not suggesting that transgender athletes in general are cheats," the 62-year-old tennis great wrote in a blog post.
"I attached the label to a notional case in which someone cynically changes gender, perhaps temporarily, to gain a competitive advantage."
However, she maintained that the issue of transgender athletes competing in women's sports is set to keep creating competitive as well as ethical questions.
"First, we all need to realise that there is no perfect solution in which nobody will ever be wronged or disadvantaged. The objective must be to find policies that make women's sport as inclusive and fair as practically possible.
"After all, if everyone were included, women's sports as we know them would cease to exist. Therefore, any sensible policy must have some exclusions. But which ones? Where do you start and where do you end?"
Indian contingent leaves for Special Olympics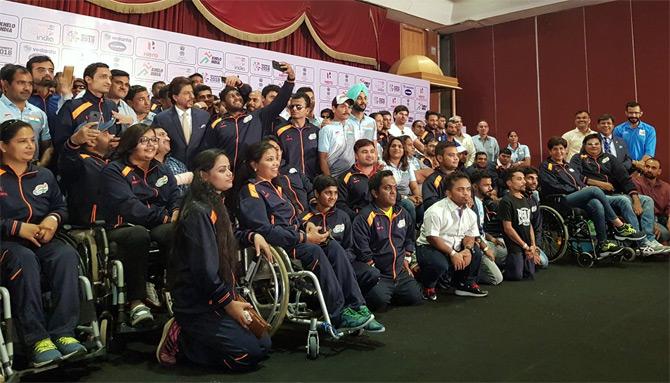 A 378-strong Indian contingent, including 289 athletes and 73 coaches, was Monday given a warm send-off, motivating them ahead of the upcoming Special Olympics.
A send-off was organised in the city's The Frank Anthony Public School and presided over by Aruna Abhey Oswal, founder of a trust named after her.
The guests of honour included former India cricketer Mohammad Kaif and Ambassador of Ecuador, Hector Cueva Jacome.
The participants will leave on March 8 for Abu Dhabi where they will represent India in 14 out of 24 Olympic-type sports.
The teams have been practicing in their respective states and also at national level camps under the supervision of Victor R Vaz, National Sports Director, and the head of the delegation.
Air Marshal (Retd) Denzil Keelor, founding trustee and CEO Special Olympics Bharat, said, "It gives me immense pleasure to see growing support for our athletes going for the World Summer Games.
"The fact that the athletes have pushed themselves to this extent to be able to face a global sporting challenge makes me proud."
Kaif said, "Special Olympics is a great movement and I feel delighted to be part of the sending off of the Indian contingent."
Randhir Singh appointed coordination committee chairman of 2022 Asian Games
Veteran Indian sports administrator Randhir Singh has been appointed as the chairman of the Coordination Committee of the 2022 Hangzhou Asian Games by the General Assembly of the Olympic Council of Asia (OCA).
Randhir had served as Secretary General of the OCA for 24 years from 1991 to 2015.
The 72-year-old Randhir, a five-time Olympian shooter, is currently a Honorary Life Vice-President of the OCA. He served as the Secretary General of the Indian Olympic Association from 1987 to 2012 and was a full member of the International Olympic Committee from 2001 to 2014 before becoming its honorary member.
"I am very happy to be appointed (as head of Asian Games Coordination Committee). It is a great honour and responsibility," Randhir said from Bangkok, where the OCA General Assembly was held.
"It is for a four-year cycle and I will also be working in the same capacity in the 2020 Asian Beach Games in Sanya (China)," he added.
Last month, Randhir led the OCA's delegation for the first meeting of the Coordination Committee for the 2022 Asian Games and met Hangzhou Mayor Xu Liyi to have a first-hand understanding of the preparation of the Games.
Ethiopian Kejelcha smashes world indoor mile record
Ethiopian Yomif Kejelcha broke the world indoor mile record when he clocked three minutes 47.01 seconds during an invitational meet in Boston on Sunday.
The 21-year-old smashed the 22-year-old record of 3:48.45 set by Morocco's Hicham El Guerrouj in 1997.
Kejelcha had come within one hundredth of a second of the record when he clocked 3:48.46 at the Millrose Games in New York last month.
The twice world indoor 3,000 metres champion was also targeting the indoor 1,500m record but narrowly missed it with a 3:31.25.
That made Kejelcha, who is coached by Alberto Salazar, the third-fastest in the event behind compatriot Samuel Tefera's February world record of 3:31.04 and El Guerrouj's 3:31.18.
Argentine Pella wins first ATP title in Brazil
Argentine Guido Pella claimed his first ATP title when he beat Christian Garin 7-5, 6-3 to win the Brasil Open in Sao Paulo on Sunday.
Pella, who had previously reached four ATP finals and come up short each time, made no mistake against the young Chilean and finished a superb week without dropping a set.
Ranked 48th in the world before his triumph, the 28-year-old will jump to a career best 34th place when the new rankings are published on Monday.
Pella stopped Garin from becoming the first Chilean since Fernando Gonzalez a decade ago to lift an ATP trophy and is the seventh player to claim their first ATP title this season.
The other first time winners are Alex de Minaur (Sydney), Tennys Sandgren (Auckland), Juan Ignacio Londero (Cordoba), Reilly Opelka (New York), Laslo Djere (Rio de Janeiro) and Radu Albot (Delray Beach).