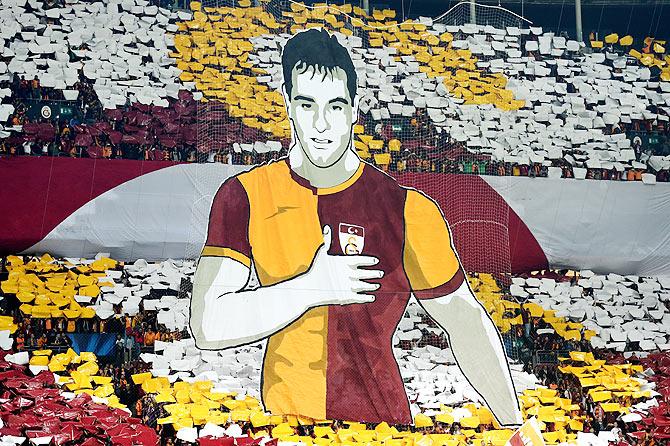 Galatasaray fans cheer on their team during UEFA Champions League Group D match against Borussia Dortmund Photograph: Lars Baron/Getty Images
Galatasaray, fined 50,000 euros ($62,575) last month over crowd trouble at a Champions League game away to Arsenal, are facing further sanctions after disturbances at Borussia Dortmund on Tuesday, UEFA said on Thursday.
UEFA said the Turkish club had been charged with "crowd disturbances, field invasions by supporters and setting off/throwing of fireworks and missiles" following the Group D game.
The Bundesliga club will also face a disciplinary hearing over "throwing of objects...crowd disturbance (and)...insufficient organisation," UEFA said in a statement.
German police launched an investigation on Wednesday into attempted manslaughter after Galatasaray fans threw firecrackers and smoke bombs on to the pitch and into the Borussia Dortmund spectators during their team's 4-1 defeat.
Edzard Freyhoff, Dortmund's police chief, said trouble had started in the city centre before the game when a group of about 800 Galatasaray fans lit bangers and smoke bombs before marching towards the stadium.
Dortmund police said in a statement: "Among other investigations were those launched into attempted manslaughter, disturbing the peace, breaking laws regulating explosives and laws on assembly."
Tuesday's match was interrupted twice for a few minutes while the Turkish team's players went to the supporters in an effort to make them stop.
Galatasaray were previously in trouble after their fans set off fireworks and caused trouble at Arsenal on October 1. In addition to the fine, the club have to pay for damages to Arsenal's stadium.
Hollande says wants France to host 2024 Olympic Games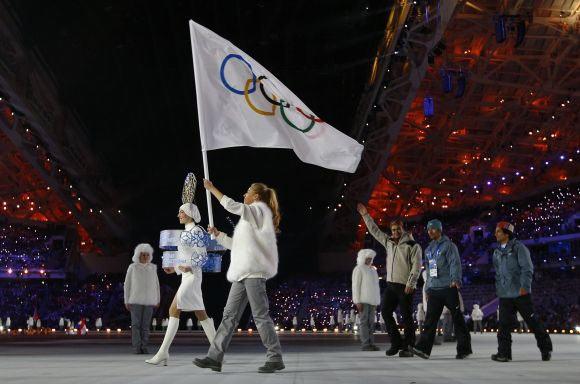 Independent Olympic Participant's delegation parades (This image is used for representational purposes). Photograph: Brian Snyder/Reuters
French President Francois Hollande said on Thursday that he was in favour of France applying to host the Olympic Games in 2024, and that the country was a candidate to host the World Expo the following year.
"Yes, France will apply for the World Expo. That's 50 million visitors," Hollande said during a live question-and-answer session on TF1 TV. "And, for the 2024 Olympic Games, I am in favour of the city of Paris presenting its candidacy, if it decides to do so."
Second Romanian player gets 16-match ban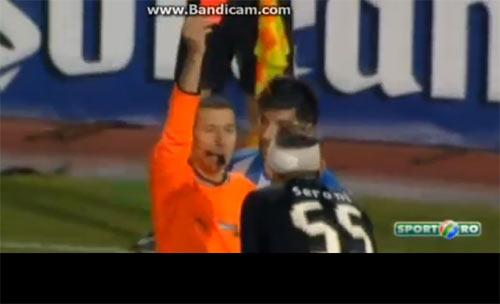 A video grab of FC Viitorul Constanta's Alin Seroni getting the card following the dangerous tackle.
FC Viitorul Constanta centre back Alin Seroni has been banned for 16 matches for a reckless foul in a domestic match, the Romanian football federation's (FRF) said late on Wednesday.
The punishment came a few hours after the FRF decided to ban FCM Targu Mures midfielder Gabriel Muresan for 16 matches following a violent tackle during his team's 1-0 league win over champions Steaua Buchrast on October 26.
Targu Mures's general director Daniel Stanciu reacted angrily to Muresan's punishment, saying other players had committed bad fouls but escaped serious bans.
Seroni was handed the heavy punishment following a poor challenge on Universitatea Craiova's Nicusor Bancu during a Romanian Cup match on Oct. 29.
Bancu suffered an ankle fracture in the first period of extra-time with referee Florin Miron immediately showing Seroni a second yellow card. Universitatea won the round of 16 match 2-1 and will meet Steaua in the quarter-finals.
The 28-year-old defender, who joined Viitorul from Poli Timisoara earlier this year, will not return on the field before April.
Viitorul, who are 11th in the league standings, will appeal the ban, according to owner and manager Gheorghe Hagi.
"We'll appeal the ban," Hagi told local media on Thursday. "It's Seroni's first offence and it wasn't intentional.
"He doesn't feel well, he realises what he did and at the same time, it's difficult to accept that he'll not play in the next 16 matches."
Viitorul were founded by former Romania great Hagi in 2009 and won promotion to the top flight only three years later.
The club is mainly known for nurturing young talent and having one of the best facilities for junior teams in the Black Sea state. However, they don't have a stadium suitable to host league matches and play their home games at the Concordia Chiajna's ground.