A summary of sports events and sports persons, who made news on Tuesday
IMAGE: India will take on hosts Malaysia in their fourth match on Wednesday. Photograph: Hockey India/Twitter
A listless India went down to Australia 2-4 for their second loss in three matches, pushing them out of the race to reach the final at the 27th Sultan Azlan Shah Cup hockey in Ipoh.
Late goals by Ramandeep Singh (52', 53') were only enough to avoid a whitewash against table toppers Australia. Mark Knowles (28'), Aran Zalewski (35'), Daniel Beale (38') and Blake Govers (40') scored for Australia.
India, who have rested many senior players for the tournament, had lost their opener to Argentina 2-3 before drawing 1-1 with England.
Today was a must-win match for India but getting the better of the Australians proved to be tough as always.
With better ball possession in the first quarter, India created three potential chances to score but could not convert.
A golden opportunity was lost when a swift assist from Ramandeep Singh to Shilanand Lakra could not get past Australian goalkeeper Andrew Charter in the 8th minute. Though the rebound was taken by Sumit, his shot on goal went wide and India missed out on taking an early lead.
Though the team's defense remained resolute in the first quarter as it kept World Champions Australia from making forays into the circle, an infringement in the 28th minute saw the Indian team concede a penalty stroke.
Australian skipper Mark Knowles was accurate in his attempt as he sent the ball past Krishan Pathak like a bolt, giving Australia a 1-0 lead.
With seconds to go before the second hooter, India won the first PC of the match but the opportunity went begging with young dragflicker Varun Kumar's shot rebounding off the cross bar.
The Australian forwards too didn't seem like they were having a great outing in the initial minutes having missed a sure-shot opportunity to score earlier in the second quarter with Tom Craig not making a strong connection for deflection.
But they made no such mistake in the third quarter. A superb pass by Craig in the baseline was effortlessly picked up by Zalewski. His diving effort ensured the ball went past Suraj Karkera fetching the Australians a 2-0 lead in the 35th minute.
Australians built on their lead and dominated the proceedings, keeping the ball for longer stints and finding space in the Indian circle.
They even won a PC in this pursuit but an ambitious variation could not be converted. A 3-0 lead eventually came by when Beale scored a splendid field goal in the 38th minute.
Govers later converted a PC as he brilliantly picked up a rebound that came off Suraj Karkera's pads.
The final quarter saw India vie for a comeback with Ramandeep scoring back-to-back goals in the 52nd and 53rd minutes.
Though the late surge boosted the team's attack, as it won a PC in the dying minutes of the match, a miss trapping dented the chance of a third goal.
India will take on hosts Malaysia in their fourth match on Wednesday.
Former Aus dragflicker Ciriello to join India as analytical coach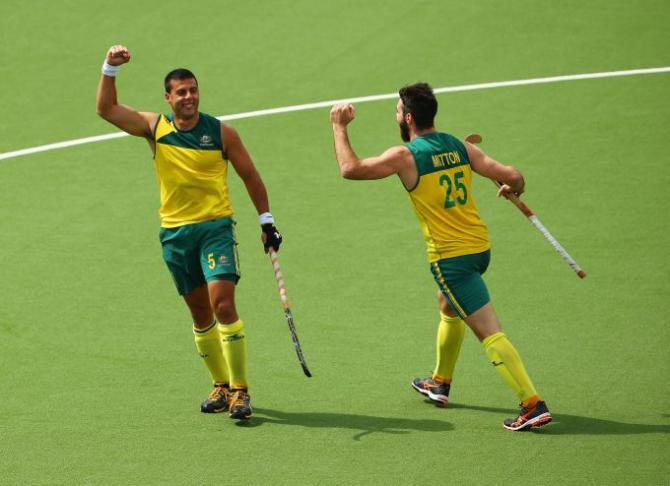 IMAGE: Chris Ciriello will replace Hans Streeder who quit in September last year following the sacking of chief coach and fellow Dutchman Roelant Oltmans. Photograph: Robert Cianflone/Getty Images
With an eye on the upcoming Commonwealth Games and the Asian Games, Hockey India has roped in former Australia dragflick specialist Chris Ciriello as the analytical coach of the men's side.
Even though his appointment is yet to be officially confirmed by the Sports Authority of India (SAI), the 32-year-old Ciriello, the youngest to join the Indian team management, started working with the Indian national side from the New Zealand tour in January.
However, a top Hockey India official has confirmed that Ciriello is already on board and it's a matter of time that SAI makes the official announcement.
"Ciriello started working with the team in the New Zealand tour. He is currently in Bangalore at the national camp. His tenure is till 2020 Olympics. The official announcement will be made by the Sports Ministry," the HI official told PTI.
The official, however, refused to divulge the remuneration of the big-shouldered Australian, nicknamed 'Big Dog'.
When confirmed by the SAI, Ciriello will replace Hans Streeder who quit in September last year following the sacking of chief coach and fellow Dutchman Roelant Oltmans.
Ciriello, a fearless defender, shot into limelight in 2014 when he scored hat-tricks in the finals of the World Cup in The Hague and the Glasgow Commonwealth Games to guide Australia to two crowns.
It has been learnt that apart from providing inputs to chief coach Sjoerd Marijne, Ciriello will work with Indian dragflickers ahead of the big-ticket events.
Ciriello, a regular in the Victorian Vikings domestic team, made his debut for Australia in 2008 and was part of Kookaburras' CWG winning side of 2010 and 2014. He also has two Champions Trophy gold medals in 2010 and 2012 and World Cup crown in 2014. He was also a part of Australia's bronze medal winning side in 2012 London Olympics.
Before taking up the India assignment, Ciriello coached a top tier group of young female athletes at the prestigious Southern River Hockey Club, based in the south of Perth, Western Australia.
Federation Cup: Niraj lights up field, Hima scorches track
Star javelin thrower Neeraj Chopra lived up to the expectations with career's second-best effort while Assam teenager Hima Das blazed the track to earn a Commonwealth Games ticket in the women's 400m on the second day of the 22nd Federation Cup National Senior Athletics Championships in Patiala.
Neeraj, the favourite and the star attraction of the championships, sent the iron spear to a distance of 85.94m in his final attempt send the seizable crowd at the NIS Patiala to raptures.
His performance today was his best after his 86.48m throw -- the current world junior record -- which was achieved in Poland in 2016 while winning gold in the Junior World Championships. This was also the best ever throw recorded on Indian soil.
"Although I had already qualified for the CWG, I wanted to make a mark at the Federation Cup. That is why I was trying so hard. I will look to improve on this at the Commonwealth Games," Neeraj said later.
Neeraj's performance is the best of the season among javelin throwers of the Commonwealth countries and he is a bright prospect for a medal in the April 4-15 Gold Coast Games. Hamish Peacock of Australia was leading the chart of Commonwealth javelin throwers with 83.63m.
Amit Kumar (79.16m) and Shivpal Singh (78.13m) were distant second and third respectively. The 20-year-old Haryana athlete had already crossed the Athletics Federation of India's qualifying guidelines (81.80m) in an earlier round throw but he still completed his quota of six throws as he wanted to come up with a big throw.
Neeraj did that in style in his final attempt as legendary Uwe Hohn, the only javelin thrower in history to cross 100m, watching from the sidelines.
While Neeraj was the cynosure of eyes of the days proceedings, it was the 18-year-old Hima, who stunned one and all with her performance in her debut 400m race.
Das clocked 51.97seconds to go past the AFI qualification mark of 52.00secs. GK Vijayakumari was second in 53.03 while MR Poovama was third in 53.38s.
Das is primarily a 100m and 200m runner and this was her first competitive 400m race of her career. She had won a gold at the recent Asian Games Test event in Jakarta in 200m.
Shot putter Tejinder Pal Toor was the third athlete to surpass the AFI's qualifying guidelines. Toor, who won a silver at the Asian Indoor Games in January, needed just one throw to better the AFI's qualifying guideline of 20.20m, by hurling the iron sphere to 20.24m.
For Toor, it was a satisfying return to the ground on which he had thrown a personal best of 20.40m last season. Back then, Toor had been in the race to qualify for the 2017 World Championships but had fallen short by 10 centimetres.
There were other strong performances on the day too, most impressive of which was Kerala long jumper M Sreeshankar, who leaped into the junior record books with a jump of 7.99m to clinch the gold.
The 18-year-old Sreeshankar, however, fell just 1 cm short of the AFI qualifying standard mark of 8.00m set for his event.
Although he fell short of the qualifying guideline of 10.16 seconds, Siva Kumar of Tamil Nadu marked himself as a sprinter to watch out for.
Siva stunned a 100m field that included national record holder Amiya Mallick and Asian Indoor bronze medalist Elakkiya Dasan to win a maiden national gold medal with a time of 10.43 seconds.
Elakkiya Dasan was second with 10.56 seconds while Sanjeet of Haryana was third with a time of 10.59 seconds.
In women's 100m finals, Dutee Chand won the gold in 11.60 seconds while Prajna S (11.81) and Hina (11.83) took the silver and the bronze respectively. Dutee however fell well short of the CWG qualifying mark of 11.15 seconds.
Women's hockey: India edge past Korea to take 2-0 series lead
The Indian women's hockey team edged past Korea 3-2 in an absorbing contest to grab a 2-0 lead in the five-match series, in Incheon on Tuesday.
The South Koreans came from behind twice in the match but India had the last laugh by keeping their nerve.
Goals for India were scored by Poonam Rani (6th minute), skipper Rani (27th minute) and Gurjit Kaur (32nd minute) while Yurim Lee (10th) and Jungeun Seo (31st) scored for the hosts.
India started the first quarter aggressively by making attacking forays inside the opposition's half. They were rewarded for their efforts when Poonam scored to give her side the lead. South Korea also had chances in the first quarter and were awarded two Penalty Corners. They made a comeback match by converting the first one through Yurim Lee.
The hosts could have taken the lead in the later stages of the first quarter but India defended well to save the second PC as the teams ended the first period locked at a goal apiece.
The second quarter saw South Korea start off with back-to-back Penalty Corners to put India under pressure.
However, the visitors stuck to their task as they defended well with young goalkeeper Swati making crucial saves to deny the hosts.
With the pressure piling on India, it was a brilliant team-move from the visitors on the counter which saw captain Rani find the back of the net to give her team an important 2-1 lead in the 27th minute.
The teams went into half-time with India leading by a single goal, but with South Korea having better chances in the opening half-hour.
India did not start the third quarter well as in the 31st minute, Seo scored a field goal to equalise for the second time in the match.
However, India's forwards produced some precise passing to win a Penalty Corner in the 32nd minute which was well-converted by Gurjit Kaur.
South Korea did not throw in the towel, and with almost 25 minutes still to play in the match, they showed fight to unnerve the Indian defence which saw them win a penalty stroke in the 34th minute.
But to the hosts' disappointment, the it was saved by Swati.
It was an important last quarter in the context of the match as South Korea looked to find the equaliser while the visitors looked to hold on to the lead.
The hosts tried to win back possession quickly and played some aggressive hockey in the final quarter but the Indian defence stood tall.
In the final few minutes, the hosts played with 11 outfield players, but India's grit and determination helped them secure a second consecutive victory in the series.
India will play their third match of the five-match series against South Korea on March 8.
Former ESPN host sues network for 'misogynistic' culture
Former ESPN presenter Adrienne Lawrence has sued the sports network, saying it has a misogynistic and predatory culture and her contract was not renewed after she complained about sexual harassment by a male anchor.
Lawrence's complaints follow a string of sexual harassment and misconduct scandals involving powerful men in Hollywood, the U.S. media and Washington.
In a filing in US district court in Connecticut, Lawrence accused male ESPN employees of keeping scorecards on female colleagues, openly watching porn on their computers and making sexually explicit comments about women in front of women.
"ESPN is, and always has been, a company rife with misogyny," Lawrence said in the lawsuit filed on Sunday.
Lawrence is seeking damages to compensate for monetary harm, including lost wages and employment opportunities, as well as emotional distress, the complaint said.
ESPN, Walt Disney Co's most important cable network, said in a statement it conducted a thorough investigation into Lawrence's allegations and found them "entirely without merit."
Lawrence was hired into a two-year development program and her contract was not renewed when it ended, the network said.
"The company will vigorously defend its position and we are confident we will prevail in court," it said in the statement.
Lawrence joined ESPN in August 2015 and became the object of unwelcome advances from longtime anchor John Buccigross, the lawsuit said.
Buccigross sent her inappropriate text messages with half-naked photos of himself, commenting on her "#longlegs" and calling her "pretty face" and "dollface," the complaint said.
When Lawrence reported Buccigross' behavior to ESPN human resources they said Buccigross was a harmless "good guy," his attention was "mentorship" and she should "get used to it," the lawsuit added.
ESPN did not immediately respond to a request for comment from Buccigross. Buccigross did not immediately respond to a mobile telephone message from Reuters to seek comment.
"I considered Adrienne to be a friend," Buccigross said in a statement to the Boston Globe newspaper in December, when it reported Lawrence's allegations.
"I'm sorry if anything I did or said offended Adrienne. It certainly wasn't my intent."
Wiggins says he crossed no 'ethical line' at Team Sky
Tour de France winner Bradley Wiggins has defended himself against accusations he and Team Sky used permitted medication for performance gain and said he was the victim of a malicious smear.
The five-times Olympic gold medallist told the BBC in an interview on Monday, following the publication of a British parliamentary committee report on doping in sport, that he had not cheated.
The Digital, Culture, Media and Sport (DCMS) select committee report said the team had crossed an "ethical line" by using for performance enhancement drugs that are allowed for medical purposes.
"Not at any time in my career did we cross the ethical line," said Wiggins, who in 2012 became the first Briton to win the Tour de France.
The 37-year-old, who retired from professional cycling in December 2016, said he was the subject of a 'witch hunt', complained that his children were suffering at school as a result.
"The widespread effect on the family is horrific," he said. "I don't know how I'm going to pick the pieces up with the kids...I wouldn't wish it on anyone."
Wiggins was granted a therapeutic use exemption (TUE) to take the corticosteroid Triamcinolone, which helps asthma sufferers, before the 2011 and 2012 Tours and 2013 Giro d'Italia.
The report said Wiggins may have been treated with Triamcinolone on up to nine occasions, in and out of competition, over a four-year period.
"It would be hard to know what possible medical need could have required such a seemingly excessive use of this drug," it added.
Wiggins said he did not know where that allegation had come from.
"I really would like to know," he added. "This is an anonymous source, an anonymous person that has said this.
"I refute that 100 percent. This is malicious, this is someone trying to smear me.
"I haven't worked and had the passion I've had for this sport for 15-20 years... to do that to the sport, it's just absurd."
Wiggins said the allegations were the worst thing to be accused off and the hardest to prove that you have not done, because "we're not dealing in a legal system. I'd have had more rights if I'd murdered someone in this process.
"These allegations have never been put to me before until now, I've only found out today what I'm actually being accused of," he added.
Wiggins said an infamous 'jiffy bag' controversy had also been a 'shambles'.
British Cycling and Team Sky Doctor Richard Freeman received a package on behalf of Bradley Wiggins at the 2011 Criterium du Dauphine race in France, the contents of which have remained a source of speculation despite Sky saying it was a 'flu treatment.
The report was unable to say for sure what was in the package but found no "reliable evidence" to support Sky's assertion that it was a legal decongestant, Fluimucil.
"I didn't even know there was a package until I was asked about it. It has become such a mess -- it is ludicrous," said Wiggins.
Boxer Alvarez blames contaminated meat for positive test
Mexican middleweight boxer Saul "Canelo" Alvarez tested positive for the banned substance clenbuterol after consuming contaminated meat, Golden Boy Promotions said on Monday.
A voluntary test showed Alvarez, who is scheduled to fight unbeaten middleweight champion Gennady Golovkin of Kazakhstan on May 5 in a highly-anticipated rematch, had traces of clenbuterol in his system, his promoters said in a statement.
The levels were consistent with meat contamination that had impacted dozens of athletes in Mexico over the last several years, they said.
As a result of the positive test, Golden Boy said Alvarez would immediately move his training camp to the United States from Mexico and submit to additional drug testing.
"I am an athlete who respects the sport and this surprises me and bothers me because it had never happened to me," said Alvarez.
"I will submit to all the tests that require me to clarify this embarrassing situation and I trust that at the end the truth will prevail."
Golden Boy said Daniel Eichner, the director of the World Anti-Doping Agency-accredited lab that conducted the tests, stated in a letter on Monday that, "These values are all within the range of what is expected from meat contamination."
At the 2011 under-17 soccer world championship held in Mexico, more than 100 players tested positive for clenbuterol, while the Mexican 2014 World Cup steered clear of beef in the run-up to the tournament due to fears about the substance.
Clenbuterol is sometimes illicitly mixed into livestock feed to make meat leaner.
Alvarez and Golovkin both agreed to be randomly tested by the Voluntary Anti-Doping Association as part of the deal for their initial fight last September and their rematch.
It was not clear whether Alvarez's positive test will affect the rematch.
Alvarez has a 49-1-2 record, with his only loss coming against Floyd Mayweather in 2013. His middleweight world title bout against Golovkin last September ended in a controversial draw.
Jamaican bobsledder requests 'B' sample test: IBSF
The member of the Jamaican women's bobsleigh team who returned an adverse analytical finding for a banned substance before the Winter Olympics has requested her "B" sample be tested, the International Bobsleigh and Skeleton Federation (IBSF) has said.
"The athlete requested the opening of the B sample," the IBSF said in a statement. "Once the result of the B sample has been made available to the IBSF all documents will be reviewed by the IBSF Positive Case Committee and the next steps in the process will be taken."
The Jamaican team, which finished 19th in the two-woman bobsleigh in Pyeongchang, was comprised of American-born driver Jazmine Fenlator-Victorian and former track sprinter Carrie Russell.
Russell declined to comment when contacted by Reuters while pilot Fenlator-Victorian said "all queries should be directed to the IBSF".
Sources with knowledge of case indicated that the "A" sample showed traces of the banned steroid clenbuterol.
The bobsleigh team received a lot of attention in Pyeongchang as they were the first female athletes from the Caribbean island nation to compete at a Winter Olympics.
Their breakthrough appearance came 30 years after a Jamaican men's team competed at the Calgary Olympics, inspiring the highly successful movie "Cool Runnings".