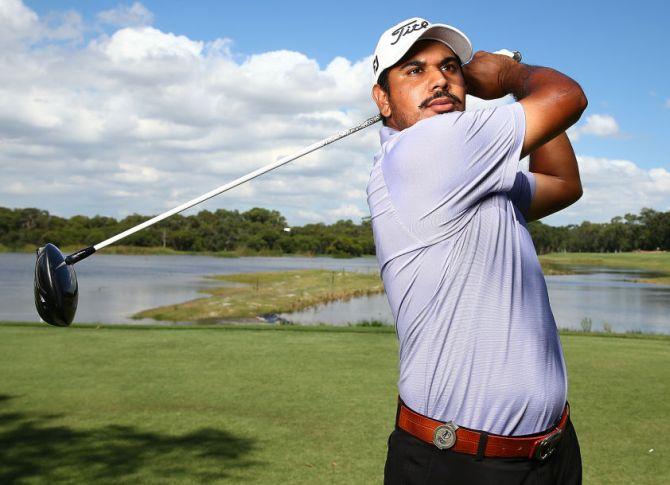 IMAGE: Gaganjeet Bhullar in action. Photograph: Paul Kane/Getty Images
Gaganjeet Bhullar romped home to a three-shot victory at the Macao Open to bag his eighth Asian Tour golf title in Macau on Sunday.

As a result, the Indian golfing ace etched his name on the trophy for the second time, having previously won the event in 2012.

Bhullar (64-65-74-68) was unstoppable on the final day of the US $500,000 event as he brought in a card of three-under-68 to end up with a winning total of 13-under-271.

Among other Indians in fray, Ajeetesh Sandhu (66-67-71-70), fresh from his twin triumphs in Taiwan and Japan over the last two weeks, delivered a last round of one-under-70 to grab a share of second place at 10-under-274 and make it two Indians in the top-3.

Sandhu shared the runners-up spot with Angelo Que (69) of the Philippines.

Bhullar, the overnight leader by one shot, put behind the disappointment of an ordinary third round effort of three-over-74 as he bounced back in round four with seven birdies at the cost of two bogeys and a double-bogey.

He started the day with a bogey to concede his outright lead and slip into the joint lead along with compatriot Sandhu. But he then rallied with six birdies over the next 12 holes to build a healthy five-shot lead to all but runaway with the title.

Thereafter, Bhullar's subsequent bogey and double-bogey on the 14th and 16th couldn't stop him from marching to his first Asian Tour title in about a year. He finally registered a three-stroke victory margin thanks to his birdie on the closing 18th.

The strapping 29-year-old from Kapurthala in Punjab equalled Arjun Atwal and Jyoti Randhawa's record of most wins (8) by an Indian on the Asian Tour.

It was also Bhullar's third wire-to-wire victory of his career following the Macao Open 2012 and the Indonesia Open 2013. He last tasted international success just about a year back at the Asian Tour's Bank BRI-JCB Indonesia Open 2016.

Bhullar now has nine international wins to his credit, including one on the European Challenge Tour. Interestingly, it was the third time that an Indian won the Macao Open. Besides Bhullar, who won it in 2012, Anirban Lahiri also won it in 2014.
India juniors beat Japan in Sultan of Johor Cup hockey
Dilpreet Singh struck twice as India's junior men's hockey team beat Japan 3-2 in their opening encounter of the Sultan of Johor Cup, in Johor Bahru, Malaysia, on Sunday.
India rallied splendidly after trailing 1-2 for the better part of the third quarter to emerge triumphant.
Dilpreet scored in the 11th and 53rd minute for the winners while Sukhjeet Singh found the target in the 41st.
Kyohei Ogawa (23rd, 31st minute) scored for Japan.
India started on a bright note, attacking constantly in the first quarter. In the 11th minute India's efforts bore fruit with Dilpreet capitalising on a defensive lapse.
In the second quarter, Japan enjoyed better possession. They were awarded a penalty-corner in the 23rd minute when the ball hit the foot of an Indian player inside the circle. Ogawa converted to restore parity.
The Japanese maintained a good rhythm and Ogawa scored his second goal of the match to give Japan a 2-1 lead in the 31st minute.
However, the young Indian team showed character in the latter part of the third quarter and restored parity through a penalty-corner, converted by Sukhjeet in the 41st minute to level the score 2-2.
A dominant performance in the last quarter saw Dilpreet clinch the issue in the 53rd minute.
India meets Malaysia in their second match on October 23.

Indian women bag silver in Archery World Championships
The Indian women's compound team has bagged a silver medal after losing to Colombian rivals in the World Archery Championships in Mexico City.

Eyeing India's first ever gold medal, Trisha Deb, Lily Chanu Paonam and Jyothi Surekha Vennam went down 228-234 to the fourth seeded Colombian team of world record holder Sara Lopez, Alejandra Usquiano and Nora Valdez in the final on Saturday.

This was India's fifth medal at the World Championships and all of them have been silver.

It was also the first time India won any medal in the compound team archery section at the World Championships.

Colombia, who landed only six arrows out of the 10-ring, took a three-point lead, 58-55, after the first six arrows and never let go to win their second ever world archery title.
Korea, represented by Song Yun Soo, So Chaewon and Choi Bomin, took bronze beating Germany 235-227.
Sports Minister Rathore hints at renaming SAI
Sports Minister Rajyavardhan Singh Rathore dropped hints of renaming the Sports Authority of India, making it clear that the word 'Authority' has no relevance in the modern sporting scenario.
"The 'authority' in 'Sports Authority of India' has no place in sports today, to deliver better service @IndiaSports & @Media_SAI will shapeup," Rathore said in the first of a series of tweets indicating significant revamp, on Sunday.
The minister assured help to former sports icons of the country struggling for basic needs in life.
"It concerns us when our sporting icons struggle for basic needs past their prime. Help @IndiaSports help athletes, write us what you think," he wrote in his second tweet.
He reiterated that his ministry will not waver from its goal -- respect and facility for sportspersons.
"Our mantra is 'Sammaan aur Suvidha' where sportsperson, coaches & fans are at the top of the table. Actions of sports bodies must reflect this," said Rathore, who graced the BSF Half Marathon event at the Jawaharlal Nehru Stadium in Delhi on Sunday.
Rathore, who won a silver in the men's double trap event at the 2004 Athens Olympics, took over as Sports Minister last month, in place of Vijay Goel.