A summary of sports events and sports persons, who made news on Friday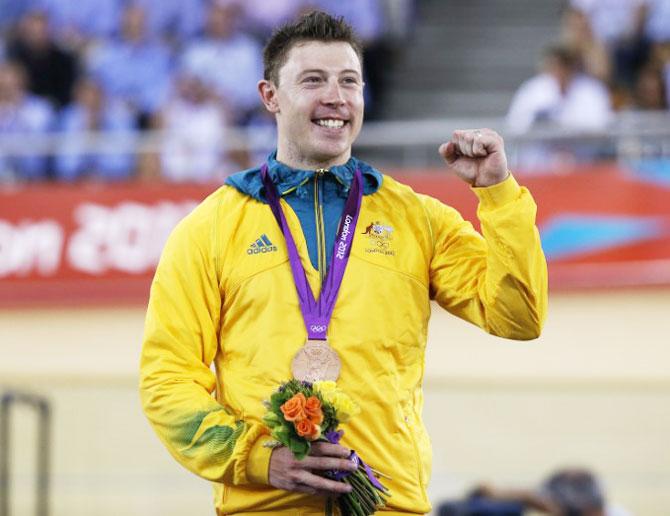 IMAGE: Shane Perkins. Photograph: Paul Hanna/Reuters
Australian cyclist Shane Perkins has been given the green light to attain Russian citizenship by President Vladimir Putin, paving the way for the twice world champion to represent his new country at the 2020 Tokyo Olympics.
The Melbourne-born 30-year-old won a sprint bronze for Australia at the 2012 Olympics in London but missed out on selection for last year's Rio Games.
"The President resolved to grant Russian Federation citizenship to Shane Alan Perkins," the Kremlin said in a statement on its website (http://en.kremlin.ru/acts/news/55354)
Perkins posted a picture of himself on Twitter wearing Russia colours on his bike and wrote: "I'm the most excited guy in the world right now! I can make my dreams come true!"
Perkins, a good friend of Russia's reigning world champion sprinter Denis Dmitriev, who took bronze in the sprint at Rio, began seriously considering defecting less than a year ago, frustrated at being shut out of Australia's high performance programme, he told local media.
Perkins' father Daryl, a former national champion, raced in the now defunct tandem sprint with Ian Browne at the 1964 Tokyo Olympics. They were beaten by the silver medal-winning Soviet Union pair of Imants Bodnieks and Viktor Logunov in the quarter-finals.
Australia has granted citizenship to a number of top Russian athletes over the years, including women's tennis player Daria Gavrilova, the world number 26, and former European champion speed skater Tatiana Borodulina.
Saharan tops in men's trap qualifiers at Jr Shotgun WC
Akash Saharan, Vivaan Kapoor and Janmajai Singh Rathore gave the Indian squad enough reason to smile, as they stayed in contention for the final of the Junior Men's Trap shooting event on day one of the International Shooting Sport Federation (ISSF) Junior World Cup Shotgun, being held at Porpetto, Italy.
Akash shot rounds of 24 and 25 for a 49 out of 50 to lead the qualification standings out of 71 shooters.
Vivaan and Janmajai amassed 46 each to stay in fourth and fifth place respectively. The top six make it to the final rounds.
Lakshay Sheoran was on 45 and in 12th place and three good rounds can also get him into contention while a fourth Indian Manavaditya Singh Rathore shot 39 to lie in 43rd place.
The Junior Women's team, however, fell short with two shooters-- Nivetha Nenthirasigamani and Soumya Gupta --falling six short of the final qualifying target and finishing 12th and 13th respectively. They shot 56 out of 75 when 62 would have made them eligible for a finals shoot-off.
Manisha Keer finished 23rd on a score of 53 while Kirti Gupta ended 32nd with 51.
Fredericks's temporary ban upheld by IAAF tribunal
An athletics disciplinary tribunal upheld on Thursday a ban on former Namibian sprinter and IAAF Council member Frankie Fredericks pending an investigation into potential ethics violations.
Fredericks, a multiple Olympic sprint silver medallist and a rising star among international sports administrators until this year, was temporarily banned in July.
He is being investigated by the Athletics Integrity Unit (AIU) over payments he received from Papa Massata Diack, the son of former IAAF president Lamine Diack, on the day Rio de Janeiro won the vote to host the 2016 Olympics.
Fredericks has repeatedly denied any wrongdoing. He admitted having received money from Massata Diack, but said it was payment for legitimate work he had done.
"Mr Fredericks appealed against the order for provisional suspension and his appeal was heard by an enlarged panel of the Disciplinary Tribunal," the AIU said in a statement.
"Having heard from both parties, the enlarged panel agreed with the AIU's submissions and it declined to lift the order for provisional suspension."
Earlier this year Fredericks, an International Olympic Committee member, stepped down as head of the team evaluating bids to host the 2024 Olympics.
He also removed himself from the IAAF (International Association of Athletics Federations) task force investigating doping allegations in Russia, after the corruption allegations involving himself surfaced.
Russian triple-jumper Anna Pyatykh gets four-year ban
The Court of Arbitration for Sport (CAS) has imposed a four-year ban on Russian triple-jumper Anna Pyatykh for violating rules on prohibited substances, the tribunal said on Friday.
The ban takes effect from December 15, 2016, the date her provisional suspension began, it said in a statement.
"The CAS acted as first instance decision-making authority for this matter, substituting for the Russian Athletics Federation, currently suspended by the IAAF," it added.