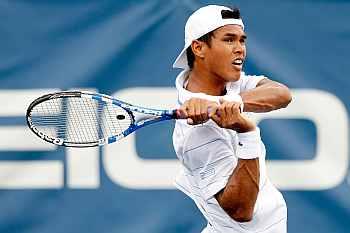 Top seed Somdev Devvarman struggled past Ramkumar Ramanathan, who was troubled by cramps, but Yuki Bhambri made a fluent start with a straight sets victory in the US$ 50,000 ATP Challenger event, in Chennai, on Tuesday.

Somdev, who was shocked by Ramkumar in the Chennai Open, yet again faced a stiff challenge from local boy, who countered India's number one player with his aggressive play, specially his fierce forehands.

Ramkumar saved eight of the 10 breakpoints he faced and succeeded in breaking Somdev one time in the second set. However, it was difficult for him to match Somdev's fitness and after one hour and 53 minutes of battle of attrition he was struggling to stand on his feet and retired from the first round contest with his opponent leading 7-5, 5-4.

Somdev came into the event after a winning a marathon Davis Cup match against Ti Chen, but he fought with sheer intensity. His superior fitness and ability to hold nerves in pressure moments was key to Somdev's win.

He will next face New Zealand's Michel Venus, who ousted local wild card Jeevan Nedunchezhiyan 6-7 (3), 7-6 (1), 6-1.

Meanwhile, Yuki Bhambri brushed aside the challenge of Taipei's Liang-Chi Huang 6-2, 6-4 in one hour and 13 minutes. He will clash against Spaniard Gerard Granollers in the second round.

Indian qualifier Sanam Singh dumped French sixth seed and world number 169 David Guez 6-4, 7-5 in one hour and 51 minutes to set up a pre-quarterfinal against compatriot N Sriram
Balaji.

Wild card Balaji beat qualifier left-handed Prajnesh Gunenswaran 6-3, 6-3.

However, it was end of campaign for Balaji in doubles as he along with Blaz Rola from Slovkian lost 7-5, 5-7, 6-10
to top seeded Thai pair of Sanchai and Sonchat Ratiwatana.
Results of first round matches:(Singles)
Somdev Devvarman (Seed 1) bt. Ramkumar Ramanathan (WC) 7-5, 5-4 (retr)
Michael Venus (Nzl) bt. Jeevan Neduchezhiyan (WC) 7-6 (3), 6-7 (1), 6-1.
Steven Diez (Can) bt. Radu Albot (Mda) (Seed 5) 6-1, 3-6, 7-4.
Illya Marchenko (Ukr) (Seed 4) bt Daniel Munoz-De La Nava 7-5, 7-5.
Lucas Pouille (Fra) bt. Ti Chen (Tpe) 6-3, 6-3.
Gerard Granollers (Esp) bt. Victor Baluda (Rus) 6-3, 6-2.
Yuki Bhambri (Seed 7) bt. Liang-Chi Huang (Tpe) 6-2, 6-4.
Thomas Fabbiano (Ita) (Seed 8) bt Theodorous Angelinos (Gre) 6-3, 6-0.
Saketh Myneni bt. Mohamed Safwat (Egy) 6-4, 6-2.
Alexander Kudryavtsev (Rus) bt Iliya Bozoljac (Srb) 6-1, 6-2.
Blaz Rola (Slo) bt. Agustin Velotti (Arg) 7-5, 7-6 (5).
Sanam Singh (Q) bt. David Guez (Fra) (Seed 6) 6-4 7-5.
N Sriram Balaji (WC) bt Prajnesh Gunneswaran (Q) 6-3, 6-3.
Rui Machado (Por) bt Tsung-Hua Yang (Tpe) 3-6, 6-4, 6-3.
Evgeny Donskoy (Rus) (Seed 2) bt Axel Michon (Fra) 6-2, 6-3.
(Doubles)
Ruben Gonzales (Phi)/Artem Sitak (Nzl) (Seed 3) bt David Guez (Fra)/Lucus Pouille (Fra) 6-2, 6-0.
Sanchai Ratiwatana (Tha)/Sonchat Ratiwatana (Seed 1) bt N Sriram Balaji (Ind)/Blaz Rola (Slo) 5-7, 7-5, 10-6.