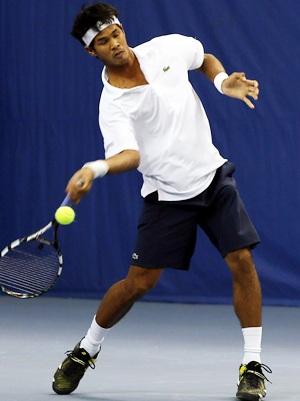 India's Davis Cup coach Zeeshan Ali on Sunday said it was good for home team players to have got the chance to test themselves in the tie against Chinese Taipei but felt that Saketh Myneni needs to develop fast as a big player if they are to win matches against tough opponents.
-Davis Cup: Saketh, Yuki complete India's 5-0 whitewash of Taipei
India beat Chinese Taipei 5-0 but Somdev Devvarman and the doubles pair of Rohan Bopanna and Myneni were tested to the hilt by the visiting players in at least two matches.
"Yes, they were tested. Somdev needed a match like this because the confidence goes up. Saketh too played well. He came for the doubles in this tie but also pulled off a singles, which was great. But if we have to compete in World Group, we need a specialist doubles pair," Zeeshan said after India completed the win.
"The way Rohan and Saketh played in the first set of the doubles, it was like top-10 players playing but after that they had to work hard," the coach added.
Myneni did well last year on the ITF Futures Circuit, reaching five singles finals and winning four of them. He also did well in the doubles as he reached semifinals of the Chennai Open with his Russian partner.
Myneni, who beat Tsung-Hua Yang in the fourth singles, said playing for the country was 'absolute magic' and he would focus on cracking Grand Slam qualifiers this season.
"The focus now is to remain healthy this season. A lot of emphasis will be on fitness and getting stronger, so that I can graduate to the next level," he said.
Yuki Bhambri said he was expecting a tough last match.
"When I came in the morning, I saw Ti Chen practicing. I thought, it would be a long day but they did not play him. Peng played well and his forehand was really good. But for someone who basically plays more doubles, he can't do it for long in singles," he said.
Yuki was optimistic of India making the World Group play-offs. For that they need to beat Korea in the second round in April.
"We have not beaten Korea in their home but if we play our best, it should not be a problem," he said.
Image: Somdev Devvarman of India plays a shot
Photograph: Stanley Chou/Getty Images