Rediff.com compiles the latest news and results from the English Premier League, and other news and updates from the world of soccer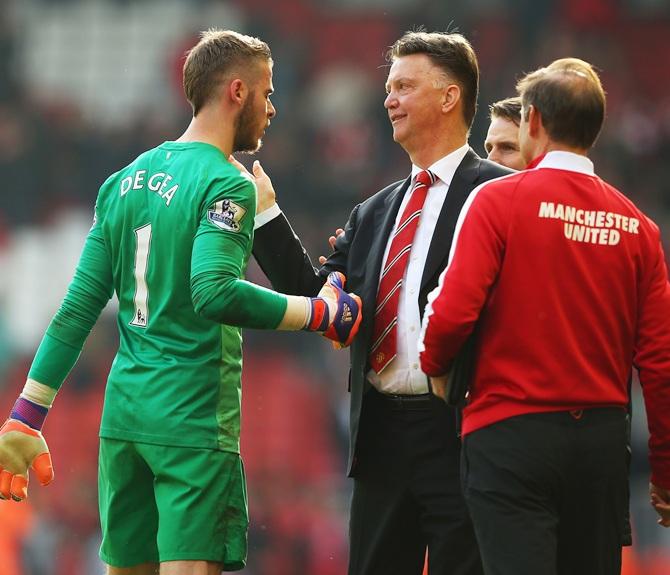 Manchester United manager Louis van Gaal, right, with David De Gea. Photograph: Alex Livesey/Getty Images
Goalkeeper David de Gea still "has the same problem" of not being in the right frame of mind and is out of the squad for Manchester United's second Premier League fixture of the season against Aston Villa, manager Louis van Gaal said on Thursday.
The Spaniard missed last weekend's season-opening 1-0 win over Tottenham Hotspur after Van Gaal felt the 24-year-old might not be focused amid persistent media reports linking the goalkeeper with a move to Real Madrid.
"There's no difference. The transfer period is still open and he (De Gea) has still the same problem," Van Gaal told a news conference.
Sergio Romero, who signed for United last month on a free transfer from Sampdoria, is expected to continue in goal when Van Gaal's side travel to Villa Park on Friday.
Van Gaal also responded to comments from Hristo Stoichkov, who played under the Dutchman at Barcelona, after the former Bulgaria international said the United boss "destroys" clubs and urged Barcelona's Pedro not to move to Old Trafford.
"I always want to consider who is saying such things and then I know already why," Van Gaal said.
"It is not bothering me. He (Stoichkov) is one of the players I sent away (from Barcelona) and that is why he is doing that. I'm used to that."
Van Gaal endured a difficult start to life at Old Trafford last season as United claimed 13 points from 10 league matches.
United signed a host of players ahead of the current campaign and the Dutchman hopes the integration of his new recruits does not have a similar impact on early season results.
"You have to survive the start. You have new players, a new team, a new team process, the team dynamics are different, so every team has to sustain this period because nobody is 100 percent fit and they have to play," he said.
"I think that we have to pay attention to it and develop, but it cannot cost as many points as last year."
Despite signing expensive recruits like Bastian Schweinsteiger, Morgan Schneiderlin and Memphis Depay, Van Gaal is still looking to strengthen his squad before the transfer window closes.
"Our aim is to improve our squad and when it is possible we shall do it," he said. "I have said more than once that we only buy when we think it is a contribution for our squad."
City's Aguero racing to be fit for Chelsea clash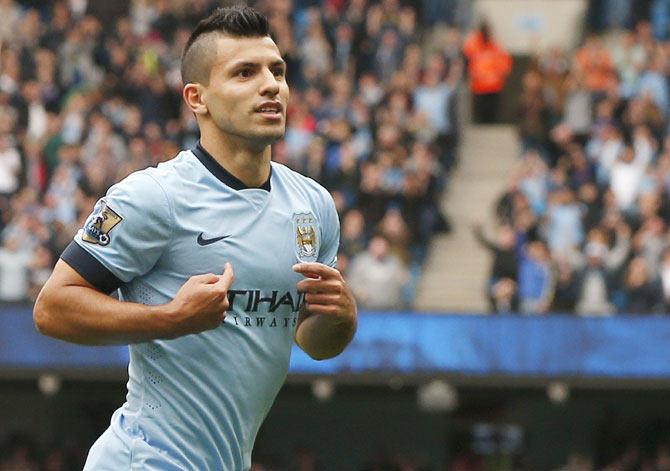 Manchester City's Sergio Aguero celebrates scoring a goal. Photograph: Phil Noble/Reuters
Manchester City striker Sergio Aguero is racing against time to be fully fit in order to start Sunday's Premier League clash against defending champions Chelsea.
City's top scorer with 26 Premier League goals last year missed most of pre-season due to his involvement in the Copa America with Argentina.
However, he came off the bench in the second half of the impressive 3-0 win at West Bromwich Albion in their Premier League opener on Monday.
Aguero was unsure if he would have to take a place among the substitutes once again for the fixture against Chelsea, who were held 2-2 at home by Swansea City on Saturday.
"Whether I start or not remains to be seen," Aguero told the club's website (ww.mcfc.co.uk).
"I'm trying to get there and be in top condition, but arriving for pre-season later having taken part in the Copa America with Argentina means I need some additional time.
"With the whole season in mind, what matters the most is that I get in top form and don't take any risks."
Aguero expected more teams to challenge for the league title this year as City bid for their third in five years.
"It'd be very naive to think that Chelsea will be the only team competing for the top position -- there will be many of us and each one will challenge in their own style," Aguero said.
"Getting as many points as possible from the teams that are the most likely title challengers obviously makes sense, but we need to win against every team."
A victory against Chelsea would open up an early five point advantage over the champions but Aguero was more concerned by City's failings against the lower ranked sides last year.
The Manchester club dropped 18 points against teams outside the top eight in 2014-15 as they finished eight points behind Chelsea.
"Prevailing over those (top) teams but failing to deliver against the rest serves no purpose," he added.
West Ham loss a wake-up call, says Arsenal's Coquelin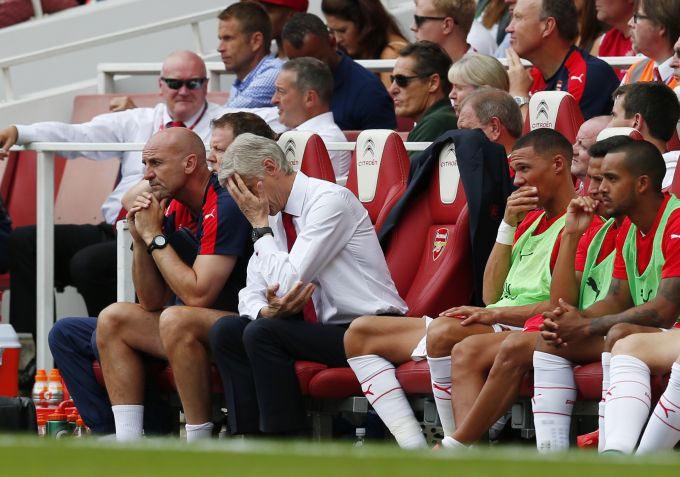 Arsenal manager Arsene Wenger looks dejected as assistant manager Steve Bould looks on during their season-opening loss against West Ham. Photograph: Eddie Keogh/Reuters
A season opening upset defeat by West Ham United was a wake-up call for everyone, according to Arsenal midfielder Francis Coquelin.
Arsenal had an impressive pre-season winning all five games, including a 1-0 victory over champions Chelsea in the Community Shield, but stuttered on Sunday as the Hammers claimed a 2-0 win at The Emirates.
"It's been a wake-up call for everyone," the 24-year-old Coquelin told the club website.
"Considering the recent results we had before that, going really well in pre-season, it's disappointing and it was not an Arsenal performance."
However, Coquelin was confident the FA Cup winners could respond immediately when they travel south to Selhurst Park for Sunday's fixture against Crystal Palace, who won 3-1 away at newly-promoted Norwich City last week.
"In bad things, good things can come out too. It's good that it happened in the first game so that now we can pull ourselves together with 37 games left," Coquelin said.
"We know the quality we have and we need to respond straight away. We've been working really hard in training and we need to put all of the training effort into the game."
Coquelin, who was loaned out to three different clubs before enjoying a breakthrough season last year, said the team knew they had to put in more.
The defensive midfielder said title rivals Manchester City had set the bar over the opening round of matches with their 3-0 win at West Bromwich Albion.
"When you look at different teams I think a lot of them are ready," the former France under-21 international said.
"You look at Manchester City when they played against West Brom, I think they played really good football."
Villa sign young forward Traore from Barcelona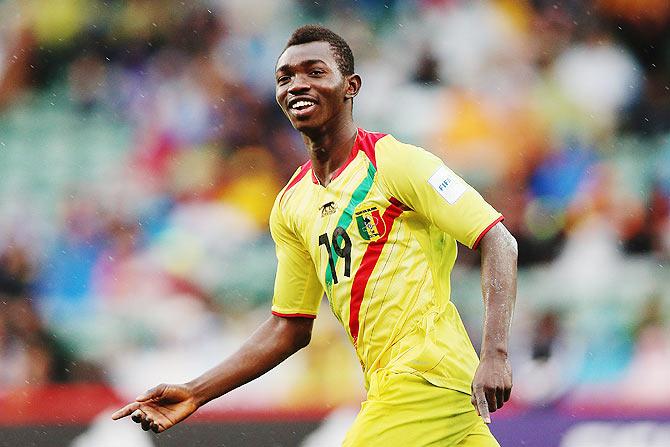 Adama Traore of Mali celebrates after scoring a goal. Photograph: Hannah Peters/Getty Images
Aston Villa have signed forward Adama Traore from Barcelona on a five-year contract for an undisclosed fee, the English Premier League club said on Friday.
The 19-year-old scored eight goals during his time at Barcelona B, with British media saying last season's FA Cup finalists had paid in the region of 12 million pounds for the winger.
"It's an honour for me to come here. It's a club that showed interest in me from the first moment and made me feel important in terms of their project," Traore said in a statement.
Villa manager Tim Sherwood said he was pleased to finally seal the Spaniard's signature having tracked him for a long time.
"He's physically a man -- and he has been for some time," Sherwood said of his 10th signing of the transfer window.
"He's a big powerful boy, very quick, dynamic and a maverick-type player. Those players are few and far between.
"We're delighted he has chosen Villa to continue his development."
Villa, who opened their season with a 1-0 win at Bournemouth last week, host Manchester United later on Friday.
Southampton's Tadic keen to improve on injury-hit debut season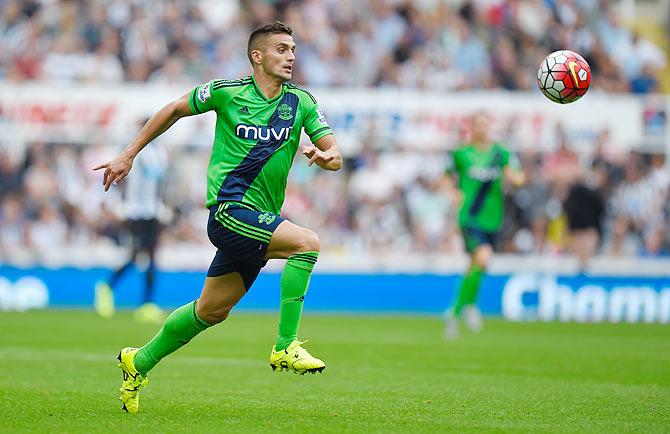 Southampton's Dusan Tadic in action during the Barclays Premier League match against Newcastle United at St James Park on Sunday, August 9. Photograph: Stu Forster/Getty Images
Southampton midfielder Dusan Tadic wants to replicate his early success from last season but the Serbian realises he has to remain injury-free if he has to make a bigger impact this time at the Premier League club.
Tadic, who went under the knife during the close season, joined the club last summer from FC Twente and got off to a flying start, scoring four goals and nine assists in 25 Premier League starts.
But a groin problem worsened which lead to a premature end to his season.
"It was successful, but also frustrating. I think nobody expected how I started and how we started as a team, which was really nice," the 26-year-old said of his first year with the Saints.
"But I know that, if I stayed fit, then the season would have been complete because I believe that the rest of it would have been like the first part -- for me and for the team."
Tadic said he was eager to stay fit throughout the season.
"In football, it's not possible for things to always go how you think and that's why I say that it's most important that you try to always be fit and then everything comes into place," Tadic was quoted as saying on the club's website (www.saintsfc.co.uk).
"I learned a lot from my first year. Most important for me now is to stay fit, then to try to make a season like the last one and to play good football."
Stoke's Bojan, Odemwingie ruled out of Spurs clash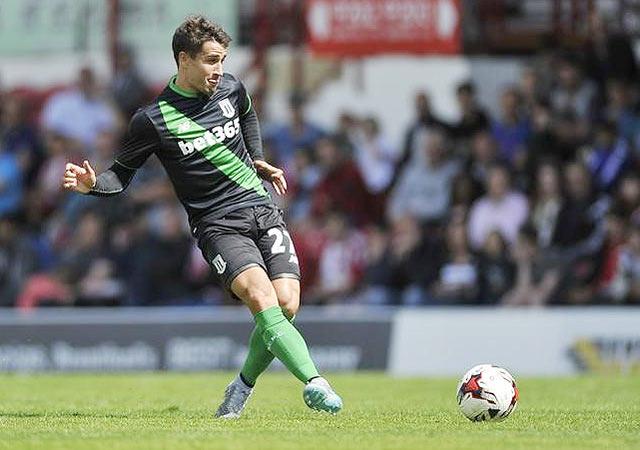 Stoke City's Bojan Krkic. Photograph: Adam Holt/Action Images/Reuters
Stoke City duo Bojan Krkic and Peter Odemwingie will not make the trip to North London to face Tottenham Hotspur on Saturday, manager Mark Hughes has said.
Nigeria international Odemwingie, who came off the bench against Liverpool in Stoke's Premier League opener on Sunday, is likely to miss the next couple of weeks after injuring his hamstring.
"It's disappointing for him because he has worked tremendously hard throughout preseason," former Manchester City manager Hughes said at the pre-match press conference.
Former Barcelona forward Bojan will play in an under-21 fixture against Wolves on Saturday morning to build up his fitness levels, as he continues his rehabilitation from a long-term knee injury.
"He won't travel with the first team on Saturday, but he is incredibly close to being fit and available," Hughes said.
"We feel he is better served getting game time rather than sitting on the bench."
However, Marko Arnautovic and Marc Wilson are likely to make the squad for the match against Spurs, after missing the Liverpool game.
"Marko has trained this week and we don't think he will have any real reaction to that, but we will check him out again before we travel," Hughes added.
"Marc Wilson has been able to train as well, which is a positive for us, but we have to be careful with him because he has some bruising on his ankle bone which could hinder him.
"They aren't easy things to deal with and to get over but he has shown a lot of determination to come back from it, so he is hopefully going to be available too."
Everton defender Baines out for at least three months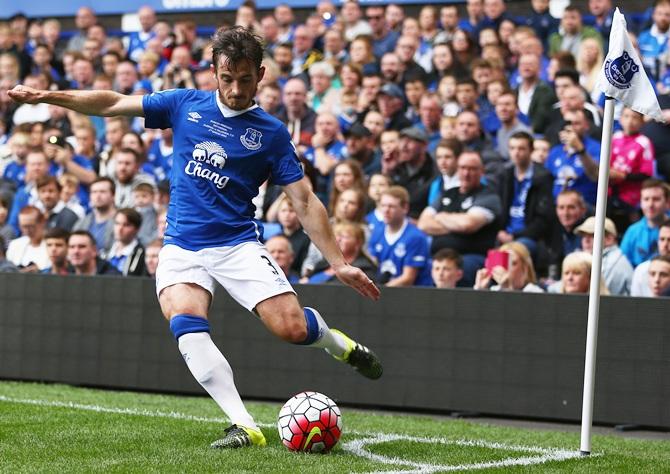 Everton's Leighton Baines. Photograph: Clive Brunskill/Getty Images
England left back Leighton Baines will be out for at least three months following an operation on the ankle injury he sustained on the eve of the new season, his club Everton said on Thursday.
The 30-year-old had only just returned after undergoing ankle surgery in May.
"Everything had been perfect in Leighton's programme and he worked extremely hard in pre-season," manager Roberto Martinez told the club website.
"He looked refreshed, he looked strong and he looked at a really, really good level. Then, in training, he blocks a ball and it hits him exactly in the same area where he had surgery.
"It's one of those tough moments that you have to take as a player," said Martinez.
Everton, who started the Premier League campaign with a 2-2 home draw against promoted Watford last weekend, travel to Southampton on Saturday.
Lamela tweet all but confirms Soldado's Tottenham exit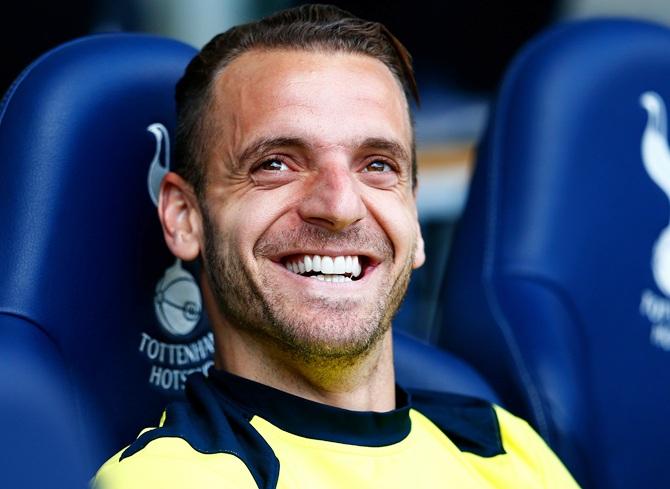 Roberto Soldado of Spurs is seen on the bench. Photograph: Julian Finney/Getty Images
Tottenham Hotspur striker Roberto Soldado is returning to Spain to sign for Villarreal, according to a tweet from his team mate Erik Lamela and Spurs fans Soldado bumped into at Gatwick Airport on Thursday.
Soldado, 30, who cost Tottenham a then club record fee of 26 million pounds ($40.63 million) when he joined from Valencia two years ago, failed to reproduce the scoring form for Spurs he had previously shown in Spain, with 16 goals in 76 matches in all competitions.
He scored only one Premier League goal last season, and seven in all and although he remained popular with the fans for his never-say-die attitude, he never adapted to the greater physical demands of the English game.
Lamela's tweet all but confirmed Soldado's departure wishing him all the best at his new club.
The tweet came after Spurs fans posted pictures of themselves with Soldado at Gatwick Airport early on Thursday with the Spanish striker reportedly confirming to them he was flying out to sign for Villarreal.
Kaka recalled for Brazil friendlies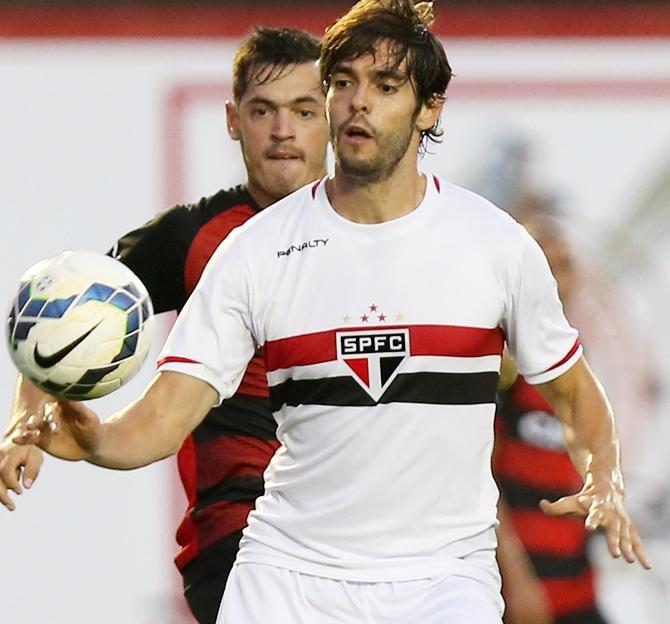 Kaka battles for the ball. Photograph: Felipe Oliveira/Getty Images
Orlando City midfielder Kaka was the surprise inclusion in Brazil's squad for the September friendlies against Costa Rica and the United States.
The 33-year-old former AC Milan and Real Madrid player was included in a much-changed squad after being left out of the 2015 Copa America and 2014 World Cup. Paris Saint-Germain forward Lucas, Arsenal defender Gabriel Paulista, and Zenit's Hulk were also recalled, while young Santos midfielder Lucas Lima was selected for the first time.
Former captain Thiago Silva and Liverpool's Philippe Coutinho were among those dropped for matches Dunga will use to help him decide on his team for Brazil's first two World Cup qualifiers in October.
Dunga highlighted the need for youth and experience and said Kaka, who has played well for the Florida club since joining last year, will help the younger members of the squad. "Kaka is a reference, like Robinho before him," Dunga told reporters.
"He gives us experience and maturity when times are difficult, when we need it off the field and on. We need to bring in young players to give them experience and have older players there to help them," he added.
Barcelona forward Neymar was included in the squad even though he is injured and ineligible for Brazil's first two World Cup qualifiers having still to complete the four-match ban he received in the 1-0 loss to Colombia in the Copa America.