News of all that's transpired on and off the football field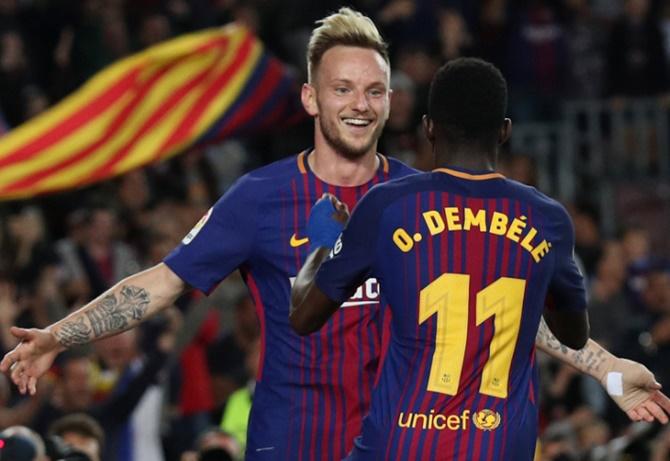 Barcelona midfielder Ivan Rakitic accepts his days at the Nou Camp may be numbered, but for now he is concentrating on preparing for next season with the Spanish champions.
After the arrival of Frenkie de Jong from Ajax and 31-year-old Sergio Busquets signing a new five-year deal last year, Barcelona's midfield is looking a little crowded and the Croat could be the man shipped out this summer.
Speaking ahead of his side's pre-season match against Chelsea in Japan on Tuesday, Rakitic admitted it was awkward talking about his future but he was used to the rumours.
"Does it bother me? No it doesn't, I have to understand soccer in general works like that," Rakitic said at a news conference in Tokyo on Monday when asked about any impending move.
"In some way it also fills me with pride because if other teams ask about me it is because I am doing things really well."
Rakitic said he is simply trying to enjoy his soccer at Barca as they seek to put disapointments of recent seasons behind them.
"I think the club has other things to do right now other than speak about my issues," the 31-year-old said.
Coach Enesto Valverde has an embarrassment of riches when it comes to attacking midfielders at his disposal after the arrival of Antoine Griezmann from La Liga rivals Atletico Madrid this month.
Griezmann joins a loaded attacking group that also includes Lionel Messi, Luis Suarez, Phillipe Coutinho and Ousmane Dembele.
French international Griezmann, who is likely to play his first game in a Barcelona shirt on Tuesday, accepts that Barca play a different brand of football to Atletico but he is confident he can adjust.
"They are two different ways of attacking," Griezmann said. "At Atletico it's very quick and the other way is with lots of patience. I will adapt like I did at Atletico."
"It's a style I like. I know I can contribute in many ways and, as you know, it's not a problem for me to run in front or in the back."
De Gea keen to captain Man United as keeper nears new deal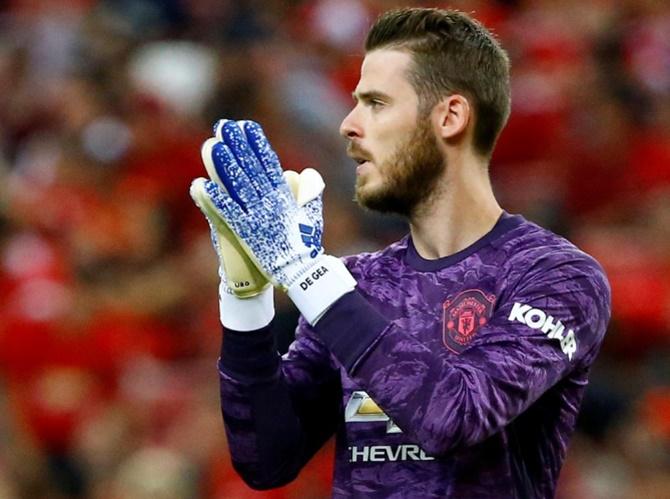 Manchester United goalkeeper David de Gea, reported to be on the verge of agreeing a six-year contract extension, has said he would welcome being captain of the Premier League club.
De Gea, 28, has long been linked with a move away from Old Trafford but said he wanted to help the team return to the summit of English soccer at a supporters' event in Singapore.
United's previous captain Antonio Valencia left at the end of last season and De Gea is one of several players in the frame to replace him along with Ashley Young, Juan Mata, Chris Smalling and Paul Pogba.
"I've been captain for some games. Of course it is amazing to be captain of a club like Manchester United and defend this badge," De Gea said. "It's amazing, so of course I'll be really, really happy to captain.
"It's my ninth season, I feel like one of the most experienced players. We have to improve a lot.
"We are Manchester United, we need to fight for trophies. When you put on this badge, that's what it means — fight for everything, give your best and bring the team again to the top."
United, who have not lost a match on their pre-season tour so far, beating Perth Glory, Leeds United and Inter Milan, take on Tottenham Hotspur in Shanghai on Thursday.
United's Luke Shaw recalls 'disappointing' season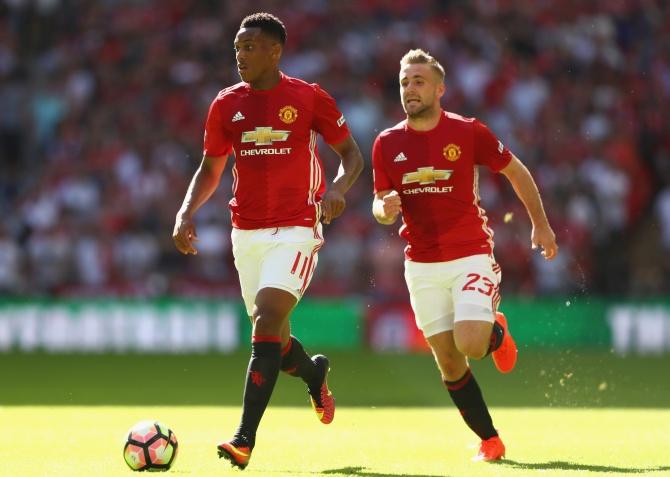 Manchester United's Luke Shaw expressed his disappointment over the club's dismal performance in the last season and called the experience 'hurtful'.
"Last season was so hurtful for everyone. I know the fans were really hurt, but we as a team were very hurt. Last season was a massive disappointment. How other teams were doing as well -- especially over the period when we had time off and there were teams winning trophies," Goal.com quoted Shaw as saying.
In the last season, ManchesterCity completed a domestic treble while Liverpool clinched the Champions League title. Moreover, Chelsea bagged the Europa League title in the 2018/19 season.
Shaw said it was a tough time for them but added that they do not want to experience such a thing again.
"It was really tough for all of us to take and you couldn't really enjoy your holidays. You see the Champions League final and the Europa League final and they're all English teams -- it makes you feel even worse and especially the way the finals went. None of us want that to happen again," he said.
"I think that's why we've all come back again with a different mindset and of course we had that break to clear our minds, but now we're all focused on getting United back to where they belong," Shaw added.
However, Shaw is optimistic for the next season and even issued a warning to his rivals saying that this time, they won't win silverware as easy as last time.
"They won't have it as easy as last season. People are probably already doubting us, but they can carry on doing that. For me and for us as a team we know what we are capable of doing and we will have a much better season than last season," he said.
Sevilla's Gnagnon apologises after 'heinous' tackle on Liverpool youngster
Sevilla's Joris Gnagnon has apologised for his "heinous" tackle on Liverpool youngster Yasser Larouci which led to the Sevilla defender being sent off during a pre-season friendly in Boston.
Gnagnon launched a wild challenge on the 18-year-old Larouchi, which launched him into the air and led him to being carried off on a stretcher during Liverpool's 2-1 defeat at FenwayPark on Sunday.
"I would like to publicly apologise towards Liverpool, the family of the player and its supporters," Gnagnon posted on Twitter. "It was a heinous act on my part. Whatever the reason, it's not what should be seen on a football pitch. All my prayers are with the player and his family."
Liverpool manager Juergen Klopp was watching his words in post-match interviews, but confirmed Larouci was "lucky" to have avoided a serious injury.
"It is much too early in the season to create headlines by saying the things I think about the situation," the German manager told reporters. "Of course, how it always is with these things, we have to wait a little bit.
"He hit him full throttle and, in that moment, (if it was) a little bit different position where he hit him, then it's done. He rolls...he is a sports boy so that was OK, nothing happened there."
Sevilla boss Julen Lopetegui spoke to Klopp after the match to check on Larouci and admitted Gnagnon knew he made a mistake.
"I was worried about the player, but I asked Jurgen and he said he's OK," the former Real Madrid manager said.
"Gnagnon was very worried. He knows it was a bad tackle, a bad decision. The most important thing is for Larouci to be OK."
Wednesday report Newcastle to Premier League over Bruce appointment
Newcastle United have been reported to the Premier League by Championship club Sheffield Wednesday over the appointment of the Owls' former manager Steve Bruce.
The much-travelled Bruce, 58, quit the Yorkshire club last Monday following talks with Newcastle, who named him as manager on Wednesday to replace the departed Rafa Benitez.
Second tier side Wednesday responded by saying they were disappointed to hear the news of Bruce's appointment via a public statement and were taking legal advice.
The Yorkshire club issued a statement on their website on Monday which said:
"Following Newcastle United's announcement on 17 July 2019 of its appointment of former Sheffield Wednesday staff Steve Bruce, Steve Agnew and Stephen Clemence, the Club confirms that it has today reported Newcastle United's conduct to the Premier League.
"As the Premier League will now initiate and carry out investigations into the Club's allegations, the Club will not be commenting further on this matter whilst such investigations are ongoing."
Ex-Sunderland and Aston Villa boss Bruce, who is a Newcastle fan and now in charge of his 10th club, having had two spells at Wigan Athletic, was the manager at Wednesday for 18 games after taking over on Feb. 1 following Jos Luhukay's sacking.
The former Manchester United defender only suffered three defeats at Wednesday and steered them to a 12th place finish.
FIFA bans former Botswana official in match fixing probe
World soccer body FIFA has handed a life ban to former Botswana Football Association general secretary Mooketsi Kgotlele for accepting bribes in relation to the manipulation of international matches.
FIFA said in a statement on Monday that the adjudicatory chamber of the Independent Ethics Committee had also fined the former official 50,000 Swiss francs ($50,953).
"The formal ethics proceedings against Mr Kgotlele... stem from an extensive investigation into various attempts to manipulate international matches for betting purposes by Mr Wilson Raj Perumal, a known match-fixer," said FIFA
The proceedings were initiated in September 2018, the statement added.
The ban on Kgotlele covers all football-related activities (administrative, sports or any other) at national and international level and came into force on Monday.
The long-running investigation into convicted Singapore-based match fixer Perumal's activities has already produced life bans for players and former officials.
Togolese Football Association official Kokou Hougnimon Fagla, who was also a referee, was banned from soccer-related activities last March for accepting bribes to manipulate an international friendly.
Seven current and former players were banned for life in April.
FIFA named them at the time as Karlon Murray and Keyeno Thomas from Trinidad, Ibrahim Kargbo (Sierra Leone), Hellings Mwakasungula (Malawi), Seidath Tchomogo (Benin), Leonel Duarte (Cuba) and Mohammad Salim Israfeel Kohistani (Afghanistan).
Kenyan player George Owino Audi was given a 10-year ban and Zimbabwean players' agent Kudzanai Shaba was banned for life.
FIFA did not give any details on which matches they had attempted to influence.
Perumal was given a two-year jail sentence by a Finnish court in 2011 for bribing players and referees to fix matches.