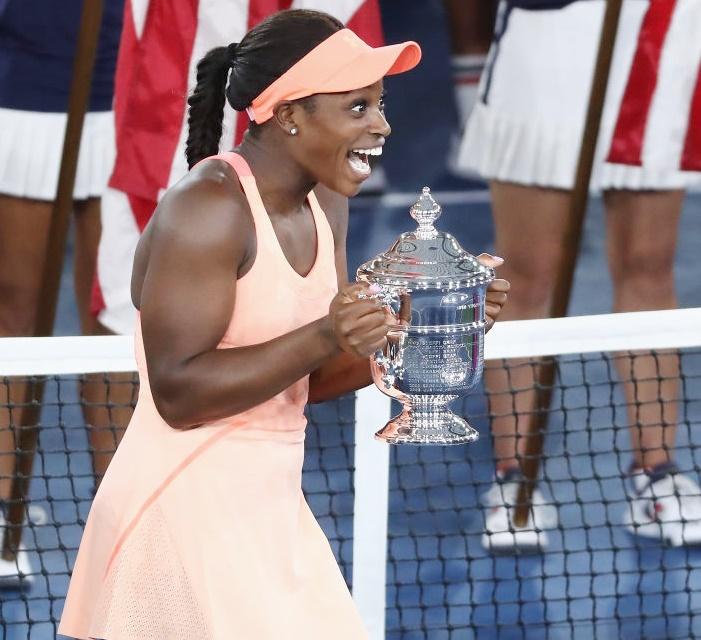 IMAGE: Sloane Stephens of the United States poses with the championship trophy after the women's sngles finals match. Photograph: Abbie Parr/Getty Images
Sloane Stephens stayed composed throughout an all American US Open final and played near-perfect tennis to win her maiden Grand Slam title with a 6-3, 6-0 victory against Madison Keys on Saturday.

The 22-year-old, back this summer from almost a year off the courts because of a foot injury, was never in trouble as her defensive play derailed the 15th-seeded Keys, who was playing with a heavily bandaged right thigh.

"It's incredible. I honestly had surgery January 23 and if someone had told me I would win the US Open I would have said it's impossible," said Stephens.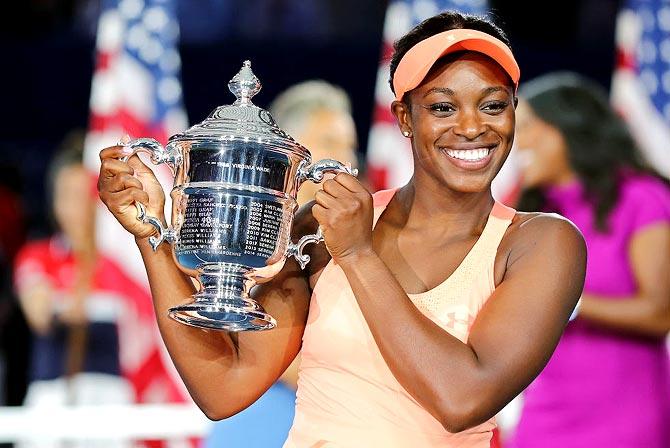 IMAGE: Sloane Stephens poses with the Championship trophy after winning the women's singles title. Photograph: Elsa/Getty Images
In the first all American US Open women's final since Serena Williams beat her sister Venus in 2002, Stephens made only six unforced errors to frustrate Keys.

She sealed a straightforward win on her third match point when Keys sent yet another forehand into the net.

Stephens welcomed the biggest victory of her career with a low-key smile, going into the Arthur Ashe Stadium stands to hug her coach, Kamau Murray.

Stephens, who will pocket a record $3.7 million check, underwent foot surgery in February and made her competitive comeback at Wimbledon.
"In America, women's tennis needs to be really high level because it has always been and they need to be filling up the void after the Williams sisters," former world number one Mats Wilander told Reuters.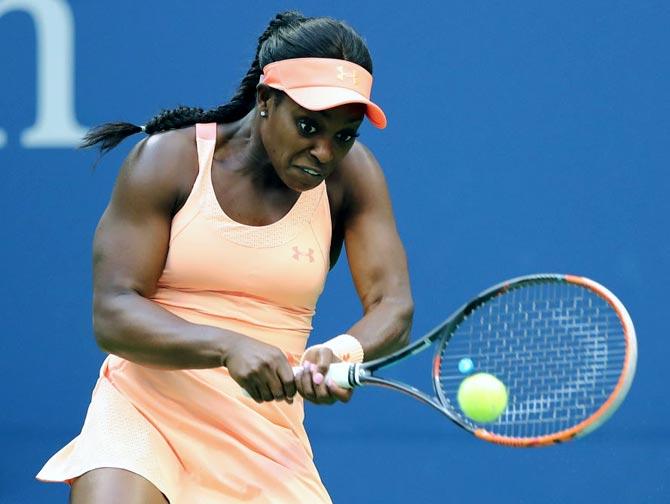 IMAGE: Sloane Stephens hits a return. Photograph: Elsa/Getty Images
Simply happy to be running around on courts, Stephens did a lot of running on Saturday to deny the 22-year-old Keys in what turned out to be a one-sided contest.

Keys showed no signs of nerves in the opening game, serving two aces and sending Stephens chasing balls left and right. Stephens was equally composed, holding to love on her first service game.

Stephens played her usual defensive tennis, forcing her opponent to make the extra shot and testing her patience.

She was rewarded with two break points in the fifth game, converting the first one when Keys again failed to wait for the right moment to accelerate and fired a forehand long.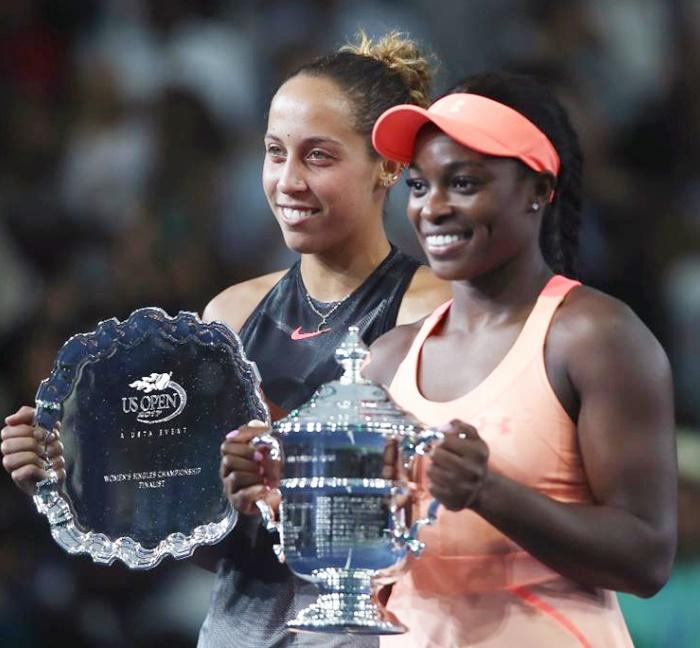 IMAGE: Sloane Stephens with Madison Keys. Photograph: US Open/Twitter
Stephens held comfortably and bagged the set on her second occasion, Keys hitting a backhand long, her 17th unforced error -- compared to Stephens' only two.

Keys showed signs of frustration when she buried a backhand into the net at 40-40 on her opponent's serve as she had a chance to earn her first break point in the first game of the second set.

Stephens was a wall Keys couldn't pierce and she moved to 40-0 up on Keys's serve in the following game with a perfect backhand passing shot as the 15th seed looked for new ways to turn the situation around.

Another ill-timed rush to the net, though, cost her a break, Stephens punishing her with a delightful dipping forehand passing shot.

Keys fell 4-0 down when she hit a double fault and although she had her first break points of the match in the fifth game, Stephens held.

Keys hit the ball harder and harder but it would always come back and she needed a 19-shot rally to save her second match point. On the third, she hit her 30th unforced error of the day.