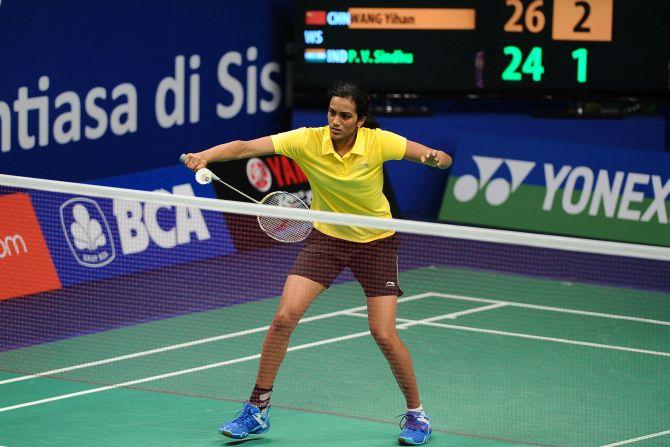 PV Sindhu. Photograph: Robertus Pudyanto/Getty Images
Top Indian shuttlers, PV Sindhu and Parupalli Kashyap advanced to the women's singles quarter-finals and men's singles pre-quarterfinals, respectively, of the $120,000 Malaysia Masters Grand Prix Gold in Kuching.
Two-time World Championships bronze medallist Sindhu, who won the title here in 2013, took 41 minutes to get the better of South Korean Kim Hyo Min 21-14, 21-12, while Commonwealth Games gold medallist Kashyap prevailed over Indonesian Jonatan Christie 13-21, 22-20, 21-12 in an-hour-and-two-minute battle at the Stadium Perpaduan Kuching.
Sindhu, seeded second, will next take on fifth seed Porntip Buranaprasertsuk of Thailand. Third seeded Kashyap will be up against Derek Wong Zi Liang of Singapore.
Ajay Jayram. Photograph: Parivartan Sharma/Reuters
Among other Indian male shuttlers in the fray -- B Sai Praneeth, Ajay Jayaram and Aditya Prakash -- also made it to the pre-quarterfinals by winning their respective second round matches.
Thirteenth seeded Sai Praneeth, who registered an easy 21-15, 21-7 win over Lin Chia Hsuan of Chinese Taipei in, will now face Lee Hyun-il of South Korea.
Jayaram and Prakash, meanwhile, have set up a clash against each other in the pre-quarters.
While Jayaram defeated Indonesia's Thomi Azizan Mahbub 21-9, 21-15 in just 29 minutes, Aditya Prakash had to fight hard before prevailing over another Indonesian Fikri Ihsandi Hadmadi 21-17, 18-21, 21-13 in an hour and eight minutes.
Earlier in the day, Jayaram had defeated Indonesia's Dionysius Hayom Rumbaka 23-21, 17-21, 24-22 in an hour and 18 minutes in first round of men's singles.
However, it was curtains for another Indian in Subhankar Dey, who went down fighting to Malaysian Teck Zhi Soo 19-21, 21-17, 10-21 in 54 minutes in second round.
In the men's doubles first round, Tarun Kona and Santosh Ravuri lost 9-21 14-21 in 25 minutes to the Japanese pair of Kenta Kazuno and Kazushi Yamada.
Tarun also lost in the mixed doubles category along with partner N Sikki Reddy, as the duo went down to Indonesian pair of Fran Kurniawan and Komala Dewi 21-23, 20-22 in 33 minutes.
The Indo-Malaysian mixed doubles pair of Prajakta Sawant and Vountus Indra Mawan also lost 12-21, 15-21 in 25 minutes to Japanese pair of Kenta Kazuno and Shizuka Matsuo in the first round.