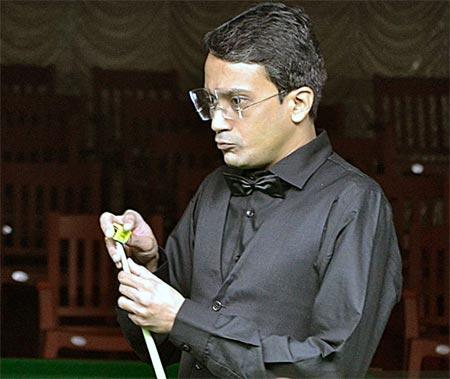 In the first upset of the tournament, India's Siddharth Parikh on Monday shocked multiple-time World champion Peter Gilchrist in a closely fought battle 500-483 at the 2016 IBSF World Billiards Championship in the 500 long-up format in Bengaluru.

Parikh, who scripted the first century break in the competition, managed to win by 17 points towards the end after he compiled 147 to take initial lead.

Peter fought back strongly as he crafted a couple of close to century breaks to dismantle the early lead of Parikh.

India's ace cueist and defending champion Pankaj Advani registered an easy victory over compatriot S Shankar Rao by 390 points.

Advani also sketched a break of 208 points for a smooth return from snooker to billiards.

In another match, England's Robert Hall trounced India's B Bhaskar 500-287 after he posted two back-to-back century breaks.

Bhaskar took an early lead over Hall by posting century break break of 118 points, but the English player bounced back by scripting two century breaks with 116 and 113 points, to keep the Indian out of the game.

India's national champion Sourav Kothari held his nerve to pull off 502-364 win over Myanmar's Aung Htay.

When Htay posted break of 132 points and moved ahead of Kothari, it appeared another upset of the day was on its way, but Kothari put his foot down firmly to see off Htay.

Meanwhile, India's young billiards star Dhvaj Haria surprised sports enthusiasts by defeating former World No. 2 and former Asian Billiards Champion Alok Kumar.

Dhvaj, who has already made a mark at international level, registered a overwhelming victory by more than 300 points after four excellent breaks of 106, 88, 65 and 88 points.

Alok could not latch on to initial chances coming his way and struggled to get hold of the match, and eventually lost out to Dhvaj.

Advani, on the other hand, recorded his second triumph of the day by defeating India's two-time World Champion Rupesh Shah.

Pankaj missed a golden opportunity to score a double century break when he ended it on 193 after he failed to pot a yellow in bottom pocket.

Rupesh had to score 285 in his last chance, but failed and in his next visit Pankaj scored the remaining 55 points to win his second match of the day.
Image: Siddharth Parikh
Photograph: IBSF/Twitter