Summary of sports events and persons who made news on Tuesday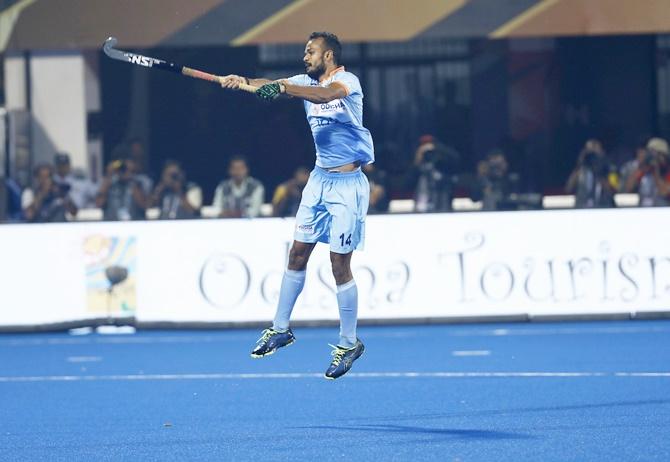 Hockey India Disciplinary Committee suspended 11 players and two team officials for their respective roles in the recent violence that broke out during the 56th Nehru Cup finals between Punjab Armed Police and Punjab National Bank.
The Players of the two teams had exchanged blows and fought with sticks inside the turf during the Nehru Cup finals last month, forcing Hockey India to seek a detailed report from the tournament organisers.
After reviewing the report and viewing the video evidence, the committee, chaired by Hockey India Vice President Bhola Nath Singh, unanimously decided to suspend players from Punjab Armed Police and Punjab National Bank for a period of 12-18 months and 6-12 months respectively.
"The Committee placed Punjab Armed Police players Hardeep Singh and Jaskaran Singh under an 18 months suspension while Dupinderdeep Singh, Jagmeet Singh, Sukhpreet Singh, Sarvanjit Singh and Balwinder Singh have been suspended for 12 months with effect from 11 December 2019 for their involvement in the Level 3 offence under Hockey India/ Hockey India League Code of Conduct," Hockey India said in a release.
"Punjab Armed Police Team Manager Amit Sandhu was suspended for 18 months for a Level 3 offence and it was also recommended that the Punjab Police Team be placed under three months suspension and not be eligible to play in any of the All India Tournaments with effect from 10 March 2020 to 9 June 2020 (following the expiry of their suspension due to participation in an unsanctioned tournament)."
Players from Punjab National Bank Sukhjeet Singh, Gursimran Singh and Sumit Toppo have been suspended for 12 months, while the team skipper Jasbir Singh has been suspended for six months.
The Punjab National Bank team manager Sushil Kumar Dubey too has been suspended for six months due to his team's inability to follow the Code of Conduct and sanctions.
It was also recommended that the Punjab National Bank Team be placed under three months suspension and not be eligible to play in any of the All India Tournaments with effect from December 11 to March 10.
It was also unanimously agreed by the committee that all the above players would be on further probation for a period of 24 months after the expiry of their sanctions and any breaches of the Code of Conduct would constitute an immediate Level 3 offence and the individual will automatically be suspended for two years.
On Monday, the Committee had unanimously decided to suspend players from Hockey Rajnandgaon and Hockey Bilaspur following the on-ground violence during the 4th Chhattisgarh Senior Men State Championship.
Hockey Rajnandgaon captain Mithlesh Pandiya has been placed under three months suspension, while Sandeep Yadav, Taufik Ahmad, Sukhdev Niramalkar have been suspended for nine months.
Rajesh Nirmalkar (who also officiated as umpire) was let-off with a warning for playing and officiating in the same tournament, while Sabbir Solanki, team manager of Hockey Rajnandgaon, was placed under 3 months suspension for a Level 2 offence with effect from December 10.
Bilaspur skipper Omkar Yadav and team manager Ikhlak Ali have been suspended for three months for committing Level 2 offence, while Louis Tirkey has been suspended for six months as he committed a Level 3 offence.
Tournament Director Kishore Dihwar too was punished with a three months suspension for failing to perform his duties, while umpire Shakeel Ahmad was banned for a year.
Andreescu named Canada's athlete of the year
Bianca Andreescu was awarded the Lou Marsh Trophy as Canada's athlete of the year on Monday, capping a remarkable year in which the teenager became the country's first tennis Grand Slam singles champion with her US Open triumph.
Andreescu, an unknown quantity to most in Canada a year ago, was a unanimous pick after a breakout season in which she upset Serena Williams in the US Open final and reached a career-high fourth in the world rankings.
"Wow, I'm so thankful for this award. I was not expecting it and to be the first tennis player to win is even more surreal," the 19-year-old Andreescu said in a statement issued by Tennis Canada.
"None of my success this year would have been possible without the support from all of Canada."
Andreescu, who at the end of 2018 was ranked 178th but who finished this season at number five, began to gain attention in January when she beat former world number ones Caroline Wozniacki and Venus Williams on her way to the Auckland final.
In March, as a wildcard, she won the Indian Wells title but a shoulder injury forced her to retire from a last-16 match at the following event in Miami and caused her to miss most of the clay and grasscourt seasons.
Andreescu, the daughter of Romanian immigrants to Canada, then won her hometown tournament in Toronto before going on to make history in New York where she denied Williams from earning a record-tying 24th Grand Slam singles title.
The Canadian lost just four completed matches during the season, which she finished with a 48-7 record including injury retirements.
The other finalists for the award, which is named after a former Toronto Star sports editor, were sprinter Andre De Grasse, golfer Brooke Henderson, NHL goalie Jordan Binnington and MLB pitcher Mike Soroka.
"Canadian sports crushed it this year so there are definitely many other athletes who deserve a piece of this award as well -- we all motivate each other to be better," said Andreescu.
"I can't wait for what 2020 will bring and am always proud to represent Canada at the highest level."
Cavendish backed to rediscover old speed at Bahrain-McLaren
Rod Ellingworth says his newly-unveiled Bahrain-McLaren team can help Mark Cavendish rediscover the speed that has made him one of the greatest sprinters in cycling history.
The 34-year-old Manxman Cavendish boasts 30 Tour de France stage wins but has not enjoyed a victory anywhere since February 2018 after battles with illness and crash-induced injuries.
Now, though, he has rejoined his old coach Ellingworth in a venture that has seen the iconic British motorsport brand McLaren take a 50 percent stake in the Bahrain cycling team.
Ellingworth left Team Sky to become team principal at Bahrain-Merida, which unveiled its bike and kit in a glitzy launch at McLaren's futuristic production facility in Woking on Monday.
"I think there is a real speed element to what we want to do in terms of the project and there is the GC (general classification) project and Mark obviously fits very well in that speed project," Ellingworth told reporters.
"It was something he was excited about doing and so were we. It was a no-brainer for us."
With Spaniard Mikel Landa also joining the team, Bahrain-McLaren also have a real GC contender.
Yet it's the prospect of Cavendish powering his way towards Eddy Merckx's record 34 Tour de France stage wins in the distinctive orange livery introduced by McLaren founder Bruce McLaren back in 1963 that fills Ellingworth with excitement.
"When Mark is in good condition, in good form and really motivated, he is one of the best in the world technically," Ellingworth said. "It's a challenge, but a good one to have.
"I presume he still has the ambition of beating the Merckx record -- actually I know it's there. He is such a winner, that's his mentality.
"I even believe in the last two years he has still gone into races thinking he's going to win and wondering why he hasn't. For me it's all about winning any race. Any race would be a marker and then we go from there.
"We would all love to see him at the Tour. From day one of the conversations with Mark, it's all about you have got to go to the Tour and respect the race with the best team you can possibly put on the line and we don't underestimate that at all."
McLaren collaborated with Cavendish in the design of the bike that propelled him to the 2011 world road race title.
'Cav', who worked with Ellingworth at British Cycling, will also be reunited with his old Dimension Team sports director Roger Hammond.
"These people are good at what they do," Cavendish told a news conference. "I'm fortunate I've worked with these guys and they are some of the hardest working and most brilliantly-minded people in cycling. I'm excited and full of confidence."
While Cavendish will benefit from McLaren's technological input, Ellingworth said the rider would have to raise his game.
"He is not particularly old, he is just more experienced. But you have to factor in that as you get older you potentially get a bit slower so you have to work at it more," he said.
"We have given him a vision, a plan, and made him feel really accountable for every step."
Cavendish is aware of what's expected.
"There are very few people in the world where if I've upset them they make me cower," he said. "He's (Ellingworth) one of them."
Zarco joins Avintia Ducati to complete the MotoGP grid
French rider Johann Zarco joined the Reale Avintia Ducati team on Monday to complete the MotoGP starting grid for 2020.
The 29-year-old replaces Czech rider Karel Abraham, who announced in November that he would be leaving, alongside Spaniard Tito Rabat.
"I am very pleased to officially announce my signature with Ducati for 2020 season," Zarco said on Instagram.
"My left ankle is recovering well, I can enjoy now my winter time having rest with family and training again very soon."
Zarco, a double Moto2 champion and MotoGP rookie of the year in 2017, ended the 2019 season as a stand-in for LCR Honda's Japanese rider Takaaki Nakagami, who was recovering from shoulder surgery.
The Frenchman had parted company with KTM in September and injured his ankle in the Valencia season-ender.