Long-serving national shooting coach Sunny Thomas has offered his resignation to the National Rifle Association of India (NRAI) after 19 years at the helm during which India won four Olympic medals in the sport.
- 'Our shooters are capable of beating the world's best'
Thomas, though, will be involved with the sport in some capacity, he said.
"I have tendered my resignation. It's been 19 years and now I thought of moving on," Thomas said.
"But I am not cutting off my ties with shooting. I will continue my involvement with the sport," he added.
A Dronacharya awardee, he has been known to manage the team well and has helped the shooters whichever way he could.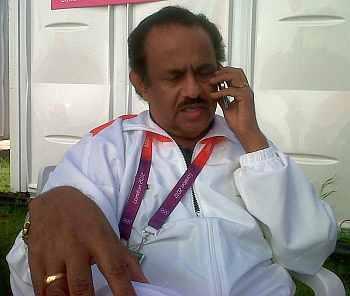 After his service with the national team, Thomas now plans to give the sport a fillip in his home state Kerala, by having acclaimed international shooters to train youngsters.
During his time, India has won innumerable medals in the sport. While Rajyavardhan Singh Rathore brought home a silver medal in double trap in the 2004 Athens Olympics, rifle ace Abhinav Bindra did one better in the next Games in Beijing, winning a historic gold.
Vijay Kumar (25m rapidfire)and Gagan Narang (10m air rifle) capped off Thomas' journey on a good note, winning a silver and a bronze respectively at the London Games recently.
Moving away from Olympics, one would lose count of the number of medals India has won in multi-sport events and other important tournaments under Thomas.
Though he was happy with India's haul in London, Thomas was expecting at least 4-5 medals.
"Realistically, I had expected 4-5 medals. But then it's okay, last time we won one, and two this time. The colour may not be gold but the numbers are more this time," Thomas had said.