Teen sensation Shiva Thapa (56kg) reaffirmed his status as the rising star of Indian boxing, becoming the youngest pugilist from the country to clinch a gold medal at the Asian Championships in Amman, Jordan, on Monday.
India, suspended internationally for nearly a year due to administrative wrangling in the federation, rounded off the campaign with a gold, two silver and a bronze medal while fighting under the International Boxing Association's flag.
- Also read: Devendro, Shiva and Jangra storm into Asian Boxing finals
The silver medals came through L Devendro Singh (49kg) and Mandeep Jangra (69kg), while the bronze was bagged by Manoj Kumar (64kg).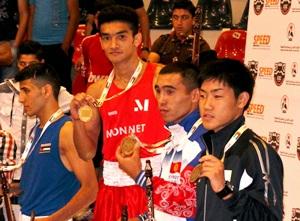 The 19-year-old from Assam defeated home favourite Obada Alkabeh on a split 2-1 decision after fighting a tactically superior bout.
The nimble-footed boxer, who made his Olympic debut in London last year, thus followed Suranjoy Singh (2009) and Rajkumar Sangwan (1994) into the history books as a rare Indian gold medallist at the premier continental event.
"Shiva fought an excellent bout. He applied his brain and dominated all three rounds. The decision may have been split, but he was clearly the better boxer among the two," national coach Gurbax Singh Sandhu said from Amman.
But it was disappointment for another rising star, L Devendro Singh (49kg), who went down fighting to Kazakhstan's Temertas Zhussupov, the Strandja Memorial Tournament winner from Kazakhstan.
Devendro, also a London Olympian, lost on a split 1-2 decision.
"It was a very close bout. Devendro fought his heart out and even though he lost, I am very satisfied with his performance. To me he is shaping up to be an excellent boxer," said Sandhu.
"It is a brilliant performance considering the circumstances in Indian boxing. None of my boys disappointed me. Even the ones who lost, gave fine performances, I am very happy," he added.
Both these boxers are being managed by Anglian Medal-Hunt Company and Olympic Gold Quest.
Mandeep also ended up on the losing side after putting up a gallant fight and settled for silver. He lost to 2010 Asian Games gold-medallist Daniyar Yeleussinov of Kazakhstan.
"Mandeep is very young and inexperienced but he fought very well, showed a lot of heart and produced a brilliant performance. Everybody expected his to be a one-sided bout but Mandeep matched him blow for blow," said Sandhu.
Image: Shiv Thapa (in red) displays his gold medal on the victory podium
Photograph: IABF media