The suspended Indian Boxing Federation has infuriated the International Boxing Association (AIBA) yet again and it is the pugilists who are paying the price for their refusal to act according to the world body's diktat.
The AIBA is livid with the IBF for giving out details of the Indian boxers' international schedule even before getting the world body's clearance.
The result is the cancellation of a training-cum-competition tour of Cuba from May 27 to June 17 where 20 boxers were scheduled to go.
"India was expected to take part in Cardova Cardin, a training-cum-competition program at Havana, Cuba from May 27 – June 17, 2013.However the team would not be travelling to Cuba as the tour has not been sanctioned by AIBA," the IBF said in a statement.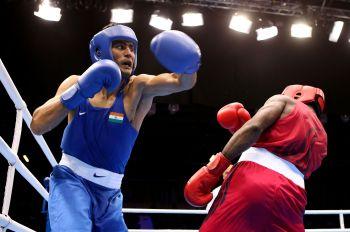 What the statement did not reveal was the reason for AIBA's refusal given that the world body has so far not barred the boxers from competing in international events.
ON Tuesday, a 10-member team had left for Cyprus for an international tournament. On Monday too, another 10-member squad went to Russia for an international tournament.
"They (IBF) have been giving details of the planned schedule even before AIBA gives its nod. AIBA is now angry with the IBF for doing this because a suspended body cannot make claims about future tours without getting the world body's nod," a source informed.
"They have told IBF that this would cause problems for the boxers. AIBA will not let Indian boxers go for international events if this continues," he added.
The IBF has managed to anger AIBA quite a few times even after getting suspended in December last year citing "possible manipulation" in elections and the International Olympic Committee's ban on the IOA.
AIBA has asked the IBF to hold a re-election and amend its constitution to make it compliant with the AIBA Statute but the Indian federation has not acted on either of the issues.
In an earlier instance, the IBF sent an official with a youth team to a tournament despite being clearly told by AIBA to refrain from this during the suspension period.
A furious AIBA had barred the boxers from international competition but later revoked the suspension.
Photograph: Scott Heavey/Getty Images