Olympic-bound Indian boxers Shiva Thapa and Vikas Krishan started their build-up for the mega-event on a winning note. Both entered the second round of the third International Republic of Kazakhstan President's Cup in Almaty.
After a scintillating performance at the AIBA Asian Olympic qualifying event, Youth Olympic silver medallist Shiva (56kg) and World Championship bronze medallist Vikas (69kg) registered contrasting wins on the opening day of the event.
While Shiva had to dig deep against Prudkiy Oleg of Ukraine, Vikas powered through with ease against local lad Ashkeev Madiyar.
Shiva, who secured his London Olympics berth en route to winning gold at the Asian Olympic Qualifiers in Astana last month, faced tough opposition from the Ukrainian boxer.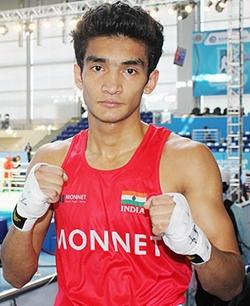 He was down a point after the opening three minutes of play (3-4) but came back strongly in the second round.
With swift counter-attacks and combinations, the 18-year-old soon gained an 8-7 advantage.
In the final round, every time Prudkiy struck, Shiva immediately reciprocated with lightening fast jabs. He finally won the contest 12-10.
Shiva, the youngest Indian boxer to secure an Olympic berth, will have to be on the top of his game in the next round when he takes on Cuban boxer Alvanes Estrado.
In the welterweight division, Vikas faced little resistance from Ashkeev Madiyar of the Almaty team.
The 2010 Asian Games gold medallist dominated proceedings right from the beginning, never letting his opponent settle into a rhythm.
After the first two rounds, Vikas led 6-4. He then launched an onslaught to which the Kazakh boxer had no answer.
The 20-year-old Indian went on to win the bout 11-5. He now takes on Kojabekov Bakhitjan of the Kazakhstan 2 team in the next round.
But there was disappointment for India in the light-heavyweight and lightweight categories, with two other Olympic-bound boxers losing out in the preliminaries.
2010 Youth Asian Championship silver medallist Sumit Sangwan (81kg), up against Abdullev Askar of Kazakh 3 team, lost on countback after being tied 7-7 in the regulation three rounds.
Commonwealth Games gold medallist Jai Bhagwan (60kg) came up short against Bashnev Samat also of Kazakhstan.
Day two of the tournament will feature the other two London Olympics-bound boxers -- Commonwealth Games gold-medallist Manoj Kumar (64kg) and L Devendro Singh (49kg).
While Manoj will take on Ulihanov Ashat of the Almaty team, Devendro will lock horns with Egorov Vasily of Russia.
2010 Asian Games silver medallist Manpreet Singh (91kg) will also be seen in action against Teslenko Alexander of Ukraine in his opening round bout.