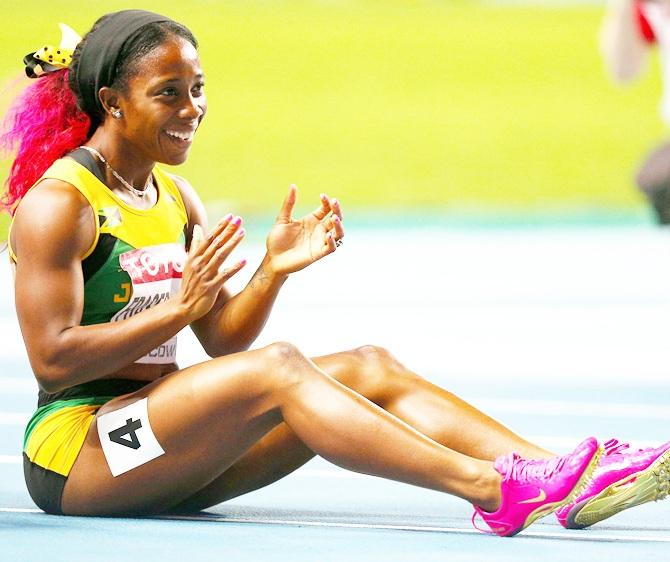 Shelly-Ann Fraser-Pryce of Jamaica celebrates. Photograph: Cameron Spencer/Getty Images
Shelly-Ann Fraser-Pryce, the world's fastest woman, may change her plans and defend both her 100 and 200 metres titles at next month's world championships in Beijing.
Jamaica's double Olympic said she would concentrate on the 100m and 4x100m relay at the worlds but at a news conference on the eve of the Stockholm Diamond League meeting she said her coach Steven Francis had indicated she could still compete in both.
"I was down to do the 100 and relay, but the 200 is still possible," said a grinning Fraser-Pryce. "My coach did say earlier that I was not running the 200, but last week I was in practice and he said I should do a 100, a 200 and a 250.
"I said 'why am I going all that way? I'm not running 200 at the world champs?' And he said 'who says you're not running?' so I said 'you did!' and he said "I've changed my mind. I'm not sure.'
"The thing is, I've already earned a spot in the 200 as champion, so I wouldn't be taking it away from anybody else," she was quoted as saying on the website of the sports governing IAAF.
"The 200 for me is definitely more strategic. When I get to the start line I am thinking 'Do I go hard for the first 50, do I go 80 per cent and then blast the last 100?'"
The 28-year-old competes in Stockholm on Thursday for the first time since setting a world leading time of 10.74 seconds in the 100m at the Paris Diamond League meeting on July 4.
"I didn't come out of the blocks very well in Paris but my transition from 30 to 70 metres was the best part of my race," she said.
"I've been training hard since and running some longer distances over 200 metres, which I don't like. I'm looking forward to getting my racing started again tomorrow."