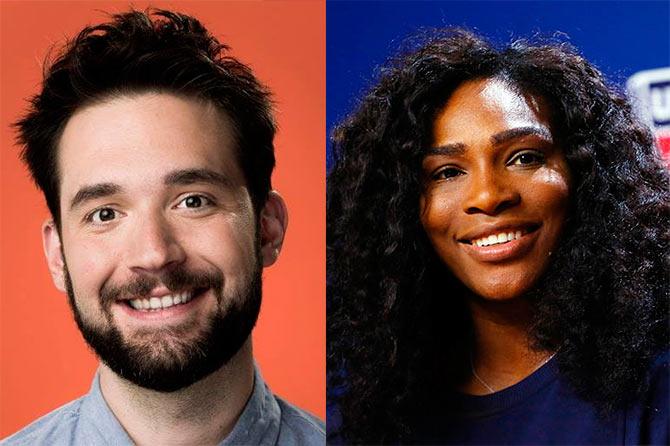 IMAGE: Alexis Ohanian and Serena Williams. Photographs: Alexis Ohanian/Twitter and Mike Stobe/Getty Images for the USTA
Tennis legend Serena Williams and Reddit co-founder Alexis Ohanian are engaged.
According to Ohanian's spokesperson, 'the deal was sealed' when the couple was vacationing in Rome.
The 22-time Grand Slam winner first announced the news in a Reddit post where she wrote a post headlined 'I said Yes' and followed it up with a poem of sorts.
"I came home/A little late/Someone had a bag packed for me/And a carriage awaited "Destination: Rome/To escort me to my very own "charming"/Back to where our stars first collided/And now it was full circle/At the same table we first met by chance/This time he made it not by chance/But by choice/Down on one knee/He said 4 words/And/r/isaidyes."
The post had a cartoon of the couple at the top.
Ohanian replied in the comments of Serena's post: And you made me the happiest man on the planet. Edit: you're also a really cute Snoo. As I was drawing this for you, I thought, "our Snoos should go out on a date sometime."
He also announced the engagement on his Facebook page, linking to Williams's Reddit post and adding, "She said yes."
The 35-year-old Williams and 33-year-old Ohanian have been dating since late 2015 and have managed to keep their romance mostly private.