'No words, games, or actions will ever stop me from reaching my own dreams. And I have many'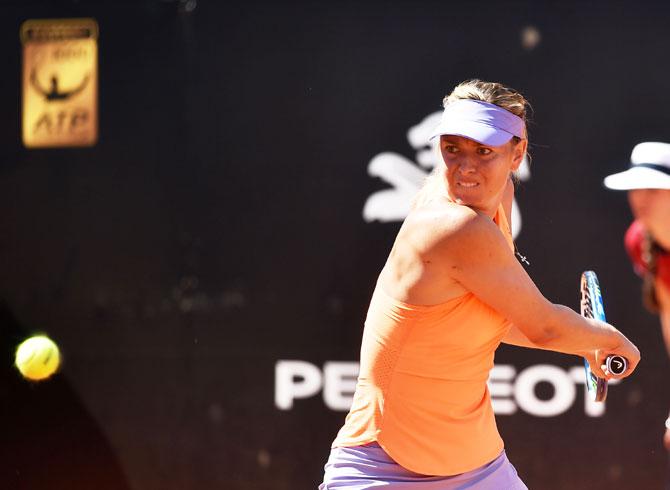 IMAGE: Maria Sharapova. Photograph: Giuseppe Bellini/Getty Images
Maria Sharapova said on Wednesday she remains fully committed to making a successful comeback from her doping ban following a decision by the French Open to deny her a wild card entry.
Sharapova was widely expected to be fast-tracked into the year's second grand slam tournament, which she has won twice, but the French Tennis Federation (FFT) took the unexpected decision on Tuesday to refuse her entry.
"If this is what it takes to rise up again, then I am in it all the way, everyday," Sharapova said on Twitter on Wednesday.
"No words, games, or actions will ever stop me from reaching my own dreams. And I have many."
Sharapova's return from a 15-month ban has split opinion in tennis circles, with some players arguing she is being given special treatment after receiving wild cards for tournaments in Stuttgart, Madrid and Rome.
Accepting the decision to bar her from the French Open without rancour would give the Russian a chance to rise above the furore, according to former world number three Pam Shriver.
Shriver said Sharapova needed to come to terms with what had happened and turn her attention to preparing for Wimbledon, where she is already one of the bookmakers' favourites for the title.
Sharapova tested positive for heart disease drug meldonium at last year's Australian Open.
The Russian said she had taken the drug "legally" throughout her career to treat medical conditions and had not realised it had been added to WADA's banned list a few weeks before the tournament began.
She was initially banned for two years but the Court of Arbitration for Sport reduced the suspension to 15 months on appeal after finding she was not an "intentional doper".