'I definitely feel the respect from the athletes. Certainly when I play against them, in terms of the level they play with'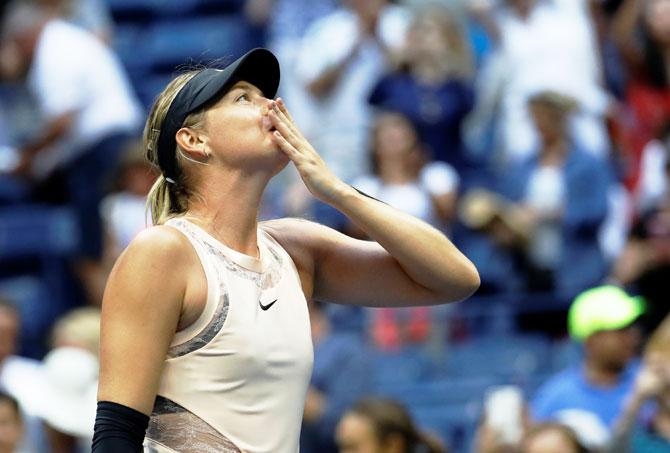 IMAGE: Maria Sharapova overwhelmed by the reaction of fans at the US Open. Photograph: Mike Segar/Reuters
Maria Sharapova has been inspired by the reaction from fans, and felt the respect from other players, since coming back from her 15-month doping ban, the Russian told reporters following her second-round victory at the US Open on Wednesday.
"I've had an amazing reaction from fans since I've been back and that's been very special. I mean, I felt it while I was away. I felt it in a real presence since I've been back," she said.
"It's a very special feeling."
Sharapova won an electric three-setter against world number two Simona Halep on Monday to get the tournament off to a thrilling start.
Asked if she was at peace with fellow players and fans who were disappointed that she was found to be using meldonium after it had been added to the list of banned substances, she was blunt.
"With the way that I played Monday night, I don't think there are any more questions," she said.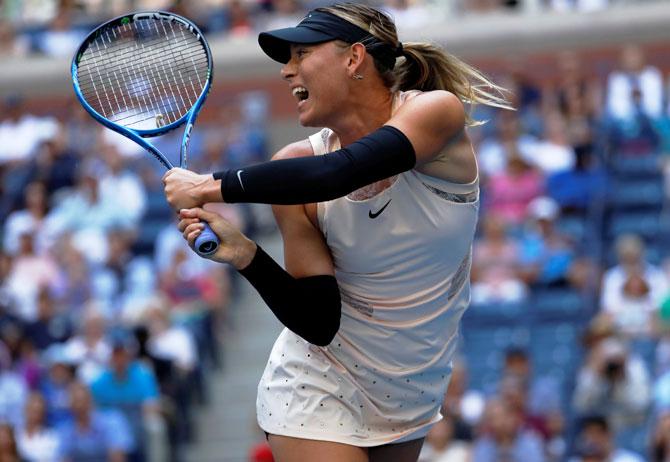 IMAGE: Maria Sharapova in action against Timea Babos in their second round match on Wednesday. Photograph: Mike Segar/Reuters
Sharapova has maintained that she was unaware of the policy change regarding the drug, which she had been taking for years before it was moved to the banned list in 2016.
In addition to fan support, Sharapova said she feels the respect of other players.
"I definitely feel the respect from the athletes. Certainly when I play against them, in terms of the level they play with," she said.
"That's important to me. I think from a respect level, when you're able to respect your rivals and compatriots, that's really important, and I feel that."
The 30-year-old followed up Monday's big win with a come-from-behind victory over Hungarian Timea Babos 6-7(4), 6-4, 6-1 on Wednesday.
Next up for Sharapova is a third-round meeting with American Sofia Kenin on Friday.