Sharapova will have to break new ground if she is to win Wimbledon this year as no qualifier has won the women's singles title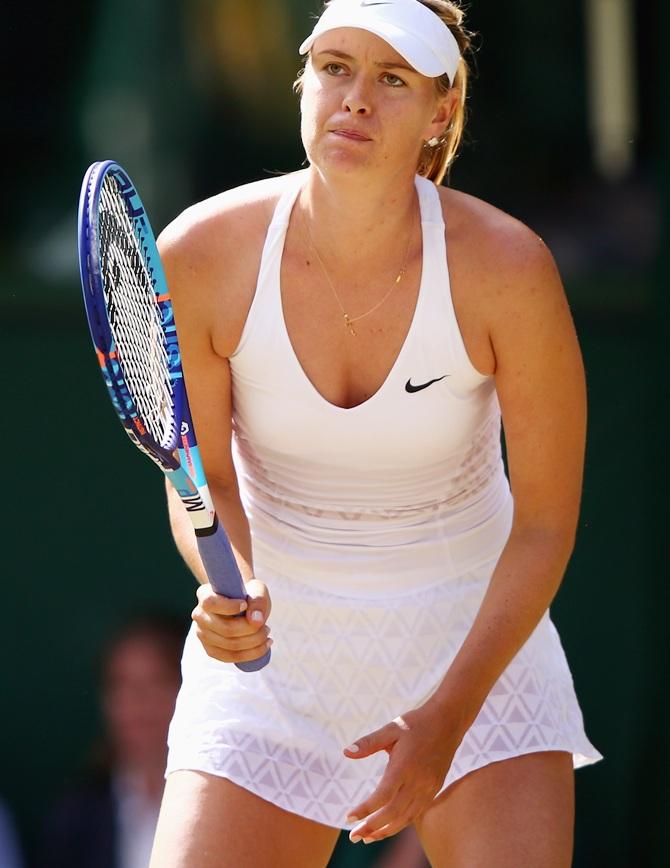 IMAGE: Russia's Maria Sharapova reacts. Photograph: Ian Walton/Getty Images
Maria Sharapova will probably have to win 10 matches to claim a second Wimbledon title this year after deciding on Friday not to request a wildcard for the championships.
The 30-year-old returned from a 15-month doping ban last month and has failed to gain a high enough ranking for automatic entry into the 128-strong main draw.
Set to enter the top 200 on Monday, however, she is eligible to play in the qualifying event the week before in Roehampton, where she would need to survive three rounds just to take her place in round one at the All England Club.
Russian Sharapova, the 2004 champion and former world number one, announced the news on her website.
"Because of my improved ranking after the first three tournaments of my return, I will also be playing ...in Roehampton, and will not be requesting a wildcard," said Sharapova, who has received a wildcard for the Wimbledon warmup event in Birmingham.
Sharapova could have secured a place in the Wimbledon main draw by right had she reached the semi-finals at the Italian Open in Rome, but she withdrew injured during a second round match against Mirjana Lucic-Baroni.
"I have already started getting treatment on the injury I sustained a few days ago in Rome, and will begin my preparation as soon I get better," the five-time Grand Slam champion said.
Her decision takes the heat off the Wimbledon wildcard committee which meets on June 20 and could technically still offer her automatic entry into the main draw.
However, in light of the decision of French Tennis Federation (FFT) on Tuesday to snub Sharapova for a French Open wildcard, they would have been under pressure to follow suit.
Sharapova was initially banned for two years after testing positive for then newly-banned heart condition drug meldonium at the 2016 Australian Open. The Court of Arbitration for Sport (CAS) reduced the sanctio n to 15 months, saying she was not an 'intentional doper'.
The US-based player called her punishment 'unfairly harsh' saying she had not realised meldonium, a product she had used legally for much of her career, had been added to the World Anti-Doping Agency (WADA) banned list.
Her comeback has been aided by wildcards in Stuttgart, where she reached the semi-finals, Madrid and Rome.
Several players have voiced their disapproval at Sharapova's return, most noticeably Canada's Eugenie Bouchard who said Sharapova should have been banned for life, calling her a 'cheater'. Bouchard beat Sharapova in Madrid.
Sharapova will have to break new ground if she is to win Wimbledon this year as no qualifier has won the women's singles title.
American Alexandra Stevenson came closest when she reached the semi-final in 1999 before losing to Lindsay Davenport.
John McEnroe reached the men's singles semi-finals as a qualifier in 1977.