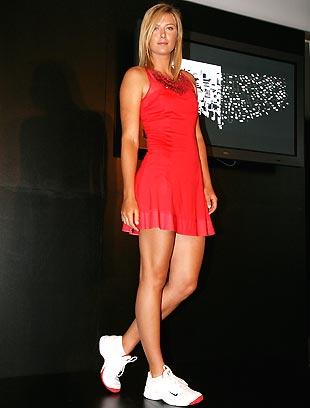 Armed with a new look, a refurbished serve and a fortuitous draw, Russia's Maria Sharapova is primed to defend her US Open title.
"I'm sure going on the court I'm going to be a bit nervous," Sharapova told reporters. "Nerves are part of an athlete. It's how you deal with nerves.
"I love it when there's something on the line. That's when I play my best tennis."
Sharapova will be sporting a new style at this year's Open, which begins at the National Tennis Center on Monday. The world number two has swapped last year's glamorous Audrey Hepburn look for a flaming red dress inspired by New York City.
"We got out of black, out of 'Breakfast at Tiffany's'," Sharapova added. "We wanted to totally do different things. We based it on the city, my favourite city in the world.
"It's red. I've never worn a red dress before. It's a really big statement, as well, because it's the Big Apple and apple's are red," she added with a chuckle.
The outfit, complete with a flared hemline and over 600 Swarovski crystals on the bodice, will be Sharapova's attire during night matches.
SERVE CHANGES
After suffering a shoulder injury early in the season, Sharapova has made subtle changes to her service motion and the 20-year-old Russian said she started to see dividends during pre-Open tournaments on the West Coast.
"I'm serving probably the biggest that I've served this year," the two-times grand slam winner said.
"Middle of the year, around the time of the French Open, I was just trying to get a higher percentage of first serves in.
"Definitely in San Diego and LA I felt like I was hitting a lot bigger and more velocity."
Sharapova denied she has a favourable draw despite having world number one Justine Henin, former champions Serena and Venus Williams and dangerous Serb youngsters Ana Ivanovic and Jelena Jankovic in the opposite half.
"I really can't get worried about how the draw played out," she said.
"You have Serena, who is seeded eight, and Venus who is seeded 12. They could have easily been on my side, as well.
"That's just the way things go... I can't worry about who's on my side and who's not. If I'm scared of playing someone, I should just pack my bags and leave."
Sharapova, who will open her title defence against Italy's Roberta Vinci, said having won the title last year made her hungrier to repeat.
"Coming in and seeing my name on the board when I walk into the locker room, knowing I already did it, knowing how sweet it was to win, you want to repeat it because you want to have that feeling again," she said.
Text: Reuters