'I'm being accused, I'm being dragged into the mud as if I were a criminal'
'It drives me crazy to hear the word 'blackmail', it's ridiculous'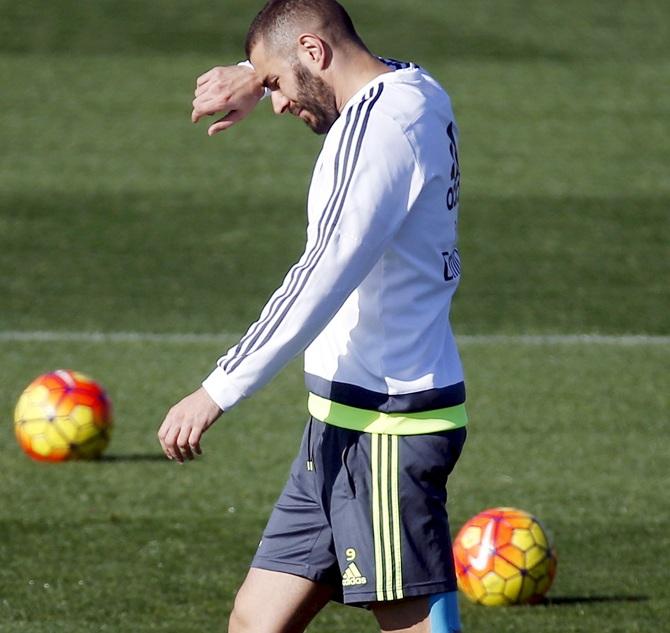 IMAGE: Real Madrid's Karim Benzema gestures during a training session. Photograph: Susana Vera/Reuters
France and Real Madrid striker Karim Benzema insisted on Wednesday he has done nothing wrong after being put under investigation in France in connection with an alleged attempt to blackmail a fellow international with the use of a sex video.
French football star Benzema ARRESTED in sex-tape probe
Axing of scandal-ridden Benzema backed by France PM
"I'm being accused, I'm being dragged into the mud as if I were a criminal, it's horrible," Benzema told French TV channel TF1 in his first interview since the scandal broke.
"It drives me crazy to hear the word 'blackmail', it's ridiculous. I am not guilty of anything. We never, ever discussed money," added Benzema.
He said he had suggested Olympique Lyonnais forward Mathieu Valbuena contact a friend of his to 'deal with' the video.
The scandal has been in the public domain since details of the investigation, as well as the transcript of Benzema's hearing with a judge, were leaked in the French media.
It prompted the French football federation to become a plaintiff in the case last week, after Valbuena said in an interview with daily Le Monde he was disappointed in his France team mate.
French Prime Minister Manuel Valls said on Tuesday that Benzema should not play for France before being cleared.
"If a minister was under formal investigation, they would not be in the government. In a way, it is the same for the France team," Valls told Europe 1 radio.
Both players were omitted by coach Didier Deschamps when he picked his squad for friendlies against Germany and England last month.
If investigation, which in France's justice system does not necessarily mean he will end up being tried, is not wrapped up quickly, Benzema could be a doubt for the Euro 2016 football contest, which France is hosting from June 10
"I just hope that we will be back in the team to win the Euro," said Benzema.