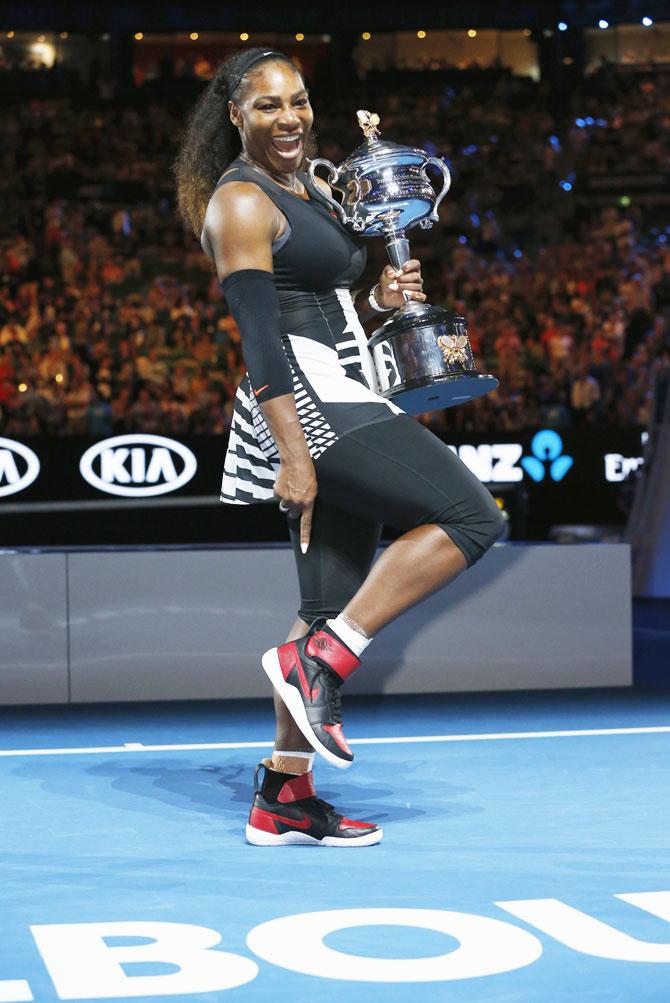 IMAGE: Serena Williams poses with the trophy and points to her specially designed shoes after defeating elder sister Venus to win the Australian Open title at Melbourne Park on Saturday. Photograph: Issei Kato/Reuters
Serena Williams beat her sister Venus 6-4, 6-4 in the Australian Open final on Saturday to win her 23rd grand slam singles title and become the most successful tennis player in the open era.
The 35-year-old American's victory gave her a seventh Melbourne Park crown and sent her clear of Germany's Steffi Graf at the top of the list of most prolific grand slam winners since the game turned professional in 1968.
The second seed overcame a stuttering serve to take a topsy turvy opening set and one break of 36-year-old Venus's serve proved enough to claim the second after 82 minutes on Rod Laver Arena.
The victory also wrested back the world number one ranking from Angelique Kerber who swiped it away during her winning run to the US Open championship.
Crediting elder sister Venus for motivating her to be the best, Serena said after receiving the trophy: "Thank you Venus for inspiring me to be the best player that I can be. There's no way I would be at No.23 without her. Without her, the 'Williams Sisters' wouldn't exist."
"We'll see her again next year... I don't like the word 'comeback.' She never left," Serena said of Venus.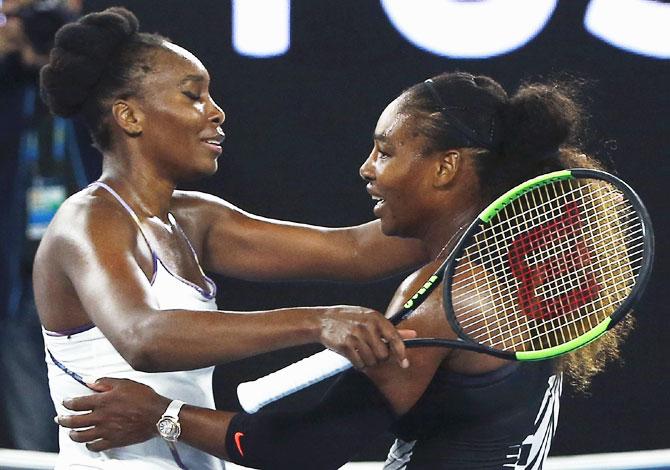 IMAGE: Venus Williams and Serena Williams hug at the net after the Australian Open final on Saturday. Photograph: Thomas Peter/Reuters
Venus was oldest finalist in Melbourne in the professional era and won huge admiration for her unlikely run to the final.
"Serena Williams, that's my little sister, guys," she said beaming.
"Congratulations Serena on number 23, I've been right there with you, some of them I've lost with you.
"Your win has always been my win, you know that.
"I'm enormously proud of you, you mean the world to me."
At 35, an age at which most former champions have enjoyed life after tennis for several years, Serena's powers appear undiminished and she will now train her sights on Margaret Court's all-time record of 24 major titles.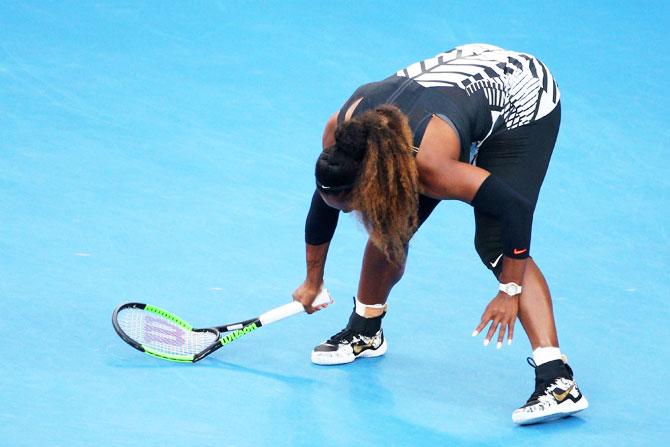 IMAGE: Serena Williams smashes her racquet in frustration. Photograph: Michael Dodge/Getty Images
Rightly or wrongly, many will feel Serena's top ranking in history is already assured, with Court's haul split between the amateur and professional eras and the American's silverware amassed despite numerous physical setbacks.
In the ultimate throwback tournament, Serena met her sister on the same Rod Laver Arena court where 14 years before she had edged her in three sets to claim her first Melbourne Park crown.
Eight years had passed since their last grand slam decider at Wimbledon in 2009, and their combined ages in Melbourne added up to the 'oldest' major final ever contested.
They walked down the corridor silently prior to the match, with Serena tuned into headphones and Venus focusing only ahead.
It was a tense start and neither player was able to hold serve until Venus took the fifth game.
Serena was the worst afflicted by the nerves, and she smashed her racket in a rage in just the third game after she slipped behind the baseline when chasing down a ball.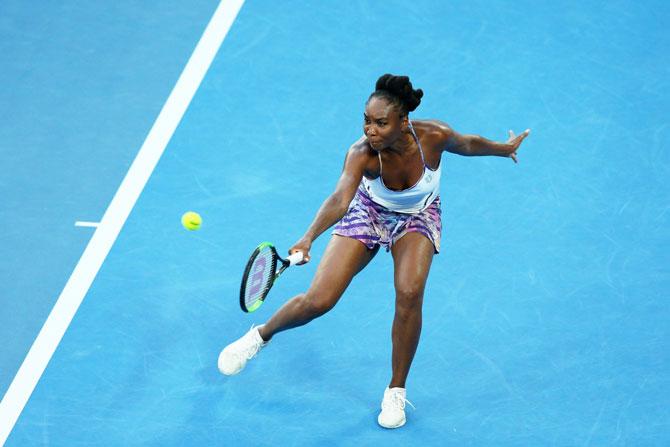 IMAGE: Venus Williams plays a backhand return against Serena Williams. Photograph: Graham Denholm/Getty Images
She double-faulted three times to be broken a second time, causing a gasp from the crowd.
But galvanised by her serve, Serena soon settled and the blistering groundstrokes from the baseline began to find their mark as she surged to a 5-3 lead before sealing the set by thumping a pair of aces.
With Serena renowned as one of the best front-runners in the game, Venus showed her readiness to scrap, and she saved three break points to hold in the third game.
But she was never on safe ground, with Serena feasting on her second serve.
Serena pounced in the seventh game, firing a searing backhand return to break and served out to love to come within a game of the title.
Having dragged Serena to 15-30 at 5-4 on her serve, Venus dropped her racket in despair as she hammered a forehand into the net to give up match point.
Serena needed no further reason and after a furious exchange of shots, she charged in to the net swinging to claim yet another major title.