If Serena Williams is indeed 20 weeks into her term, that would mean she was approximately two months pregnant when she captured her record 23rd Grand Slam tournament singles title at the Australian Open in January.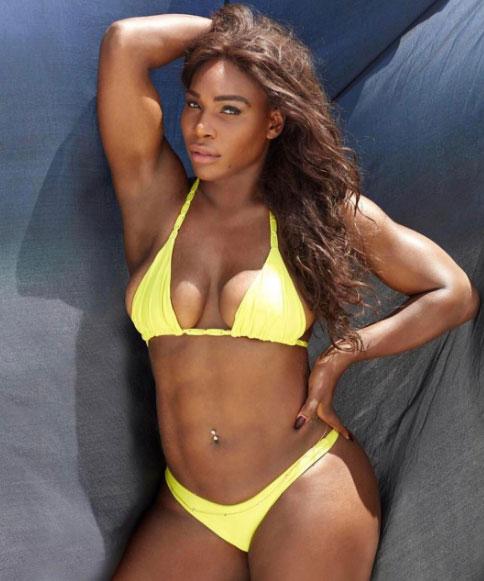 IMAGE: Serena Williams. Photograph courtesy: Serena Williams/Instagram
Tennis superstar Serena Williams is pregnant and taking maternity leave through the rest of 2017, expecting to give birth this fall, her spokeswoman said on Wednesday in an announcement that upended a sport the 35-year-old athlete has dominated for the past decade.

The confirmation came hours after Williams, due to regain to the No. 1 world ranking next week, set off a day of frenzied speculation with a short-lived selfie posted on social media - posing for a photo in a yellow one-piece swimsuit on Snapchat with the caption: "20 weeks."

Williams deleted the photo shortly after it appeared and waited more than six hours to make any public comment, stoking debate among tennis fans about whether or not she was joking.

"I'm happy to confirm Serena is expecting a baby this fall," Los Angeles-based publicist Kelly Bush Novak said.

Bush Novak told Reuters that Williams intends to sit out the remainder of the 2017 season and return next year.

Williams, the world's highest paid female athlete, announced her engagement to Reddit co-founder Alexis Ohanian last December.

Days ago she seemed to quell speculation about impending motherhood with an Instagram post praising a newly published guidebook for new mothers by former Destiny's Child singer Kelly Rowland, adding in the caption: "One of these days I hope to apply this (but for now I'll stick to my dog Chip)."

If Williams is indeed 20 weeks into her term, that would mean she was approximately two months pregnant when she captured her record 23rd Grand Slam tournament singles title at the Australian Open in January.

Her victory over older sister Venus Williams broke a tie with Steffi Graf for the most Grand Slam singles championships in the sport's modern era. Serena Williams has not played since then, citing a knee injury.

TECHNICALLY A DOUBLES MATCH?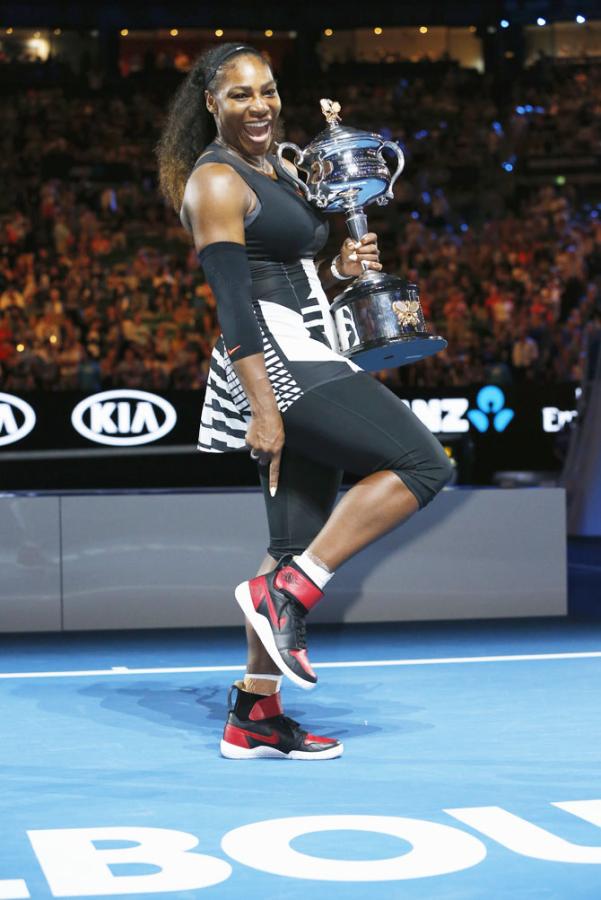 IMAGE: Serena Williams celebrates after winning the Australian Open title in January. Photograph: Issei Kato/Reuters
Fans and celebrities reacted with a mixture of awe and glee to Williams' Snapchat post.

"Serena Williams was pregnant when she won her 23rd grand slam tournament at the Australian Open. And did not drop ONE SET. Let that sink in," wrote Twitter user @noelleharmony.

"So Serena cheated," Trevor Noah, the host of "The Daily Show" on Comedy Central, wrote on his Twitter account. "Because that's technically a doubles match."

The Women's Tennis Association congratulated Williams on Twitter before deleting its post.

Tennis' US governing body, the United States Tennis Association, wrote on Facebook, "Join us in congratulating the GOAT and her fiancé Alexis Ohanian on this incredible news!" referring to Williams with the acronym for "Greatest of All Time."

Researchers who study pregnancy in high-performing athletes said her training during pregnancy, the speed of her body's recovery after giving birth and her will power are the keys to Williams returning to top-level play. James Pivarnik, a kinesiology professor at Michigan State University, said her muscular build could overcome some of the changes that usually impair performance.

Other women have left the tour to have children and returned at a high level, although none has done so at Williams' age. Kim Clijsters of Belgium retired and had a child before coming back at age 26 and winning three Grand Slam titles as a mother.

Australians Evonne Goolagong and Margaret Court also won Grand Slam titles after having children.

Former No. 1 Victoria Azarenka of Belarus, 27, missed most of the 2016 season to have a baby and is expected to return to the tour this summer.

"We've seen some other mothers come back ... but will she have enough motivation when she sees that little one?" former world No. 1 Hall of Famer Tracy Austin said on the Tennis Channel. "She's already done so much, does she need more?"

For Williams, who commands nearly $29 million in salary and sponsorship earnings, becoming pregnant makes her all the more attractive to corporate sponsors, industry executives said.

Williams is the oldest woman to win a Grand Slam singles title and still dominates the tour at an age when most players have retired.

Williams, who has played professionally for two decades, first gained the No. 1 ranking in 2002 and has held that spot for more than six years in total.

Sister Venus, 36, has won seven Grand Slam singles titles.