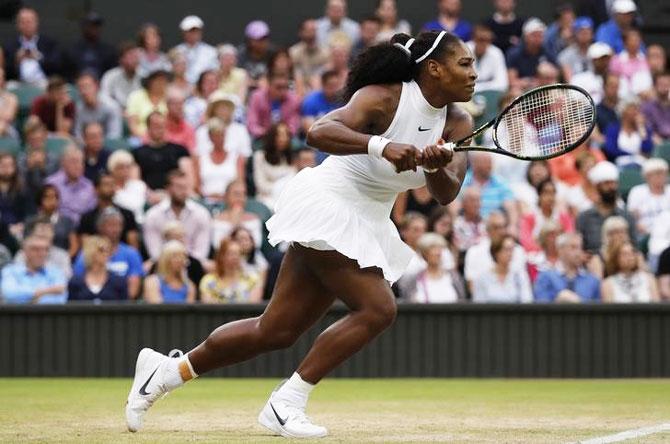 IMAGE: Serena Williams has 23 Grand Slams singles titles against her name, more than Roger Federer, who has 18 Majors. Photograph: Andrew Couldridge/Reuters
Tennis legend John McEnroe has claimed that Serena Williams, who is the best player of her gender, would be ranked 700 in the men's circuit.
The seven-time major champion, speaking as part of a tour to promote his new book 'But Seriously', said that while he has great respect for Serena, he would place the 23-time Grand Slam winner "like 700 in the world" on the men's circuit.
"Best female player ever -- no question."
"If she had to just play the circuit -- the men's circuit -- that would be an entirely different story," Sport24 quoted McEnroe as saying.
McEnroe asserted that that Williams's mental toughness would be one of the things that she would be having her way on the men's tour.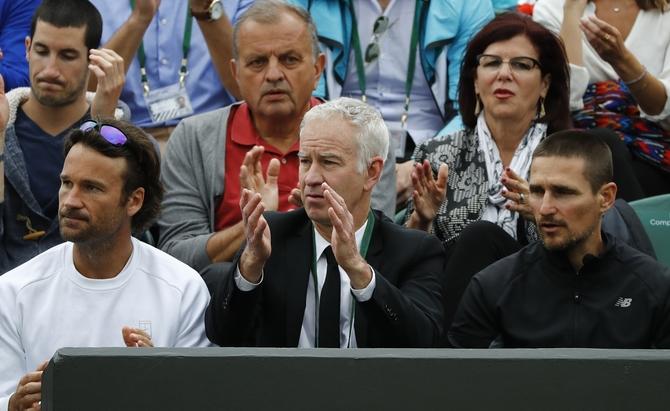 IMAGE: John McEnroe (centre) acknowledges Serena's mental fortitude despite his unflattering remarks against the latter. Photograph: Stefan Wermuth/Reuters
"The reality of what would happen on a given day is Serena could beat some players, I believe, because she is so incredibly strong mentally," he said.
"She could overcome some situations where players would choke because she's been in it so many times, so many situations at Wimbledon, The US Open, etc," he added.
Serena became the oldest woman to win a grand slam when she won the 2015 Wimbledon title at the age of 33.
The 35-year-old tennis star has 23 grand slam singles crowns and 14 doubles titles in majors.
Swiss maestro Roger Federer, by comparison, has 18 singles Slams and none in doubles.
It should be noted that the ATP Tour Rankings go only to the top 500. At present, Andy Murray is the current top ranked ATP Tour player while Uzbekistan' Temur Ismailov holds down the 500th spot.