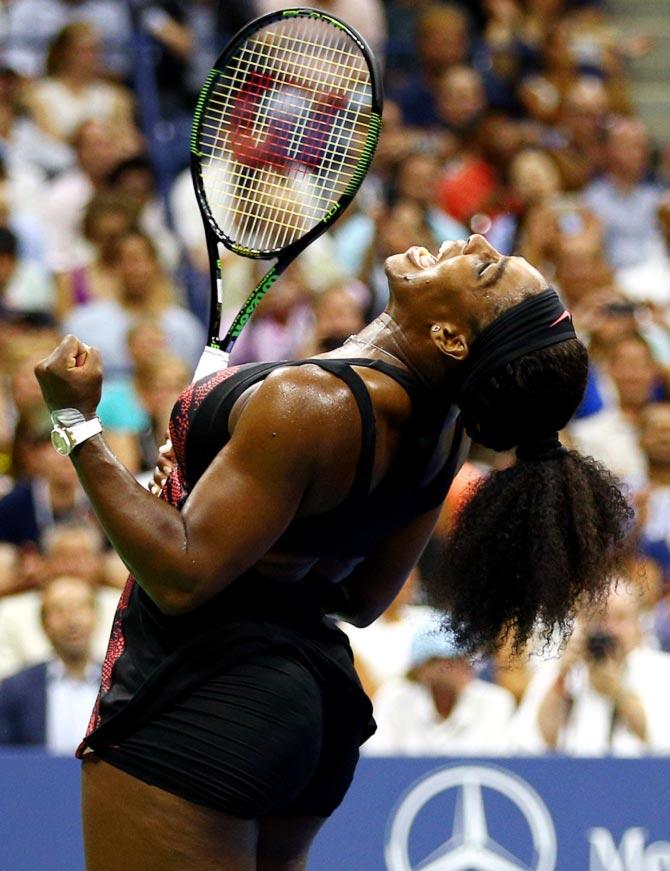 IMAGE: Serena Williams celebrates winning her quarter-final match. Photograph: Clive Brunskill/Getty Images
Serena Williams kept her bid for a calendar-year Grand Slam on track, powering past big sister Venus 6-2, 1-6, 6-3 on a steamy star-studded night at the US Open in New York, on Tuesday.

Serena moved into the semi-finals, just two wins from history, in what proved the toughest test of her four matches.

It is a major tennis event whenever the Williams sisters clash, but with Venus, twice a US Open winner, standing in the way of defending champion Serena's quest, their latest meeting turned into a primetime extravaganza, pulling in a crowd of A-listers including US presidential candidate and real estate mogul Donald Trump and television celebrity Oprah Winfrey.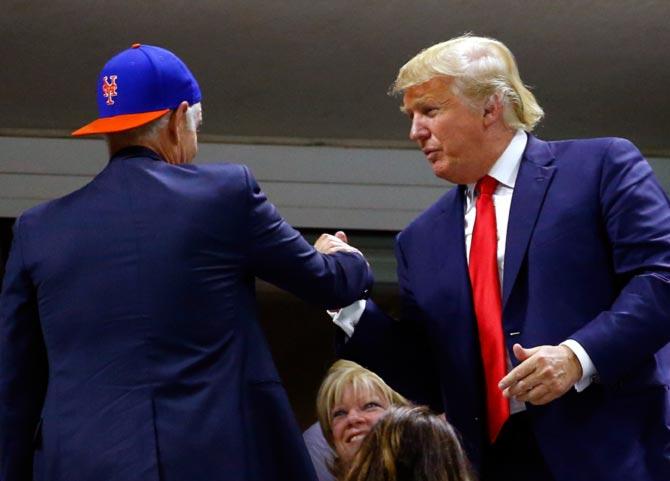 IMAGE: Donald Trump (right) shakes hands with John McEnroe. Photograph: Al Bello/Getty Images
Playing under the bright lights on the biggest stage in tennis, the Williams Show crackled with more tension and drama than a Broadway production, relegating men's champion Marin Cilic to a warmup act while world number one Novak Djokovic pulled mop up duty.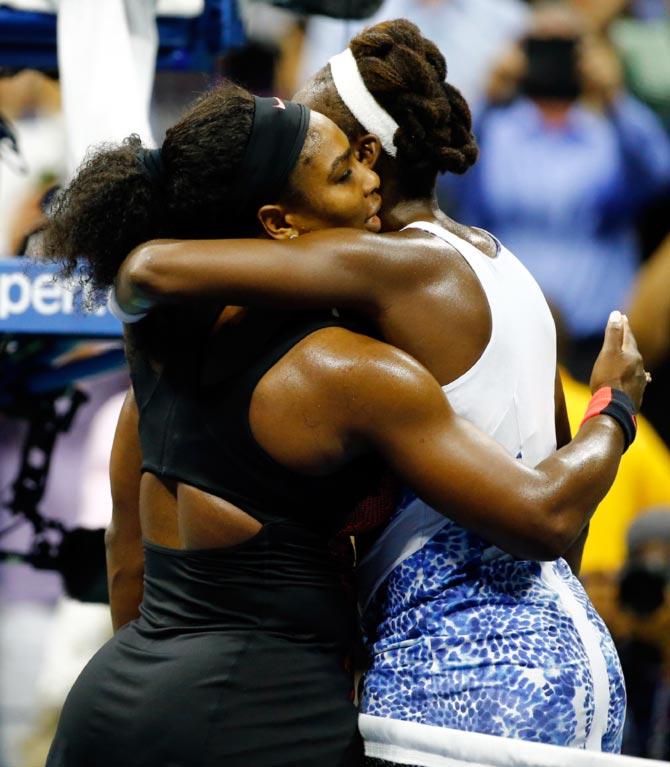 IMAGE: Serena Williams hugs sister Venus after the match. Photograph: Al Bello/Getty Images
The sisters had met 26 times before but never with so much riding on the result.

A win by Venus would move her a step closer to a first grand slam since 2008 Wimbledon but would scuttle Serena's chances of joining their sport's most exclusive club of calendar-year grand slam winners which comprises just three members, Maureen Connolly, Margaret Court and Steffi Graf.

The buzz around Arthur Ashe Stadium was like that of heavyweight title fight and the action on the court was much the same as Serena and Venus put family ties aside and slugged it out like sworn enemies.

"She's the toughest player I ever played in my life and the best person I know," said Serena in an on-court interview. "So it's going against your best friend and at the same time going against the greatest competitor for me in women's tennis, so it was really difficult today.

"When I'm playing her, I don't think of her as my sister, because she's playing so well, hitting big serves and running a lot of balls down."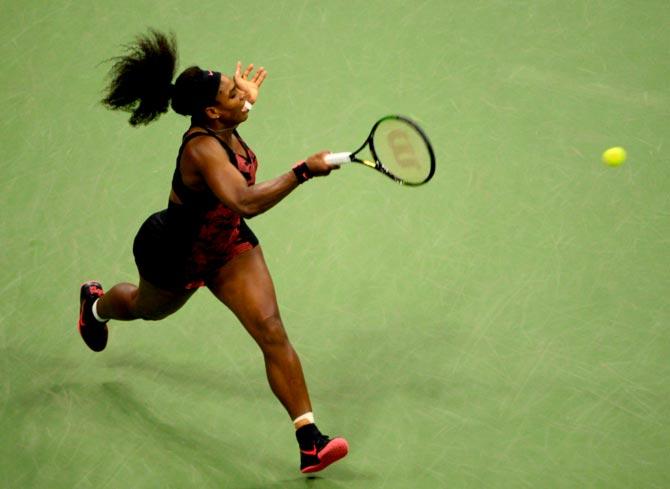 IMAGE: Serena Williams returns a shot. Photograph: Alex Goodlett/Getty Images
The contest featured more intensity and emotion than in most of their other matches. Serena stared at the court and rarely looked up to make eye contact with her sister until the match was over and the sisters shared an embrace at the net.

The 33-year-old top seed, winner of 21 Grand Slam singles titles, took charge of the opening set by securing service breaks in the fifth and seventh games after a brilliant start by Venus.

However, Venus in the second set looked more like the player who has claimed seven Grand Slam singles titles, unleashing her power and drawing groundstroke errors from Serena for two service breaks that sent the match to a deciding third set.

Serena seized control early in the third and rode the momentum to the finish and a final four meeting with unseeded Italian Roberta Vinci.